Betting on Survivor Season 40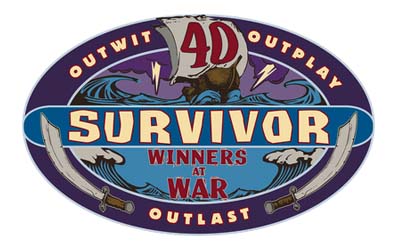 Making its national television debut in May of 2000, Survivor was an instant success. Water coolers were abuzz with the latest developments on the island, and the ratings took off as a result. With audiences hanging on the edge of their seat at each week's elimination ceremony, surely there's got to be a way to bet on this action.
That hunch is correct. Top online sportsbooks are offering odds for legally betting on Survivor Season 40 results right now and are accepting wagers from US residents. But is it legal? You bet, but read on to discover why that is, and which places are the best to bet on Survivor odds.
Is It Legal To Bet On Survivor Season 40: Winners At War?
Because there are no US federal regulations on the books that govern online betting with an offshore sportsbook, there are no laws that are being broken by betting on Survivor. Usually, we'd offer up a few land-based sportsbook options for placing a bet, but in-country bookies don't accept wagers on Entertainment odds at this time, leaving the best option as an online sportsbook operating in a legal jurisdiction outside of the USA.
There are currently no federal gaming laws on the books that forbid the placing of a wager within a jurisdiction outside of the United States, and thus, there are no laws preventing betting on Survivor with an offshore sportsbook operating online. Read on to preview our top-rated offshore sportsbooks offering betting odds on Season 40 of Survivor.
Top-Rated USA Sportsbook Sites For Betting On Survivor
Why Bet On Survivor?
The odds are in, and betting on reality competition shows are a great way to enhance your viewing experience. Now, instead of just rooting for your favorite contestant to win, you can place some action on them and boost your financial income. Have a look at the odds at one of our preferred offshore sportsbooks and lay some action before the next episode.
Survivor Odds For Season 40 – Winners At War
Venture to your most preferred offshore sportsbook, and after clicking on the entertainment betting tab, Survivor winner odds can be found. These are presented in American odds style, with the current favorite to win being Tony Vlachos at +115. That means a wager of $100 placed on Vlachos will payout at $115 If he wins Survivor: Winners At War.
Odds available at BetOnline
The odds for Tony Vlachos winning Survivor Season 40 were spot on as he turned out to be the winner that keeps on winning as he takes the victory for the 2020 Winners at War series.
Season 40 Results
Bettors who took the favorite Tony Vlachos on winning season 40 were happy to see the final results revealed. Vlachos took home the grand prize with a 12-4 jury vote over Natalie Anderson and Michele Fitzgerald. Vlachos is now the second Survivor contestant to win the show twice.
---
How To Bet On Survivor?
Betting on Survivor is a simple and streamlined process that can be done from the comfort of your own home, your smartphone or anywhere you have an Internet connection.  You simply use one of the links above to access a legitimate sportsbooks online, click on the 'join now' button and follow the prompts to register your account.
Once registered, you simply fund your account, claim any relevant bonus offers, access the betting lines you want from the entertainment menu, and place your Survivor bets using the intuitive and user friendly interface provided.  It only takes a few minutes to get set up.  We actually recommend registering at several sportsbooks so that you can compare the odds and shop the best lines.  You don't have to actually fund your account until you are ready to place a bet – so there's no risk in having multiple accounts.
---
FAQs About Legally Betting on Survivor Season 40 Online
Although Survivor isn't aired live, the results are kept secret by CBS and the production team and are not revealed until each episode airs. If any results are announced prior to the air date of a given episode, then odds and betting lines for that week's show will be removed, and bets that have been made will be refunded.
The current betting odds for Survivor are limited to wagering on which contestant will win first place at the conclusion of season 40. The entertainment prop bet offers American odds, which suggest that Tony Vlachos, with +115 odds, will win Season 40.
Our top recommendation for betting on Survivor, or any competition, is to shop the odds at various top-rated sportsbooks. Once you've determined which contest you want to bet on and who is going to win, shopping for competitive odds will provide the best payout options and can offer more cushion for optimum entertainment betting.  The odds and lines vary from sportsbook to sportsbook – some lines will be better than others at any given time.
Survivor is a reality competition television series that takes a group of people, usually around 20, and places them on an island with only a couple of personal items. These people are then separated into tribes and compete against each other for immunity from eviction and acquisition of certain privileges.
Speaking of immunity, the game features randomly placed immunity idols around the island for players to discover, or not. It is up to the player if they want to reveal that they possess the idol. It can be used to protect from eviction, but only if the player holding the idol declares so before the votes are read at the eviction ceremony. 
The player receiving the most votes during a given ceremony is eliminated from the competition. They must pick up their torch and walk toward Jeff Probst, who extinguishes the flame, prompting the player's exit. The last player to remain in the game is declared the Sole Survivor and is granted a prize of $1 million.
Jeff Probst is the host and executive producer of Survivor and has been since its inception in 2000. He hosts the live eviction ceremonies each episode and provides play-by-play commentary over each competition between tribes.  
Survivor Season 40 Winners At War began on Wednesday, February 12, 2020. The show airs each Wednesday evening at 8 PM on CBS. The next season will begin in September of 2020.
The current season of Survivor features a subtitle of Winners at War and pulls twenty former winners of the show back into the competition to determine the ultimate victor. The season was filmed at the Mamanuca Islands in Fiji in the summer of 2019, and the winner will be revealed in the final episode which will air in mid-May.
40 TBD
39 Tommy Sheehan
38 Chris Underwood
37 Nick Wilson
36 Wendell Holland
35 Ben Driebergen
34 Sarah Lacina
33 Adam Klein
32 Michele Fitzgerald
31 Jeremy Collins
30 Mike Holloway
29 Natalie Anderson
28 Tony Vlachos
27 Tyson Apostol
26 John Cochran
25 Denise Shapley
24 Kim Spradlin
23 Sophie Clark
22 Rob Mariano
21 Jud "Fabio" Birza
20 Sandra Diaz-Twine
19 Natalie White
18 James "JT." Thomas, Jr.
17 Robert "Bob" Crowley
16 Parvati Shallow
15 Todd Herzog
14 Earl Cole
13 Yul Kwon
12 Aras Baskauskas
11 Danni Boatwright
10 Tom Westman
9 Chris Daugherty
8 Amber Brkich
7 Sandra Diaz-Twine
6 Jenna Morasca
5 Brian Heidik
4 Vecepia Towery
3 Ethan Zohn
2 Tina Wesson
1 Richard Hatch
Dan Spilo, a contestant on season 39 of Survivor, was removed from the competition after show producers received a complaint of improper touching from a female contestant. Spilo was issued a warning, but after another off-camera occurrence, he was expelled from the show and left without incident.
Season 40 of Survivor is currently on the air. The competition reality show has maintained a high level of popularity over the last 20 years and shows no signs of slowing down. Two seasons air each year, and the show has been renewed through season 42.
Survivor airs Wednesday nights on CBS at 8 PM. Survivor is in the middle of production on season 40, and all of them have aired on CBS television.
Survivor comes on at 8 PM each Wednesday evening on CBS television network. The show airs two seasons per year, beginning in February and September, respectively.
Survivor season one began on May 31, 2000, and was filmed on location in Borneo, an island located between Malaysia and Indonesia. The first winner of the one-million-dollar prize was Richard Hatch. Following the victory, Hatch went on to serve a 51-month jail sentence for tax evasion.
Season 40 of Survivor is currently in production and airs each Wednesday night at 8 PM on CBS. Survivor typically produces two seasons per year, with season 41 expected to begin at some point in late September of 2020.