Betting On America's Got Talent (AGT) Season 14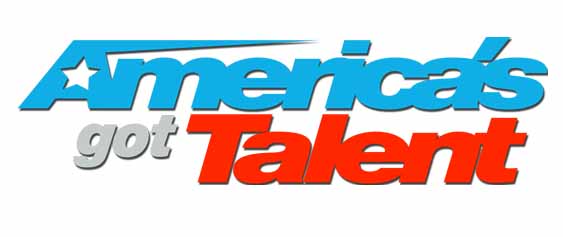 Ever since Simon Cowell pitched America's Got Talent (AGT) as an alternative to his American Idol hit, fans and contestants alike have been lining up to show off their talents and to support the amazing acts performing.
AGT made its US debut on June 21st, 2006 after the show was pitched and then pulled from British Broadcaster ITV. Since its American launch, AGT has jump-started many careers for rising singers, magicians, ventriloquists, comedians, and other talented live performance acts. Season 14 is currently underway. This page was created to inform our readers of the entertainment betting opportunities available to US residents.
Is Betting On AGT Legal?
Online entertainment betting is legal in the United States and many other countries. There are no laws preventing Americans from betting on their favorite AGT contestants as long as the bet is placed from a legally operating sportsbook. American gambling laws are only directed at domestic sportsbooks and do not address offshore sportsbooks operating legally.
Best USA Sportsbook For Betting On AGT Season 14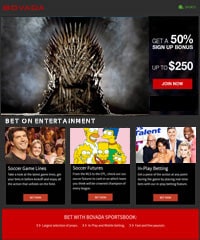 Bovada is one of the most reputable sportsbooks available to US bettors. They have been operating legally for almost a decade and have become the go-to source for sports, entertainment, and political betting.
Bovada offers Americans multiple banking options, including convenient cryptocurrency deposit and withdrawal methods. There is also plenty of bonus offers that new or existing accounts can add to their account for extra funds.
 Pros
US Friendly
Owned And Operated By The Bodog Family (Most Reputable)
Deposit Easily With Your Credit Card Or Bitcoin
Fast And Reliable Payouts Guaranteed
50% Welcome Bonus Up To $250
Enjoy Sports Betting, Casino, Horses Ect.. All With 1 Account
Cons
Only accepts U.S. Mexico And Brazil Players
Excluded States: NV, NJ, DE, MD
Legal USA Friendly Entertainment Betting Sites
How To Bet On America's Got Talent 2019
Betting lines for America's Got Talent, and other television shows will be released by various bookmakers. We are literally on the edge of our seats awaiting the oddsmakers to finally release the odds for who will win season 14 of America's Got Talent.
To bet on AGT, you will first have to set up an account. Our team has listed above the best sites for American bettors based on their security features, reputation, and legal standing.
Once you have established your account, you will need to fund your bankroll. You can do this by visiting the cashier's page. Once the money appears in your account, you can start betting.
Entertainment betting lines are typically found in the entertainment section of an online sportsbook. To choose a betting line for AGT or any other entertainment venue, you will need to find the entertainment section. There you will be able to select your bet and enter in your wager.
AGT Betting Odds Season 14 - Who Will Win America's Got Talent 2019?
There are currently no betting lines for Season 14 but we will update this site regularly when they become available. The wait is killing us, but as the live shows are underway, we expect odds to be released very soon.
About America's Got Talent (AGT)

Judges For Season 14
Simon Cowell
Howie Mandell
Gabrielle Union
Julianne Hough
Host For Season 14
Auditions
Auditions only take place in the Los Angeles California area. Auditions are taped during the month of March and later aired for television.
Live Shows
Contestants who make it past the judges are then paired against their peers as America decides who will advance in the competition. The live shows are broadcast and taped in front of a live audience. Results are then announced at the end of the show.
Episodes
Through Season 13, there have been 326 episodes of AGT. Each season consists of about 27 episodes.
AGT Golden Buzzer
The Golden Buzzer on America's Got Talent sends a contestant directly to the live rounds. That means they get to skip additional rounds of voting and gets fast-tracked straight to the competition where America will then decide who stays or goes home leading up to the final episode of the season.
Season 14 Golden Buzzer Winners
Golden Buzzer #1 - Kodi Lee
Kodi wowed the judges and captured America's heart on the season 13 debut. He is the first golden buzzer recipient of season 13. You can see his audition and golden buzzer moment below.
---
Golden Buzzer #2 - Joseph Allen
Joseph wowed the crowd and the judges with his original song about America's Got Talent. He blends hip-hop, rap, and other styles to make his own. His audition was one of the best so far and as a result, he received a Golden Buzzer from Howie.
---
Golden Buzzer #3 - Tyler Butler-Figueroa
Tyler wowed the crowd with his violin set to the music of Kelly Clarkson's Stronger. The 11-year-old started playing violin when he was only 7 because he was being bullied in school. His electric audition took the audience by surprise and earned him a Golden Buzzer.
---
Golden Buzzer #4 - Detroit Youth Choir
Terry Crews uses his Golden Buzzer to send the Detroit Youth Choir strait to the live shows. Set to the music of Macklemore's Can't Hold Us, the choir delivers an electric performance that is fresh and unlike anything you would expect to see from a choir.
---
Golden Buzzer #5 - Luke Islam
Luke wowed the crowd with his rendition of "she used to be mine" from the Broadway musical Waitress. Luke started singing at a young age and before his performance he told the judges that he is a big fan of Julianne Hough.
---
Golden Buzzer #6 - Sophia Pecora
Sophia was awarded the golden buzzer for a song she wrote about her struggles with bullying. The song led Simon Cowell to an emotional speech about parenting and how he feels about bullying.
---
Golden Buzzer #7 - V.Unbeatable
V.Unbeatable is composed of 29 athletes from Mumbai, India who perform an aerobatic routine. They wowed the judges with their high-flying routine and earned a golden buzzer from Duwayne Wade that sends them directly to the live rounds.
---
Golden Buzzer #8 - Light Balance Kids
The Light Balance Kids blew away guest judge Ellie Kemper with their dance routine that included glow in the dark effects. Ellie told the Light Balance Kids that she thought they were the definition of a spectacle and therefore deserved a golden buzzer.
---
AGT Vote
America's Got Talent performers are trying to make it to the final round of the competition. To do so, they must successfully pass the judges (by not getting X'ed), and then garnish enough votes from American voters to advance in the live rounds. Each week the show lets the lowest voted on contestants go home until there are only 5 finalists.
Past America's Got Talent Winners
Season | Winner
Bianca Ryan
Terry Fator
Neal E. Boyd
Kevin Skinner
Michael Grimm
Landau Eugene Murphy, Jr.
Olate Dogs
Kenichi Ebina
Mat Franco
Paul Zerdin
Grace VanderWaal
Darci Lynne Farmer
Shin Lim
AGT FAQ's