States With Gambling Ballot Measures For 2023 Midterm Elections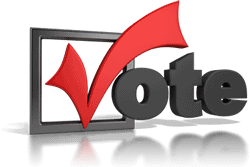 For the 2022 Midterm Elections, five states were hopeful to have a sports betting ballot measure of some sort available to voters on November 8, 2022. Alabama, California, Georgia, Missouri, and South Dakota all had people working hard to garner support for local sports betting in their regions. California is the only state that successfully made it to the finish line.
California will vote on Proposition 26 and Proposition 27, which would allow for in-person and mobile/online sports betting, respectively. To see the proposed gambling legislation and a sample of how it might look on the ballot, click on the CA state link below.
The General election will take place on November 8, 2022. To vote on a state's gambling ballot measure you must be a resident and registered voter in that state.
Alabama Gambling Ballot Measures
Jefferson County Sports Wagering Act (HB405) *Did Not Recieve Required Amount Of Signatures
This act will require a legislative referral and is not yet on the ballot for 2022.
HB405 would authorize the operation of in-person sports betting within the borders of Jefferson County. A newly formed commission would then distribute up to 7 sportsbook licenses.
The Jefferson County Sports Wagering Act requires a simple majority of 50% to pass.
California Gambling Ballot Measures
California Proposition 26
Prop 26 was placed on California ballots for November 8, 2022, after collecting the required amount of signatures.
This will legalize sports betting at tribal casinos and licensed racetracks in California. The bill would also legalize roulette and dice games. This comes in exchange for a 10% tax on all sports betting operations.
CA Proposition 26 Failed To Receive A Majority Vote In 2022
California Proposition 27
997,139 signatures were collected for CA Prop 27, placing it on the ballot this November 8th.
This initiative legalizes online and mobile betting for 21+ gamblers at a 10% tax rate on revenues and requires 85% of the tax revenue to go to homelessness prevention and mental health after regulatory costs are paid.
CA Proposition 27 Failed To Receive A Majority Vote In 2022
Georgia Gambling Ballot Measures
Georgia Sports Betting Legalization Amendment (2022) *Did Not Recieve Required Amount Of Signatures
This legislative initiative needs to pass a Senate vote and would amend the state constitution to authorize sportsbook operations with a significant portion of taxes being allocated toward education.
Rules and figures would require another round of legislative consideration.
Missouri Gambling Ballot Measures
Missouri Sports Betting Legislation Initiative (2022) *Did Not Recieve Required Amount Of Signatures
The signature deadline for this MO sportsbook initiative is on May 8th with a total of 160,199 signatures needed.
If passed, it would amend the state constitution to legalize in-person and online sports betting. There are 9 total versions of this initiative filed with proposed tax rates between 6.75% and 21%.
South Dakota Gambling Ballot Measures
SJR502 *Not On 2022 Ballots
Referred by the SD Senate, this measure still needs approval from the House to appear on the 2022 November ballot.
The measure serves as a joint resolution to amend the state's constitution, legalizing both online and mobile sports betting apps statewide, along with its in-person betting operations in Deadwood. The one caveat is that the sportsbook servers must be located within the town of Deadwood and cannot be based out of any other location in South Dakota.