General Election – States With Gambling Ballot Measures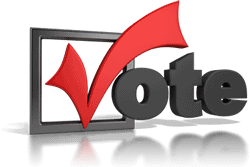 For the 2022 Midterm Elections, 7 states will include gambling-related ballot measures. To see the proposed gambling legislation and a sample of how it might look on the ballot, click on the state links below.
The General election will take place on November 8, 2022. To vote on a state's gambling ballot measure you must be a resident and registered voter in that state.
Alabama Gambling Ballot Measures
Jefferson County Sports Wagering Act (HB405)
This act will require a legislative referral and is not yet on the ballot for 2022.
HB405 would authorize the operation of in-person sports betting within the borders of Jefferson County. A newly formed commission would then distribute up to 7 sportsbook licenses.
The Jefferson County Sports Wagering Act requires a simple majority of 50% to pass.
California Gambling Ballot Measures
California Legalize Sports Betting on American Indian Lands Initiative (2022)
The total signatures required have been collected and this initiative is set to appear on 2022 CA ballots.
This will legalize sports betting at tribal casinos and licensed racetracks in California. The bill would also legalize roulette and dice games. This comes in exchange for a 10% tax on all sports betting operations.
Legalize Sports Betting and Revenue for Homelessness Prevention Fund Initiative
The signature deadline fn May 3rd requires a total of 997,139 signatures and has yet to reach that total as of this writing.
This initiative legalizes online and mobile betting for 21+ players at a 10% tax rate on revenues and requires 85% of the tax revenue to go to homelessness prevention and mental health after regulatory costs are paid.
Tribal Government Mobile and Retail Sports Betting Initiative
The signature deadline for this initiative is July 11th, which needs a total of 997,139 signatures.
The initiative legalizes in-person and online sports betting as operated by tribal lands. 15% of profits are shared with non-participating tribes with another 10% delegated to regulatory costs then homelessness/mental-health programs
This effort is being led by the San Manuel Band of Mission Indians and Rincon Band of Luiseno Mission Indians of the Rincon reservation California.
Legalize Sports Betting Initiative
This is yet another signature-based initiative with a deadline of April 26th needing a total of 997,139 signatures.
This sports betting initiative Legalizes online and mobile betting only and taxes both tribal and commercial operators at a rate of 25%. The tax revenues would be used to fund homelessness assistance, affordable housing, public education, and mental health.
Georgia Gambling Ballot Measures
Georgia Sports Betting Legalization Amendment (2022)
This legislative initiative needs to pass a Senate vote and would amend the state constitution to authorize sportsbook operations with a significant portion of taxes being allocated toward education.
Rules and figures would require another round of legislative consideration.
Missouri Gambling Ballot Measures
Missouri Sports Betting Legislation Initiative (2022)
The signature deadline for this MO sportsbook initiative is on May 8th with a total of 160,199 signatures needed.
If passed, it would amend the state constitution to legalize in-person and online sports betting. There are 9 total versions of this initiative filed with proposed tax rates between 6.75% and 21%.
Nebraska Gambling Ballot Measures
Legislative Resolution 26CA (LR26CA)
LR26CA was legislatively referred and is not an outside initiative. It will appear on NE ballots in November of 2022.
The resolution will amend the state constitution to allow for the creation of a statewide lottery and the authorization of in-person sports betting.
No exact tax figures or rules were included in the current language.
Nevada Gambling Ballot Measures
Gaming Fee Increase on Monthly Revenue above $250,000 Initiative
This proposed gaming fee increase will appear on the NV ballots this November. In Nevada, ballot initiatives must be filed and cleared two years in advance.
The initiative will increase the tax collections on gross gaming revenues collected by the state from 6.75% to 9.75% on nonrestrictive game licensees making $250,000 or more if voted on favorably, creating a new tier. Current levels are set at 3.5% for $50,000 per month or less, 4.5% on gross revenue between $50,001 and $134,000 per month, and 6.75% for licensees that exceed $134,000.
South Dakota Gambling Ballot Measures
SJR502
Referred by the SD Senate, this measure still needs approval from the House to appear on the 2022 November ballot.
The measure serves as a joint resolution to amend the state's constitution, legalizing both online and mobile sports betting apps statewide, along with its in-person betting operations in Deadwood. The one caveat is that the sportsbook servers must be located within the town of Deadwood and cannot be based out of any other location in South Dakota.