Legal Betting Guide for the 2022 Midterm Elections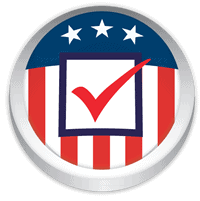 Odds on elections in the United States are one of the most popular political betting options available to bettors, both in the U.S. and around the world, who want to wager on which candidates will represent the nation at various levels of government.
This year, the 2018 Midterm Elections could potentially bring in more action than any election prior – at least until the 2020 presidential election, and it's important to know a few things before betting on election odds.
We've reviewed and put together a list of the best sites to bet on the midterms and other political races to inform potential bettors where it's legal and safe to wager on the 2018 Midterm Elections.
Is It Legal?
Yes, there are no US gambling laws against betting on the 2018 Midterm Elections when a bet is placed from a legally sanctioned domestic sportsbook or a licensed offshore sportsbook. US laws are directed towards the sportsbook operator and not the bettor. Offshore sportsbooks have been servicing the United States for many years and have developed a stellar reputation among industry professionals. The sportsbooks listed on this page have been selected by our team for their fast payouts, top-security features, and convenient banking options.
Best USA Sportsbook For Betting On Midterms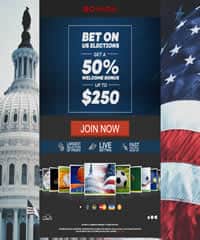 Bovada is offering more than 40 betting lines on the 2018 Midterm Elections, which is more than most of the other bookmakers. They are covering the Senate, House and Gubernatorial races, and include prop bets targeting majority outcomes and party results.  Their range of betting lines outperforms the competition.  You can view the latest midterm election odds here.
 Pros
US Friendly
Owned And Operated By The Bodog Family (Most Reputable)
Deposit Easily With Your Credit Card Or Bitcoin
Fast And Reliable Payouts Guaranteed
50% Welcome Bonus Up To $250
Offers More Than 40 Betting Lines On Midterm Elections
Cons
Only accepts U.S. Mexico And Brazil Players
Excluded States: NY, NV, NJ, DE, MD
LEGAL BETTING SITES FOR 2018 MIDTERM ELECTIONS
2018 Gubernatorial Midterm Elections
A total of 36 states will elect their next governor after the results of the midterms come in. Currently, the polling data suggests the Democrats will take a total of 7 states, which include Florida, Illinois, Maine, Michigan, New Mexico, Ohio, and Wisconsin, while the Republicans will pick up one state with Alaska, which was held by an Independent.• Democrats: 23 (from 16)
• Republicans: 27 (from 33)
• Net Change: Dems +6 states
2018 Senate Midterm Elections
However, the polling for the U.S. Senate paints a very different picture. In total, 33 of the 100 seats are up for grabs, but the latest polling suggests the Republicans will not only keep the Senate but will even gain one seat, increasing their number of held seats to 52. The Democrats could potentially pick up Arizona but are expected to lose Senate seats to the Republicans in both North Dakota and Missouri.
• Democrats: 48 (from 49)
• Republicans: 52 (from 51)
• Net Change: GOP +1 senators
2018 House of Representatives Midterm Elections
All 435 seats in the U.S. House of Representatives are up for grabs during this midterm elections, and the polling suggests a huge Democrat victory across the board, picking up 36 seats based on current predictions. If this hold true, the Democrats would take control of the House from the Republicans, since a total of 218 seats are needed for a majority.
• Democrats: 229 (from 193)
• Republicans: 206 (from 235)
• Net Change: Dems +36 representatives
2018 Gambling Ballot Measures
Although there aren't any betting odds currently for state ballot measure, we put together a list of all the states that will have a gambling-related measure on the ballot. You can find out on that page if your state is voting on gambling during the 2018 midterms.
2018 Midterm Betting FAQ's