Legal Betting Guide for the 2022 Midterm Elections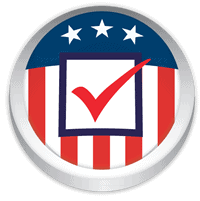 Odds on elections in the United States are one of the most popular political betting options available to bettors, both in the U.S. and around the world, who want to wager on which candidates will represent the nation at various levels of government.
This time, the 2022 Midterm Elections could potentially bring in more action than any election prior – at least until the next presidential election, and it's important to know a few things before betting on election odds.
We've reviewed and put together a list of the best sites to bet on the midterms and other political races to inform potential bettors where it's legal and safe to wager on the 2022 Midterm Elections.
Is It Legal To Bet On Midterm Election Odds?
Yes, there are no US gambling laws against betting on the 2022 Midterm Elections when a wager is placed from a legally sanctioned domestic sportsbook or a reputable offshore sportsbook. US laws are directed towards the sportsbook operator and not the bettor.
Offshore sportsbooks have been servicing the United States for many years and have developed a stellar reputation among industry professionals. The sportsbooks listed on this page have been selected by our team for their fast payouts, top-security features, and convenient banking options.
Best USA Sportsbook For Betting On Midterms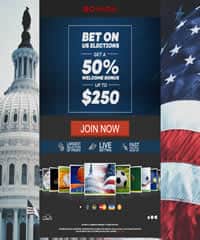 Bovada is offering more than 40 betting lines on the 2022 Midterm Elections, which is more than most of the other bookmakers. They are covering the Senate, House, and Gubernatorial races, and include prop bets targeting majority outcomes and party results.  Their range of betting lines outperforms the competition.  You can view the latest midterm election odds here.
 Pros
US Friendly
Operates legally from Costa Rica
Deposit Easily With Your Credit Card Or Bitcoin/Crypto
Fast And Reliable Payouts Guaranteed
50% Welcome Bonus Up To $250
Offers Dozens Of Betting Lines On Midterm Elections
Cons
Only accepts U.S. Mexico And Brazil Players
Excluded States: NY, NV, NJ, DE, MD
LEGAL BETTING SITES FOR 2022 MIDTERM ELECTIONS
2021 Gubernatorial Midterm Elections
2 states will elect governors in 2021 - New Jersey and Virginia. Both states are currently controlled by Democratic governors, and current polls suggest that the DNC will win the Gubernatorial elections in each - and it's not even close.
Virginia Governor Ralph Northam is expected to easily defeat the winner of the VA GOP primary, whereas New Jersey Governor Phil Murphy is also heavily favored against his Republican challenger, Jack Ciattarelli.
2021 Virginia Gubernatorial Election - Party To Win
Democratic Party -430
Republican Party +290
2021 New Jersey Governor Odds
Democrats -2500
Republicans +800
2022 Gubernatorial Midterm Elections
A total of 36 states and 4 territories/districts will elect their next governor in 2022. Of all the states that are up for grabs, the following represent the regions that have the potential to flip from one party to another.
Arizona - Currently GOP
Georgia - Currently GOP
Kansas - Currently DNC
Pennsylvania - Currently DNC
Wisconsin - Currently DNC
2022 Texas Gubernatorial Election - Odds To Win
Greg Abbott -250
Beto O'Rourke +450
Matthew McConaughey +500
Julian Castro +1600
Joaquin Castro +2000
Wendy Davis +2000
Caitlyn Jenner to be California Governor?
Georgia Republican Gubernatorial Primary
Brian Kemp -165
Ames Barnett +275
Vernon Jones +325
Herschel Walker +3300
Burt Jones +5000
Jonathan Garcia +6600
Kandiss Taylor +10000
Marjorie Taylor Greene +10000
Michigan Governor Odds
Democrats -200
Republicans +150
Nevada Governor Odds
Democrats -275
Republicans +185
Arizona Governor Odds
Republicans -300
Democrats +200
Georgia Governor Odds
Democrats -125
Republicans -115
Pennsylvania Governor Odds
Democrats -180
Republicans +140
Wisconsin Governor Odds
Republicans -130
Democrats -110
2022 House of Representatives Midterm Elections
All 435 seats in the U.S. House of Representatives are up for the taking during each and every midterm election, and the polling suggests that the Republicans have a solid chance of taking the majority after all votes are cast.
Democrats: 220
Republicans: 211
Vacancies - 4 (2 DNC, 2 GOP)
Who will control the House in 2022?
Republicans -220
Democrats +155
Donald Trump to become Speaker?
Donald Trump Elected at Mid-Terms?
2022 US Senate Midterm Elections
The Democratic Party currently holds the slimmest of majorities in the US Senate which was attained due to Joe Biden's White House tenure and his VP, Kamala Harris, serving as Senate President.
The DNC is projected in the election odds to secure another majority during the 2022 midterms, however, as you can see by the remaining odds below on individual states, many regions are expected to be close contests.
There are 20 GOP held Senate seats up for election in 2022, and 14 DNC seats.
U.S. Senate Election Odds 2022 - Balance Of Power
Democrats -130
Republicans -110
U.S. Senate Odds 2022 - Florida
Republicans -350
Democrats +225
U.S. Senate Election Odds - Georgia
Democrats -150
Republicans +110
U.S. Senate Odds 2022 - Nevada
Democrats -200
Republicans +150
U.S. Senate Elections 2022 - New Hampshire
Democrats -140
Republicans +100
U.S. Senate Election Odds North Carolina
Republicans -225
Democrats +160
U.S. Senate Elections Odds Ohio 2022
Republicans -800
Democrats +425
U.S. Senate Election Odds 2022  Wisconsin
Republicans -135
Democrats -105
U.S. Senate Election Odds 2022 Arizona
Democrats -220
Republicans +155
U.S. Senate Elections Odds 2022 - Pennsylvania
Democrats -200
Republicans +150
2021 Gambling Ballot Measures
Although there aren't any betting odds currently for state ballot measures, we put together a list of all the states that will have a gambling-related measure on the ballot. You can find out on that page if your state is voting on gambling during the 2022 midterms.
2021-22 Midterm Betting FAQ's