Legal Online Tennis Betting 2017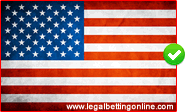 Betting on tennis is clearly something that millions of US, UK and other global residents enjoy on a regular occasion. But what is not so clear is the actual origins of the sport. There is one argument that the ancient Greeks, Romans and Egyptians played a game which gave birth to our modern day tennis. And this is supported by some Egyptian and Arabic words which date back to ancient times which seem to describe a tennis-like sport. The argument goes that the word tennis was developed as a derivation of the Egyptian Nile-based town of Tinnis. And some believe that the word racquet actually dates back to the Arabic word "rahat", which means "palm of the hand."
What we do know is that legal tennis betting is available any time night or day all across the globe thanks to the power of the Internet and access to legal online sports betting sites. And while there are certainly options for betting on lesser-known leagues and tournaments, betting on tennis generally focuses on two main professional leagues and four major tournaments. The Association of Tennis Professionals (ATP) was formed in 1972, and is based in the United States. This is the name given to the biggest and most popular professional men's tennis league. The WTA (Women's Tennis Association) is the name of the predominant women's league, also based in the US. And while both of these competitive leagues offer multiple tournaments throughout the year for legal tennis betting options, the majority of wagers on professional tennis are placed on four Grand Slam tournaments.
Also called Majors, these tournaments are Wimbledon, the Australian Open, the French Open and the U.S. Open. Technically, the nature of the game means that generally you will be betting the money line on one player or another in a head-to-head tennis match. This allows you to more evenly wager on players of different skill levels which are matched up. There are also doubles tennis matches, tennis props and futures for both the ATP and WTA, and other specialty bets for special events offered from time to time. Betting on tennis also usually means that when you open an account at a reputable online sportsbook, you are often greeted with deposit matching bonus money. And during the four Grand Slam tournaments mentioned above, legitimate Internet sportsbooks will generally dish out extra promotions, incentives and bonuses.
In recent years, a new and exciting live betting option has been added by some of the top Internet sportsbooks which are licensed for legal tennis betting. Also called Tennis in Play betting, this live betting option allows you to place bets in the middle of a doubles or singles men's or women's tournament, while the match is under way. This can obviously be advantageous if you act quickly after noticing an under-performing favorite or overachieving underdog, or you are watching the tournament live and pick up some other bit of information which you can act on rapidly.
Is It Legal To Bet On Tennis Matches In The United States?
As we referenced above, the United States currently disallows a US-based and operated company from accepting sports wagers online. This obviously does not apply to legitimate offshore companies which have been legally certified and registered. The top Internet sportsbooks which support betting on tennis have obtained such legal licensing, and also provide SSL data encryption technology and other safety and security methods. This means that support for USA tennis gamblers is guaranteed, and the experience is also trustworthy and reliable. There are also those online sportsbooks which deliver legal tennis betting exclusively for UK players, and those that honor UK, US and international gamblers simultaneously. We have provided a list of the top legitimately licensed online sportsbooks which offer tennis wagering options below, and indicate where US support is offered. You can learn more about the sites we recommend and why we deem them to be the most trusted in our
online sportsbook reviews
.