North Dakota Legal Online Gambling 2018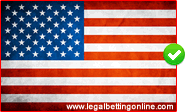 Despite North Dakota's restrictive laws concerning commercial gambling, those living in and visiting the state have some fairly robust options to partake in. Thanks to tribal gambling filling in the gaps that existing states with legal online gambling left in the industry, players will have a variety of options to choose from. The few state approved forms of gambling that exist in North Dakota, which basically only include lottery draw games, pari-mutuel wagering and charitable gambling, are wrought with restrictions.
This page of our website was created to provide insight into the status of legal gambling in North Dakota. We take a close look at the gambling laws in North Dakota, as well as what types of state licensed options are available to players. We cover both land based brick and mortar gambling destinations as well as legal online gambling entertainment options. It is our desire that this guide provides you with everything you need for making an informed decision about your level of involvement with gambling entertainment.
It is not our job to talk you into or out of anything gambling related, but rather to just put the facts out on the table and let individuals make informed decisions about what is best for them in their particular situations. We do not intend for this information to serve as or substitute for professional legal advice or services. We are not attorneys and are not attempting to provide legal services through this website. Everything contained on this page is for informational purposes only.
---
Online Gambling Laws In North Dakota

In general, the state is harder on those individuals who provide illegal gambling services than they are on those who partake of it. That being the case, most gambling laws are directed to the owner operators of gambling entertainment businesses. There are no laws that specifically address online gambling. However, the broad definitions pertaining to gambling devices contained in North Dakota's gambling laws could be selectively interpreted to include devices used in online gambling. This has not happened thus far, with absolutely no arrests or investigations of participants in online gambling entertainment in North Dakota.
However, we are obligated to point out that just because they haven't doesn't guarantee that they won't. It is within the realm of far off possibilities that those engaged in online gambling could theoretically be approached by law enforcement with illegal gambling charges based on the very broad definitions within the state's existing gambling laws. Is it likely? Not even remotely likely. Is it possible? It is remotely possible should the state decide to invest a tremendous amount of money and resources in going after online gamblers who are committing violations that are barely considered a misdemeanor. We really don't' see it happening, and it has not happened so far.
Is Online Gambling Legal In North Dakota?
Without stretching the definitions found in North Dakota's gambling laws to include online gambling, there are no provisions that prohibit ND residents and visitors from participating in online gambling. However, in order to place bets legally in the US, these destinations must be legitimately licensed, regulated and located offshore within a governing jurisdiction that has expressly legalized online gambling of some form within their region. The gambling sites found in this guide represent legally sanctioned internet betting sites that are legitimately licensed and regulated offshore. Most experts agree that playing at these types of legal betting sites does not violate state or federal laws. This has been our experience and based on the fact that the state has never pursued charging anyone with online gambling, we are pretty confident in this conclusion.
Instead of going after online gamblers, what the state will likely do at some point is compete with the existing offshore gambling sites that have captivated online gamblers in the state. By legalizing state licensed online gambling in North Dakota, players would have the option of spending their money at home, supporting their local economy. An effort was made in 2005 to legalize online poker in the state, however it was killed in the State Senate. Since that time, no other pieces of legislation designed to legalize any form of online gambling have been brought forward in the Peace Garden State. No, there is not any movement at this time to legalize online gambling of any form. However, with more and more states getting on board the state regulated online gambling train, ND could end up getting pressured by the state's population to get on board.
ND State Facts & Quick Jump Menu
---