Wisconsin Legal Online Gambling 2018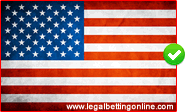 It turns out that Wisconsin has a lot more to offer than the nation's best cheese. There are numerous forms of legal gambling available in the Badger State, making WI a very gambling friendly region in many respects. Not all of the gambling initiatives taken on in the state have worked out perfectly, but all in all lawmakers and the public in general have been fairly receptive to the concept of gambling. The bulk of gambling opportunities in the state consist of tribal gaming that is in place due to state compacts with 11 different tribes residing within the state.
A state like Wisconsin that offers a healthy slice of gambling entertainment comes with a plethora of gambling laws in place to establish and regulate the industry. The objective of this page of our guide is to provide insight into the legal landscape concerning gambling entertainment in the state of Wisconsin. We intend to provide helpful information that delivers a clear and concise picture depicting the legal status of betting in all its forms, both online and offline. We are not attempting to provide professional legal services or advice, nor do we intend to substitute for professional legal services. If you have specific questions or concerns that require definitive legal input we suggest you contact a licensed attorney familiar with gaming law in WI.
---
Is Online Gambling Legal In Wisconsin? Laws And Statutes To Consider.

The statutes and laws in Wisconsin do not include anything pertaining to online gambling. The state's laws do not expressly authorize any type of state licensed online gambling entertainment, nor do they prohibit residents from enjoying online betting at licensed offshore gambling sites. That being said, it is not legal to own or operate an online gambling site within Wisconsin's borders. The state is not willing to provide any licensing of this nature at this time.
As long as players are selective about where they bet online, there are not laws preventing them from doing so. When we say selective, we mean limiting online gambling activities to only those destinations that are legally licensed, regulated and located offshore. There are no state laws or federal laws that prohibit this type of legitimate online gambling.
WI State Facts & Quick Jump Menu
---