New Mexico Legal Online Gambling Guide 2018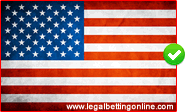 New Mexico residents have access to a substantial variety of regulated gambling entertainment, exemplifying a very pro-gambling environment that is supported by the state's lawmakers and residents. Gambling has been involved with New Mexican history long before regulated gambling emerged. Legal forms of gambling in the state include both commercial and tribal casinos, pari-mutuel wagering, lottery and charitable gaming. The gambling industry in New Mexico is thriving, bringing in millions of dollars in revenue for the state, effectively contributing to the betterment of New Mexico's economic stability.
This guide will delve into the legal status of gambling in New Mexico through a comprehensive look at the state's gambling laws and how they affect gamblers in the state. We look closely at both land based and legal online gambling opportunities available to NM citizens, and provide insight on navigating the legal landscape concerning gambling. Our input should not be confused with professional legal advice or services. We are not attorneys and do not attempt to provide legal services. We are experienced gambling professionals who have had a great deal of experience with all types of betting and gambling, and are eager to share our understanding of the industry with the gambling community.
---
Gambling Laws In New Mexico

Gambling in the state is governed by the New Mexico Gambling Control Board. Their official website also provides access to the state's gambling laws and statutes. Regulated gambling first emerged in New Mexico in 1947 when pari-mutuel wagering on horse races was first legalized. Charitable gambling was legalized in 1978, making it legal for non-profit organizations and charities to obtain licensing for conducting bingo, raffles and pull tab games.
Tribal gambling began developing in New Mexico in 1990 when the state began negotiating compacts with the state Indian tribes. The initial compacts were a bit challenging as the sitting governor at the time refused to sign them. His successor, Gary Johnson followed through and completed the negotiations and final signing off of the agreements. In 1995, the tribal compacts became law and the first Indian casinos in NM were established.
There are now 14 tribes participating in tribal casino gambling in New Mexico offering table games, poker, slots and bingo. Commercial casinos have also since been approved, expanding the casino options even further for NM citizens. The legalizing of tribal casinos included a provision for adding slots at horse racing tracks, officially transforming them into racinos. 1995 also saw the approval of a state lottery, with ticket sales commencing the following year.
New Mexico Online Gambling Laws
While the state of New Mexico has been very open to gambling entertainment for the most part, they do not seem very interested into venturing into any state regulated online gambling initiatives. We are not terribly surprised by this. A lot of pro-gambling states are sitting in a holding pattern to wait and watch to see how the regions that are pioneering state based Internet gambling end up doing.
Is Online Gambling Legal In NM?
At this time, online gambling is not mentioned at all in the New Mexico state statutes. Therefor, it is not legal for anyone to own or operate an online gambling site in New Mexico. But in the same breath there are no laws that ban the act of online gambling in the state. New Mexicans can participate in legally sanctioned offshore gambling online without worrying about breaking any state or federal laws. Gambling online does not violate any state or federal laws as long as you limit your betting to only legitimately licensed and regulated destinations that are located offshore.
NM State Facts & Quick Jump Menu
---