North Carolina Legal Online Gambling 2018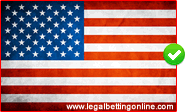 North Carolina is considered to be one of the least gambling friendly states in the US. In fact if it weren't for tribal gambling properties, North Carolina residents would not have any casino or poker choices at all. State licensed gambling options are limited to charitable gaming, the state lottery, and low stakes bingo games. The state fiercely cracks down on all forms of gambling that are not expressly exempted from the gambling prohibitions contained in the state's laws. North Carolina began its anti-gambling campaign during the creation of their state constitution back in the mid 1700s.
Even with a small repertoire of gambling options available, North Carolina residents will still benefit from understanding the legalities concerning the gambling industry in the North Star State. This page will provide clear and concise information regarding the gambling laws of the land. We look closely at both land-based and online gambling laws, and provide insight into the options that are legally available to residents and visitors to the state. In addition, we will touch on the application of US federal gambling laws and how they impact North Carolina gamblers.
---
Gambling Laws In North Carolina

The state's only involvement concerning online gambling included the elimination of illegal Internet cafés across the state. This took place in 2013 when the state enacted a ban on Internet Sweepstakes Parlors. Other than dealing with illegal Internet cafés, North Carolina laws and statutes do not address online gambling at all. So while it is not legal to own or operate any type of online gambling site within the state's borders, there are no laws that actually ban the act of gambling online.
Is Online Gambling Legal In North Carlina?
There are no provisions within the state gambling laws that prohibit North Carolina citizens from participating and legally licensed online gambling activities. Players can access this type of gambling site through licensed and regulated online casinos, poker rooms and sports books that are based outside of the United States. Engaging in online betting at an offshore gambling site that is operating legally within the industry does not violate any North Carolina state laws or federal gambling laws. The key Factor here in making sure you are participating in legally sanctioned gambling activities online is to make sure that you limit your betting to only those destinations that are legitimately licensed and regulated through a respected governing jurisdiction located outside of United States. We highly recommend relying on input from industry professionals who are experienced at vetting online gambling businesses. The online gambling sites you see listed in this guide have all been vetted and approved by professional online gambling analysts.
NC State Facts & Quick Jump Menu
---