State-By-State Legal US Gambling Guide For 2021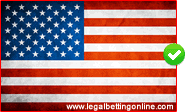 We've compiled this legal online betting reference to provide accurate and up-to-date information on the legal online gambling status and gaming options available within each American state. Our goal is to provide a comprehensive state-by-state US gambling guide which will give players all the information they need to make smart decisions about how and where to bet online.
This state-specific data will include the state laws governing Internet gambling opportunities in all relevant markets, including online casinos, online poker, and online sports betting.
Each state approaches the legalization of online gambling differently, so it's necessary to detail state-licensed options as well as legal international gambling opportunities. We also address some of the most commonly asked questions about gambling in each state and provide various helpful resources. Such information is covered in greater detail at each specific state page linked below.
Is Online Gambling Legal In My State?
It definitely might be! At this moment, at least 25 US states have legalized and regulated online gambling in some form. However, most states have limited their legalization efforts to sports betting.
Nevertheless, we expect that the majority of these states will also embrace legal online poker games and legal online casino games eventually. Of course, if they don't, you can still wager legally and safely using online overseas operators.
Online Poker & Casino
Online Sports Betting
Arkansas*
Colorado
Delaware***
Louisiana**
Maryland**
Michigan
Nevada
New Hampshire
New Jersey
New Mexico*
North Carolina**
Pennsylvania
South Dakota**
Washington**
Washington DC
West Virginia
*Retail only, online TBA
**Legalized but pending launch
***Retail available, online pending launch
To date, TN is the only US state that has domestic sportsbooks available exclusively online, as there are no provisions in Tennessee sports betting laws to allow for retail brick-and-mortar gambling locations.
Online Lottery
Illinois
Michigan
Pennsylvania
Virginia
Is Licensed Offshore Gambling Legal In My State?
Although the above states offer regulated online gambling, residents in most of them still have the option to use licensed offshore betting sites. Nearly all US state residents, except those from Washington, can legally access licensed offshore online gambling platforms to play online casino games, enter online poker tournaments, and bet on sports.
This is because no local gambling laws in any of the other 49 states (and Washington DC) specifically prohibit betting real money with an international operator.
Additionally, there are no federal laws that bar the activity, as all US betting mandates apply only to domestic sportsbooks (i.e. the Wire Act) and US-based financial institutions (i.e. the UIGEA), not to players themselves.
What Is The Minimum Online Gambling Age in the US?
There is no single minimum gambling age in the US, as these are set and regulated by each individual state. The minimum age within each state is affected by various factors such as betting markets, casino game types, venue amenities, and more.
Most states set all their gambling age minimums to 21 years of age, though a few have sports betting options and other kinds of Class II style gambling opportunities for 18+ players.
That said, licensed international online gambling sites offering casino games, poker rooms, and sports betting amusements almost always accept USA players at just 18 and up. These reputable sites also award their members bigger bonuses and perks, more varied electronic casino game options, and better sports betting odds.
U.S. States Where You Can Legally Gamble At 18 And Up
Below, you can learn more about the minimum legal online gambling age by state:
| | | | |
| --- | --- | --- | --- |
| AL Offshore Yes:18 | IL Offshore Yes:18 | NE Offshore Yes:18 | SD Offshore Yes:18 |
| AK Offshore Yes:18 | IN Offshore Yes:18 | NV Offshore Yes:18 | SC Offshore Yes:18 |
| AZ Offshore Yes:18 | KS Offshore Yes:18 | NH Offshore Yes:18 | TN Offshore Yes:18 |
| AR Offshore Yes:18 | KY Offshore Yes:18 | NJ Offshore No | TX Offshore Yes:18 |
| CA Offshore Yes:18 | LA Offshore Yes:18 | NM Offshore Yes:18 | UT Offshore Yes:18 |
| CO Offshore Yes:18 | ME Offshore Yes:18 | NY Offshore Yes:18 | VT Offshore Yes:18 |
| CT Offshore No | MD Offshore Yes:18 | ND Offshore Yes:18 | VA Offshore Yes:18 |
| DE Offshore Yes:18 | MA Offshore Yes:18 | NC Offshore Yes:18 | WA Offshore No |
| FL Offshore Yes:18 | MI Offshore Yes:18 | OH Offshore Yes:18 | WV Offshore Yes:18 |
| GA Offshore Yes:18 | MN Offshore Yes:18 | OK Offshore Yes:18 | WI Offshore Yes:18 |
| HI Offshore Yes:18 | MS Offshore Yes:18 | OR Offshore Yes:18 | WY Offshore Yes:18 |
| ID Offshore Yes:18 | MO Offshore Yes:18 | PA Offshore Yes:18 | |
| IA Offshore Yes:18 | MT Offshore Yes:18 | RI Offshore Yes:18 | |
Online Gambling Laws in The United States

Gambling laws can be a complex topic these days, as there a pair of prominent US federal gambling laws to account for, and there are several local gambling laws in every single state.
The reason for this is that the US DOJ has declared that each state has the authority to determine its own destiny concerning both land-based and online gambling. This is especially true now that PASPA (1992-2018) has finally been overturned.
Since 2018's PASPA overturn, a large number of US states have legalized various forms of online gambling (mostly sports betting) within their borders. Many other states are currently in discussions to do the same.
Nevertheless, even if you live in a state without legal local gambling options, you still have them. US players outside of WA are permitted access to multiple licensed, certified, and regulated online gambling sites hosted outside of the United States. This is a nice alternative allowing those players aged 18 and up to enjoy real online gambling while their states get their ducks in a row.
States With Pending Online Gambling Legislation
Iowa
Kentucky
Michigan
New York
Virginia
US States That Offer Active Domestic Sportsbooks
Arkansas
Colorado
Delaware
Illinois
Indiana
Iowa
Michigan
Mississippi
Montana
Nevada
New Hampshire
New Jersey
New Mexico
New York
Oregon
Pennsylvania
Rhode Island
Tennessee
Virginia
Washington DC
West Virginia
US States With Legal Sports Betting Pending Launch
Louisiana
Maryland
North Carolina
South Dakota
Washington