State By State Legal US Gambling Guide For 2019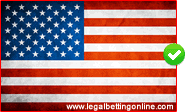 In an effort to compile the most exhaustive legal betting guide for US players, we are developing a segment of this site which is dedicated to providing accurate and up to date information on the legal online gambling status and options for each state, resulting in a comprehensive state gambling directory. As we've mentioned throughout this website, it is our firm conviction that empowering players with information will contribute to their success in making informed decisions concerning their online gambling activities. Providing state specific data will enable players from around the country to eliminate the risk of unknowingly participating in illegal gambling operations, or landing at predatory or simply low quality gambling sites that place players and their sensitive financial information at risk.
Some of the key topics covered in our state guides will include an overview of the status of online gambling within the state, a look at the state laws governing online gambling opportunities, and a summary of the status and opportunities concerning each individual platform, including legal online casinos, legal online poker, and legal online sports betting. Because each individual state is approaching the legalization of online gambling differently, we felt it would be beneficial to break it down by venue so players know precisely which state based options are available vs legal and legitimate options located outside of the state.
Lastly, we address some of the most commonly asked questions about gambling in each state and provide some helpful resources for players to access. It is not our objective to convince you or sway you into participating in anything, but rather we want to present all the information that is available and allow players to make their own decisions based on the facts and their own personal circumstances and convictions. State based online gambling will not be for everyone, and legally licensed and certified offshore online gambling options will not be a good fit for every player. Only you can make these decisions. We believe that knowledge can be the most critical factor in players making sound decisions which are beneficial to them and their needs; hence we have expanded our site to include these state specific betting guides.
Current List Of Legal US Gambling States In 2018
Just to avoid any confusion, we have marked which US states offer (state regulated) gambling options below with a check mark. In order to partake in any of the gambling options regulated by the state, a player must reside in that particular state. However all American players (regardless of where they live) can legally play for real money at any of the legal offshore gambling sites that we recommend. There is nothing illegal about playing at offshore sites unless you live in the state of Washington which has passed a bill to specifically outlaw online gambling. And to be frank, the licensed offshore betting sites offer players much more in the way of bonuses and perks. And the sites we recommend are all extremely reputable and pay winners out like a bank.
Click on the links in the right menu to learn more about legal online gambling options in that particular state.
| | | | |
| --- | --- | --- | --- |
| Alabama | Illinois | Nebraska | South Dakota |
| Alaska | Indiana | Nevada | South Carolina |
| Arkansas | Kansas | New Hampshire | Tennessee |
| Arizona | Kentucky | New Jersey | Texas |
| California | Louisiana | New Mexico | Utah |
| Colorado | Maine | New York | Vermont |
| Connecticut | Maryland | North Dakota | Virginia |
| Delaware | Massachusetts | North Carolina | Washington |
| Florida | Michigan | Ohio | West Virginia |
| Georgia | Minnesota | Oklahoma | Wisconsin |
| Hawaii | Mississippi | Oregon | Wyoming |
| Idaho | Missouri | Pennsylvania | |
| Iowa | Montana | Rhode Island | |
Online Gambling Laws in The United States

Gambling laws can be a rather complex topic these days. There are US federal gambling laws, such as the UIGEA and the Federal Wire Act, and also state gambling laws to govern individual territories. Very few state laws include any statutes concerning online gambling one way or the other, aside from the few states which have expressly legalized online gambling for their residents. The United States DOJ has stated that each individual state has the authority to determine their own destiny concerning both land based and online gambling. Shortly after the DOJ officially took this 'hands off' approach, several states moved forward with legalizing some type of online gambling for their region, with multiple other states currently in discussions amongst themselves concerning the possibility of embracing this virtual gaming platform in their own territories.
Despite popular belief, there are no federal laws which prohibit US players from participating in legally licensed and certified online gambling websites. The states which have thus far legalized online gambling do have regulations concerning locale, and require that anyone who wishes to participate in their offerings be at least 21 years of age and be physically located within the state borders. Those players who are not able to comply with those types of location requirements do have access to legally licensed and regulated online gambling sites which are located outside of the United States and that offer legitimate online gambling opportunities.
The UIGEA bill that was passed in 2006 does not prohibit US players from engaging in legally licensed online gambling sites that are located offshore, but rather implements regulation concerning how online gambling transactions can be processed. It does not address or focus on players in any way, but rather addresses gambling site operators and payment processors. While the passing of this legislation did create a bit of stress on the industry initially, the end result is a safer environment for both players and operators in regards to online gambling transactions. US players have access to multiple licensed, certified and regulated online gambling sites located outside of the United States which legally offer services to the US, which is a nice alternative for those players not located in a state that has legalized online gambling for their residents.
Current US States That Have Legalized And Regulated Online Gambling As Of 2018
Just a heads up, you need to reside in one of these states to be able to take advantage of their state regulated online casinos and poker rooms. And even if you do live in one of these states, it still might behoove you to consider playing with a reputable offshore site as these sites typically offer much more in the way of bonuses and rewards. And all of the sites we recommend are 5 star sites and pay out winners like clockwork.
Delaware – Delaware was actually the very first state to legalize online gambling. But it wasn't until 2013 that they started offering real money games to residents in the diamond state. Currently they offer state regulated online casino and poker games and continue to make a push to allow online sports betting.
Nevada – 1 of 3 states that currently offer some form of regulated online gambling. They were one of the first to move forward with legalizing state based online gambling options, and we felt it was only appropriate that we start the development of this segment of our site with the pioneer of legal US online gambling.
New Jersey – NJ offers their players both casino and poker gambling options, and is working hard to establish a sports betting platform as well. They have experienced resounding success with their online gambling initiative and considered to be extremely successful with their online gambling industry launch. Find out what they have to offer, and how they have come to be industry leaders.
States That Are Close To Passing Online Gambling Legislation
California – Expected to be the next state to embrace online gambling, California is currently working towards launching an online poker initiative that would include existing gambling business owners. Efforts for the 2014 session have been tabled and will resume in 2015 with a revised version of the legislation. This guide will monitor and report the most current legal status of any online gambling options in the Golden State.
Pennsylvania – Pennsylvania has moved towards passing online gambling legislation in a big way over the past 2 years. Several bills have been introduced, but most have been tabled until the Fall. In light of everything that has transpired over the past few years, we feel very strongly that Pennsylvania will be the next state to legalize online gambling.