Ohio Legal Online Gambling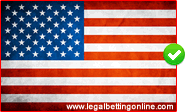 Ohio was not always the gambling friendly environment it represents now. The state was slow to introduce and pass legislation that allows state regulated gambling in several different forms. A struggling state budget and lost revenue from citizens visiting neighboring states for gambling entertainment has helped warm up the climate in Ohio for embracing certain forms of gambling entertainment. The Buckeye State now boasts multiple state casinos and racinos, as well as various forms of charitable gambling and pari-mutuel wagering. The state also operates a lottery program to round out its legal betting portfolio.
There have been a lot of changes to the legal landscape concerning gambling in the United States. From a formal clarification on the Federal Wire Act to the emergence of state licensed online gambling initiatives in a handful of states, the gambling industry's presence and infrastructure has become fluid, with an ebb and flow that results in some very significant changes nationwide. This page of our guide will discuss this ebb and flow as it pertains to Ohio's gambling industry and the legally betting options afforded to the citizens and visitors of this great state. You will find information pertaining to both offline and online gambling entertainment, with a birds eye view into our assessment of the legal status of gambling in the state.
We are not attorneys and are not making any type of effort to provide professional legal services or advice. What you read on the pages of our website is for informational purposes only, and is not to be confused with professional legal advice. The information contained on the pages of our resource guide does reflect a combined experience in the gambling arena that spans decades, all purposed to understanding and applying relevant information associated with the gambling industry and its participants.
---
Online Gambling Laws To Consider In Ohio

In 2013, the issue of Internet Sweepstakes Cafes was intended to be presented to voters on the 2014 ballot, however the measure lacked the required number of signatures. While the issue continues to be discussed and addressed, Internet Sweepstakes Cafes that have become compliance certified and have met state regulations are permitted to operate in Ohio, with a maximum daily prize payout of ten dollars per day. A list of approved Internet Sweepstakes Cafes in Ohio can be found on the Attorney General's website page covering Services for Ohio Internet Sweepstakes Cafes.
Is Online Gambling Legal In Ohio?
Other than the issue of Internet cafes, the gambling laws in Ohio are silent on the topic of online gambling. This means that it is not legal for anyone to own or operate an online casino, poker room or sportsbook inside of Ohio's state borders. On the bright side, the omission of online gambling regulations in the state's statutes means that citizens are not prevented from legally participating in licensed and regulated online gambling sites that are located outside of the United States. This means that Ohio's residents are free to engage in licensed online gambling from legitimate offshore businesses that are subject to strict regulatory oversight. You will find recommendations on this page for legally sanctioned gambling sites that accept players from Ohio.
OH State Facts & Quick Jump Menu
---