Wyoming Legal Online Gambling Guide 2018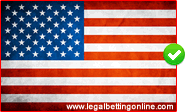 When you think of Wyoming, (if you think of Wyoming0, gambling is not the first thing that comes to mind. The state actually has more regulated forms of gambling that most people realize, which came as a pleasant surprise to us as well. Gamblers have access to a handful of state licensed betting venues that provide a decent range of options, albeit somewhat limited in scope, for residents and visitors to the state. Wyoming's gambling industry has expanded nicely in recent years to see a lottery system added as well as historic horse racing in the re-established pari-mutuel wagering arena.
In an effort to establish ourselves as a trusted and comprehensive gambling resource, we have created a state by state guide to understanding the legal status of gambling in each state, as well as provide insight into the state's gambling laws. This particular page is dedicated to looking at the legalities of gambling in the state of Wyoming, with the intent of providing knowledge to individuals seeking clarity and understanding concerning legal gambling options in the state. We want to assist players in making informed decisions regarding their individual involvement with responsible gambling entertainment. We are not here to offer any type of professional legal advice or services, nor are we qualified to do so. What you will get on this page is our educated and informed opinion based on combined gambling industry experience that spans decades among our team of analysts.
---
Gambling Laws In Wyoming

The gambling statutes in Wyoming do not make mention of online gambling as of this writing. By not addressing the issue, Wyoming cannot move forward with state regulated online gambling. This means that it is not legal at this time for anyone to own or operate and online gambling site within Wyoming's state boundaries. That's the down side. The up side to online gambling being left as status quo for now is that there are no state laws prohibiting players in Wyoming from enjoying online betting at licensed Internet gambling sites.
Is Online Gambling Legal In Wyoming?
The key to staying on the legal side of the coin is being selective about where you place your bets. As long as you make sure to only gamble at online destinations that are legally licensed and regulated outside of the United States,
you will not be violating any type of Wyoming state or federal gambling laws
. Should Wyoming take any steps to advance or restrict online gambling within their state, we will provide updated information here.
WY State Facts & Quick Jump Menu
---