Legal USA Greyhound Betting And Racing Guide For 2018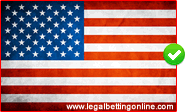 Often is the case that you will find exciting, competitive, lucrative sports where you never even expected to see them. This has been the case with greyhound racing for centuries. Yes, greyhound racing is a very old, well established sport across the globe. And while it may not have the same appeal as horse racing, the genre of greyhound racing is still an extremely competitive and popular niche. At Legal Betting Online, we want to tell you all about greyhound racing, from its legality around America to the different types of bets you can make within the sport.
Our hope is that you end up winning money when betting on the greyhounds. We cannot claim that you will walk away from our resource site as an expert on greyhound racing, but we are sure that you will walk away with more knowledge to help you properly wager on the sport. And it all starts with learning about the legality of betting on the greyhound races in the US.
Legal Status For Betting Greyhounds Online
Greyhound betting is one of only a few specific niches in the industry where
it is actually 100% legal and regulated in the United States.
When the UIGEA bill passed in 2006, special carve outs were made for both the horse racing and dog betting industry. As a matter of fact, outside of the daily fantasy sports sites that operate within the US, lottery, dog and horse betting sites are the only other exceptions. That's doesn't mean however that it's illegal to gamble with an offshore racebook site. We offer our recommendations on those as well as they are just as reputable as the US regulated sites and often times offer more lucrative perks for players.
---