BetAmerica Racebook - 100% Bonus Up To $100
The BetAmerica Racebook was launched in 2008, which makes it a relatively newcomer when compared to companies and sites that have been around for a decade or more. Even still, BetAmerica has been able to establish itself as one of the most legitimate racebooks online over the past seven or so years, and they have a solid reputation for treating their members well and for providing perhaps the most realistic, interactive experience of any sportsbook in history.
BetAmerica does more than offer a long list of different lines and betting options. They actually provide live streaming video of tons of horses races, greyhounds, and more. So the user experience goes beyond merely betting via the Internet; it's like you're actually visiting the track and are experiencing the races in live time. This is something that not many sites offer, and BetAmerica is the only site that we've researched that actually allows for such an interactive experience. The site itself was started by two gamblers who did not like the way Internet gambling was trending. They decided that they wanted to make a better hub for people who like betting horses and sports, and the end result is one of the most exciting racebooks online today.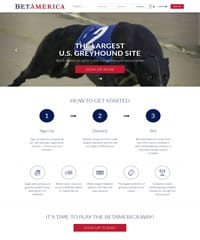 Most of the sites we recommend on legalbettingonline.com are offshore based. However BetAmerica is one of the few horse betting sites legally licensed and regulated inside the United States. This is the reason why almost 20 states exclude players from opening up a real money account. That being said, they are a fantastic option for US players looking to play with a US regulated site. They offer great bonuses, easy deposit options and probably offer one of the most robust horse wagering platforms in the entire industry.
Pros
Licensed and regulated inside the U.S.
Very reputable - leading brand in the industry
Generous 100% bonus up to $100
Bet on horses and greyhounds
Excellent credit card approval rates
Mobile friendly app
Watch the races live via streaming technology
Fast and reliable payouts guaranteed
 Cons
Many US States Restricted
Legal Licensing and Certification – Is BetAmerica US-Friendly?
BetAmerica is licensed and operated out of North Dakota, which is in the United States. You might be a little confused, especially if you follow our content about gambling in America. You may know that the federal government is very strict about casinos and poker, and that North Dakota is not an exempt state from these regulations. However, the federal government in America is very forgiving of horse betting for some reason. BetAmerica was able to set up inside of America, which means that they also cater to Americans and are in fact the only true legal USA horse betting site found on our website that is regulated in the United States. So if you're from the USA, you can find a home with BetAmerica and not only bet on the horses but also greyhounds and fantasy sports.
BetAmerica Details
Website Details
Site Name:
BetAmerica
Established:
2008
USA Accepted:
Yes
License Jurisdiction:
United States
Software:
Proprietary
Phone Contact:
1-866-607-7929
Other Contact:
help@betamerica.com
Bonus Offer:
100% Up To $100
Bonuses And Promotions
BetAmerica, for its software and racing options alone, is able to pull in millions of people. However, they don't just rest on their laurels in this regard; they still offer great incentives for new members to join. For instance, their best promotion going has to be their welcome bonus. They offer all new players who register a new account 100% free match bonus on their first deposit up to $100. But where this bonus separates itself is that the money is given to you in larger increments every time you bet, so you don't have to sit around on the site playing for years in order to claim the bonus. It happens quickly with BetAmerica. You can also find a feature with BetAmerica called a bonus track. All told, you will find over 140 of these bonus tracks, and each time you place a bet on one you get a 3% rebate as part of their bonus track promotion. They also have a loyalty program for returning members and new bonuses popping up occasionally. Be on the lookout for new bonuses and promotions coming down the pike.
BetAmerica Software
One of the biggest perks people speak about with BetAmerica is its unique and interactive software. This software is very innovative and provides an unparalleled experience for online gamblers. It's called BAM Software, and it has a long list of cool benefits. This full-featured software package allows for remote account wagering, a seamless mobile app, tons of cool and interactive features, and much more. The software is able to operate on any piece of hardware without dragging the processor down or using up a lot of memory. It's light, it's powerful, it's colorful, and it's truly unique in the world of racebooks. It's also very secure software so you won't have to worry about any security threats while you're betting on the ponies.
Lines And Wagering Options
The type of lines offered by BetAmerica meet and exceed those that you will find at a live track. You can bet to win, place, show, for a trifecta or any other type of combination bet, parlays, pool bets, prop bets, and so much more. And you can place these bets on over 200 tracks around the globe, from the biggest tracks like Belmont and Kentucky to small-town tracks that are off the beaten path. And the best part about all of these different tracks is that, for the most part, they have some type of broadcast happening. And where there's a broadcast happening from a track, BetAmerica will have it to show you via its live streaming option. This puts you at the track from the comfort of your own home, and this isn't an option that you're going to find with a lot of racebooks online. And just to keep things interesting: If you ever tire of betting on the horses, BetAmerica also offers a full casino and a top-flight poker room.
Deposits And Payouts
A racebook can rate well in a wide range of categories, but if they're not offering enough deposit and withdrawal methods to make it convenient for you, then it's not a site worth playing with. Luckily for those interested in BetAmerica, there are more than enough banking options to meet your standards of convenience. You won't have to jump through any hoops to get your money into this American site. You can use deposit methods like MasterCard or Visa, Neteller, PayNearMe, wire transfers, or mailed checks. If you use Neteller, then you can also use this as a withdrawal method and you will get your funds instantly after processed by BetAmerica. The other two withdrawal options are getting a bank/wire transfer or receiving a check in the mail. The latter obviously take a few days, but they're still convenient.
Is BetAmerica Racebook Mobile Friendly?
Yes.
Excluded States And Restrictions
Because Betamerica is legally licensed in the US, they must adhere to strict state and federal laws. Please make a note that players located in any of the following US states are not allowed to wager: Alaska, Arizona, Georgia, Hawaii, Maryland, Mississippi, Missouri, Nebraska, Nevada, New Jersey, North Carolina, Puerto Rico, South Carolina, Texas, U.S. Virgin Islands, Utah, Virginia, Washington & Washington D.C.
Summary
There is an awful lot about BetAmerica that can be summed up, so let's start with the glaringly obvious positive aspects of the site, and that's that BetAmerica caters directly to a US-based audience and has banking options that are geared toward making it easy for Americans to play. Even if you're not located in the US, this bodes well for you because it means that, for your nation or territory, even more banking options are available, which will make it even easier to deal with the site. Next up on the list of good things to speak about with BetAmerica is its unique BAM Software. This software package has to be one of the coolest, most innovative packages offered online by any type of gambling site. It not only works seamlessly on both home PCs and mobile devices, but it allows sports betters to experience horse betting as if they were really going to the track. That's a very cool feature that not many sites at all are able to provide.
BetAmerica also has a great track record of fairness and a solid customer support staff. They also offer a ridiculous amount of races. You're never going to run out of things to bet on or to follow. Add in their own casino and poker room, and BetAmerica really stands out as a site many gamblers can call home.
BetAmerica Rating
Trust And Reputation

Legal Licensing

Payout Speed