Delaware Legal Online Gambling 2018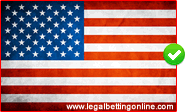 Delaware was the first state to embrace state regulated online gambling. They were the first to the finish line in offering legal online poker and casino gambling in 2012. They launched their online gambling platforms in 2013 and by 2014 had an interstate gaming compact with Nevada to share their online poker player base. Delaware did indeed pave the way for the US based online gambling industry to take shape. Delaware is also one of the four state that are exempted from the PASPA law, hence they are able to legally offer land based sports betting to their residents. In addition, Delaware residents also have the option to visit and bet at legally licensed and regulated offshore gambling sites without violating any state or federal laws.
This guide will go into all the aspects of online gambling in Delaware, including state regulated options and licensed offshore destinations. We will discuss the legalities involved, the options that are available, and how to navigate the terrain as an informed gambler. We will provide recommendations of the industry's leading offshore gambling sites, all if which we personally vet ourselves.
---
Delaware Online Gambling Laws - Is Online Gambling Legal In Delaware?

The Delaware Gaming Competitiveness Act of 2012 is the crowning jewel that ushered in legal state regulated online casino and poker gambling for the state. The benefits to the job market and financial situation of the state were able to win the necessary votes to pass the legislation. In 2013, the state launched their online gambling initiative first with free play online gambling, and later with real money online gambling. The law required that players be physically located within the state of Delaware in order to participate at their gambling sites. Their three online gambling sites offer both online casino games and online poker games.
With Delaware, Nevada and New Jersey all offering legal online gambling and all struggling somewhat with their numbers, interstate gaming compacts are becoming established to allow a shared player base between the states. So far only Nevada and Delaware have entered into such an agreement, and it is limited to poker at this time. This means that poker players in Nevada can also play at the online poker rooms located in Delaware, and vice versa. Players still must be physically present in either Nevada or Delaware to play, but that is expanding the territory at least somewhat. As more states legalize online gambling, there will be more options for partnering up to share the player base.
The state laws do not prevent players from also participating in legally licensed and regulated offshore gambling sites. As long as these sites hold the proper credentials and are subject to regulatory oversight by a legitimate governing authority, then it is perfectly legal for players in the US, including Delaware, to participate in online gambling at these types of sites. Not all sites that are legal are necessarily secure or of the highest quality. We have provided a listing of recommended offshore gambling sites for each venue to ensure you have access to the most secure, trusted and legally sanctioned destinations that offer a high quality gambling experience. We have personally vetted each one and placed them through an intense review process before considering them as a potential recommendation. We also remain registered players at each of them as well. We believe in putting our money where our mouth is.
DE State Facts & Quick Jump Menu
---