Legal College Football Betting Guide For 2023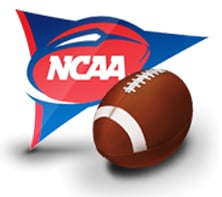 American football was born when roughly 100 people witnessed Rutgers beating Princeton by a score of 6-4 at a small field plot in New Brunswick, New Jersey all the way back on November 6, 1869. A short time later, betting on football became a national pastime, and is now the most popular sport to watch and bet on in the United States. 
Today, the NCAA is the governing body for all sports held at colleges and universities, and Division I is the highest level of collegiate football and receives the most betting action as a result. Our page dedicated to legal NCAA College Football betting will help guide bettors through the legalities involved and will reveal our list of top-rated online sportsbooks that have passed our vetting process. 
Don't take the risk of venturing into college football betting unprepared. Read through this page to learn the best plays to make when betting on NCAAF, and which venues offer the most advantageous perks and payouts. 
Is It Legal To Bet On College Football Games In The United States?
Yes, college football betting is legal in the United States and there are two options.


Domestic Sportsbooks - There are many states that have legalized domestic sports betting and wagers on NCAAF can be made if bettors are of the required legal age for that region.
International Sportsbook Sites - For those that are not located in or near a state that has regulated domestic sportsbooks, then an online international betting site like the ones we recommend in this guide are safe to use because there are no federal or state gambling laws that even mention the act of wagering with an offshore entity. There's no law to break, so bettors cannot get into any trouble, and many of the sites accept members starting at 18 years old.
Top Rated Sportsbook To Bet On NCAAF Football Games
Bovada Sportsbook
50% Bonus Up To $750 For New Players
Bovada Sportsbook is the most reputable site for betting on college football odds, and the site routinely offers the best football odds and lines around. Of course, Bovada couples that value with sheer quantity, boasting far more NCAA odds than most other books, too. Essentially, Bovada is the Alabama of college football betting. Bankroll Tide!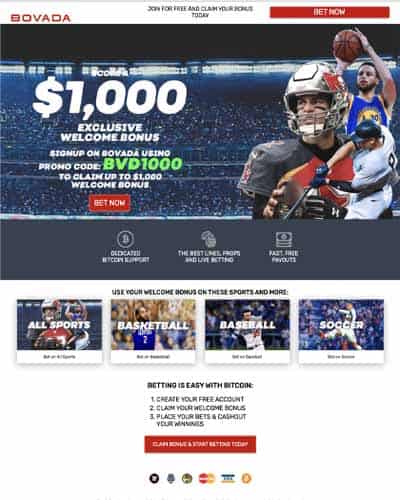 US Friendly - Most US States Accepted

Most reputable name in online sports betting

Licensed by Curacao - Operates within Costa Rica

Generous 50% bonus up to $1,000 for new members

Easy deposits using credit cards or Bitcoin/crypto

Fast and reliable payouts guaranteed
Only US, Mexico and Brazil players accepted

Residents of DE, MD, NJ, NV, NY not accepted

Limited deposit options compared to other sites
Top Rated Legal USA College Football Betting Sites
2023 College Football Schedule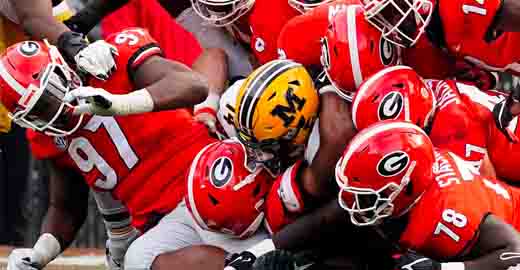 Season Begins:
August 26th, 2023
Conference Championships:
December 2, 2023
Bowl Games Begin:
December 15, 2023
CFP Selection Show:
December 3, 2023
CFP Semifinals:
January 1, 2024
CFP National Championship:
January 8, 2024
How To Bet On College Football - Odds & Lines
Here is a look at the types of bets that are typically offered on a day-to-day basis at college football betting sites:
Point Spread - A number that represents the amount a team is predicted to win or lose by. Bettors must wager on whether they think the winner will cover the spread and win by more than predicted, or the loser will cover the spread and lose by less than predicted (or outright win). The favorite is listed in the negative.
Money Line - These are numeric odds that are placed next to a team's name that indicate their chance of winning the game, and allows bettors to simply chose which outcome they think will be successful. Payouts are also determined by the numeric value of the money line odds. A wager of $100 can win $150 on +150 odds, while a wager of $270 would be required to win $100 on -270 odds.
Over/Under - Also called totals, this is a line drawn in the sand by oddsmakers for the amount of points that both teams will combine to score in a given game. Bettors must wager on whether the total amount of points will be above or below the line.
Futures - Futures involves events that aren't occurring today, such as the eventual CFP National Championship team, the Heisman Trophy Winner, or eventual SEC Champion. These types of betting lines are available almost year-round.
Prop Bets - Proposition wagers are betting lines for in-broadcast occurrences that may or may not affect the outcome of the game. Odds can include player or team stats, will a player's girlfriend be shown in the crowd, or how many times the announcer will utter his catchphrase.
Live Betting - Also called in-game betting, live betting on college football are wagers that can be made during the contest with odds that are fluctuating as situations develop. Wagers are no longer confined to being made before the game starts, because live betting allows the bets to continue until the broadcast concludes.
Each year, bettors rely less on PCs and laptops as a means of wagering on college football, and that's because smartphone and tablet use is on a sharp incline. We, as a society, no longer have the patience to wait for a dusty old computer to boot up when we can just whip out our iPhone, iPad, or Android-based device and get to work.
The same can be said for betting on NCAAF, because the top sportsbooks listed on this page can be accessed by mobile devices by simply clicking on the links we've provided. There's no download required for mobile betting, as these are web-based apps that react to touch button control and can access all the odds and features that the regular website offers.
College Football Playoff Odds
Since the 2014 season, Division I Football has had a four-team playoff to decide the winner of the national championship. Click here for the latest odds on which teams are predicted to make the College Football Playoffs and Bowl games.
College Football National Championship Odds
When the NCAA's College Football Playoffs semifinals conclude, the top two remaining teams will compete for the 2023 National Championship. Learn about how to play the latest odds on who will win the college football national championship here.
What effect did PASPA have on college football betting?
Following the repeal of PASPA in May 2018, states began legalizing sports betting to increase tax revenue, which will go to funding many state social programs – like education.
Sportsbooks operating offshore have been providing legal betting services for years, and the addition of land-based, state-licensed sportsbooks will encourage competition, giving college football fans even more ways to wager and engage with the game they've loved for nearly 150 years.
Fans who want to follow their players and teams closely in all respects can access the NCAA football official website for current headlines and information.
Other Popular Sports Betting Sections
Football Betting Guides
Other Legal Sports Betting Coverage
Additional Gambling Guides
Need something more engaging? Add some variety to your online gambling entertainment with these additional options.