2023 College Football Season Preview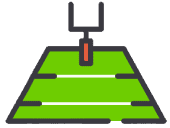 Another fall's worth of college football betting is nearly upon us, so let's have a look at the 2023 NCAA Division I FBS season and forecast what bettors can expect for this year.
The CFP Committee has announced plans to meet throughout the season to deliver their rankings and eventually decide who will advance to the NCAAF postseason for a chance at a National Championship.
Based on the current NCAAF postseason betting odds, as well as the betting lines that have been made available for conference titles, we can expect some of the usual customers to be involved in the playoffs when CFP decisions are made in late December.
Atlantic Coast Conference (ACC)
The Clemson Tigers are heavy favorites to repeat as ACC champions and advance to the final four once again. In fact, of all the Power 5 Conferences in NCAAF, Clemson currently holds the most sizable advantage in the College Football betting odds with a separation of 1700 points in the moneyline odds.
Clemson -900
North Carolina +800
Miami, Florida +900
Virginia Tech +3000
Louisville +3500
Virginia +3500
NC State +4000
Wake Forest +4000
Florida State +4400
Pittsburgh +4500
Boston College +5000
Georgia Tech +10000
Duke +20000
Syracuse +25000
Southeastern Conference (SEC)
Lately, football betting enthusiasts have been seeing a lot of the Clemson Tigers or the Alabama Crimson Tide, as they always seem to be involved in the national championship picture,. This year is no different. Alabama and their head coach Nick Saban are looking to reload and reestablish dominance on the college football scene once again. The odds imply that they will win the SEC, which has granted each champion a trip to the college football playoffs since they debuted in 2014.
Alabama has made the postseason when they didn't win the SEC, so even if another team wins the conference, there is still a good shot that the Crimson Tide will be one of the final four teams mixing it up for a title. The Georgia Bulldogs and Texas A&M Aggies are not going to let Alabama win the title easily, as they are poised to make a strong run this season as well.
Alabama -175
Georgia +250
Texas A&M +800
LSU +1200
Florida +1700
Auburn +1800
Missouri +2800
Ole Miss +3000
Arkansas +6000
Kentucky +6000
Tennessee +6000
Mississippi State +10000
South Carolina +15000
Vanderbilt +50000
Big 12 Conference (Big 12)
The Oklahoma Sooners are looking tough and are the current favorite to win the Big 12. The Iowa State Cyclones are bringing a very strong squad to the table in 2023, and have a great shot at unseating the Sooners for the conference title.
Outside of those top two teams, only Texas is expected to make a lot of noise or offer much resistance to Oklahoma and ISU.
Oklahoma -200
Iowa State +350
Texas +550
Oklahoma State +1400
TCU +1600
West Virginia +3000
Baylor +5000
Kansas State +5000
Texas Tech +10000
Kansas +25000
Big Ten Conference (BIG TEN)
The Big Ten is once again expected to be won by the Ohio State Buckeyes which will almost certainly place them among the final four College Football Playoff teams at the end of the season. They are separated from their nearest competitor, the Wisconsin Badgers, by a chasm of 775 points in the moneyline, indicating that the Buckeyes are expected to handily defeat all Big Ten opponents in their path this season.
Ohio State -225
Wisconsin +500
Iowa +900
Penn State +900
Indiana +2000
Michigan +2500
Minnesota +3300
Nebraska +4000
Northwestern +5000
Michigan State +6600
Maryland +10000
Purdue +10000
Illinois +25000
Pac-12 Conference (Pac-12)
NCAA College Football oddsmakers are predicting that the Pac-12 is will be competitive this season as all teams are featured with positive moneyline odds. The Oregon Ducks are the current favorite to win the Pac-12 but Washington, USC, and Arizona State are not far behind in NCAAF odds.
Oregon +250
Washington +350
USC +400
Arizona State +450
Utah +600
UCLA +1200
Washington State +4000
California +5000
Stanford +5000
Colorado +6000
Oregon State +6000
Arizona +10000
Outside of the Power Five Conferences, the only real contender to make the 2023 CFP is Notre Dame. The Fighting Irish are currently ranked in the top 10 overall and are always in the minds of the College Football Playoff Selection Committee.
After all 2023 regular-season games have been played, and conference championship games have been decided, we here at Legal Betting Online believe that the final four CFP brackets and results will look something like the following:
2023 CFP Predictions
Semifinal: No. 1 Clemson vs. No. 4 Ohio State
Semifinal: No. 2 Alabama vs. No. 3 Georgia
National Title Game: No. 2 Alabama vs. No. 4 Ohio State
2023 National Champion: Alabama