Legal Online NFL Betting For 2019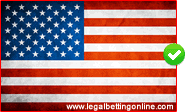 Legal NFL game betting is as old as the league itself, dating back to 1920 when the National Football League was founded. However, college football was far more popular and remained ahead of pro football in betting action for the next several decades.
However, all that changed when the AFL-NFL merger became official in 1970, where both leagues agreed to become the two conferences and play under one league and keep the NFL name.
Over the next decade or so, pro football would surpass college football and eventually dethrone pro baseball, becoming the most popular and bet on sport in the United States – a title it firmly holds to this day.
It is our mission is to provide you with the best legal and secure online sportsbooks, so you can bet on NFL games and the Super Bowl without worrying about getting flagged or turning over your money to a shady betting site.
To kick things off, we believe it's crucial to catch you up on the current legal status of NFL betting in the United States and handoff our list of recommended legal betting sites that we've reviewed. Then, the only thing you have to worry about is how you're going to celebrate after you score a winning bet.
Is It Legal To Bet On NFL Games In The United States?
Yes, it is absolutely legal to place bets on NFL games, teams, players and events as long as those bets are placed through a legally licensed and regulated sportsbook.  Legally sanctioned betting destinations can be found through licensed sportsbooks and casinos located within one of the states that have legalized sports gambling post-PASPA, a state-regulated online sportsbook, or through legitimate offshore sportsbooks operating legally within the industry such as the ones listed in this guide.
Thanks to the SCOTUS repeal of the Professional and Amateur Sports Protection Act, there are no longer any US federal laws prohibiting state based sportsbook gambling.  Betting on sports through offshore sportsbooks has never been illegal through federal gambling laws.  Both Washington state and Connecticut prohibit all forms of betting online regardless of the source.
Highest Rated Sports Betting Site
To Bet On NFL Games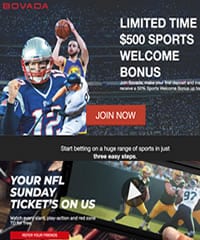 All of the sportsbooks we list on our NFL page are in fact 5 star sites boasting years of experience in the sports betting industry. However one particular site "Bovada" rises above the competition and are the go-to #1 NFL betting site for thousands of players located in the United States.
Here are a few reasons why players love betting at Bovada. For starters they are legally licensed which is a must for any of the sites we recommend. They are also part of the Bodog family of gambling sites which is a household name in the sports industry with a perfect track record. New players can partake in a 100% matching bonus up to $500 on their initial deposit, as well as enjoy their world class online casino software all from one master betting account.
And when it comes to sports betting, they offer everything under the sun including offering betting lines on every sport imaginable including the NFL. Choose from straight bets, teasers, parlays, prop bets, quarters and half line bets, live in play betting platform, mobile app for betting on the go and a host of other options that make them the top rated online sportsbook. Needless to say, if you are looking for a reputable one stop shop for all your betting needs, Bovada sportsbook is the perfect choice.
 Pros
Most All USA players accepted
Most Trusted Name In Online Gambling
100% Bonus Up To $500 Free (Limited Time)
Easy deposits via credit cards and Bitcoin
Fast and reliable payouts guaranteed
Cons
Only accepts U.S. Mexico And Brazil Players
Excluded States: NY, NV, NJ, DE, MD
TO BET ON NFL GAMES - 2019 SEASON
These are the top rated sportsbooks to be on NFL games for the upcoming 2019 season. Each is licensed and regulated by an offshore commission that governs sports betting.
All Legal USA NFL Betting Sites
FAQ's About Betting On NFL Games In The United States
SUPER BOWL 54 ODDS
Here are the opening odds to win Super Bowl 54 in 2020 at Bovada.
Arizona Cardinals +10000
Atlanta Falcons +3000
Baltimore Ravens +3000
Buffalo Bills +10000
Carolina Panthers +5500
Chicago Bears +1400
Cincinnati Bengals +12500
Cleveland Browns +2200
Dallas Cowboys +2000
Denver Broncos +6000
Detroit Lions +10000
Green Bay Packers +1800
Houston Texans +2800
Indianapolis Colts +1600
Jacksonville Jaguars +3000
Kansas City Chiefs +700
Los Angeles Chargers +1400
Los Angeles Rams +800
Miami Dolphins +15000
Minnesota Vikings +2000
New England Patriots +700
New Orleans Saints +900
New York Giants +5000
New York Jets +12500
Oakland Raiders +12500
Philadelphia Eagles +1600
Pittsburgh Steelers +2000
San Francisco 49ers +3000
Seattle Seahawks +3000
Tampa Bay Buccaneers +6500
Tennessee Titans +4000
Washington Redskins +15000
Understanding NFL Betting Lines
To increase your likelihood of placing a winning bet, you need to understand NFL betting lines. In other words, you should have excellent knowledge of how money line, point spread, teasers and parlays wagers work. Here is a quick primer on each of those terms to get you started:
Money Line Wager
Money line wager involves placing a bet on the team that you believe will win a game. Moreover, money line wagers have no spreads. The upside to this type bet is a winning bet on an underdog translates to a higher payout. The downside is money line wagers require one to risk more money. Money line odds usually have a plus (+) or a minus (-) sign preceding them. Odds with plus signs denote underdogs, whereas those with minus signs denote favorites.
To understand how money line wagers work, consider a hypothetical game between the Colts (+350) and Bengals (-380). In this case, bookmakers favor the Bengals to win. To even out the betting field and avoid running loss-making businesses, bookmakers make bettors wager more on favorites and less on underdogs. This means you would have to bet $380 to win $100 if you pick the Bengals. On the other hand, every $100 wagered on the Colts would translate to $350.
Spread Betting
Spread betting is the most popular type of NFL bet. Bookmakers list favorites to win games using odds preceded by a minus sign, whereas the odds for the underdogs are preceded by a plus sign. In cases where there is no clear favorite/underdog, bookmakers list both teams as "Even" or "Pick". This is in addition to the "point spread" (PS) for each team.
Depending on a team's perceived likelihood of winning/losing a game, PS can range from double to low single digits. With this in mind, assume the Buccaneers (+7.5) are up against the Texans (-7.5). The expectation is that the Texans would trounce the Buccaneers by 7.5 points.
The Buccaneers would have to win by eight points or more in order for bookmakers to pay bettors who wagered on the underdog. To cash out a winning favorite bet, the Texans cannot afford to lose by more than eight points. In other words, they would have to lose by less than eight points, tie the game, or win.
Over/Unders (Totals)
The over/under bet, which is also known as totals, entails predicting the total number of points that both teams are likely to score. This betting line is relatively easy to understand because all you have to do is predict whether the final score between two NFL teams will be over or under the bookmaker's figure. For instance, consider a case where the New York Giants are playing the Detroit Lions and a bookmaker has listed a total score of 45. Bet under if you expect the final score to be less than 45 points and vice versa.
What is a Push?
A push is an outcome that results in a tie between a bookmaker and a bettor. To avoid such outcomes, most bookmakers add 0.5 (half point) to the spreads or point totals they publish. The industry name for this half point is "hook" and its aim is to maintain betting house advantage over bettors.
Parlays and Teasers
A parlay refers to a situation where a bettor selects and groups two or more wagers to increase the potential payout. However, all wagers grouped together must win in order to receive a parlay payout. The good news is you can group together different types of NFL bets to increase the amount of potential winnings.
A teaser, on the other hand, is in many ways similar to a parlay. The only difference is teasers allow bettors to buy and add extra points to the point spreads or totals given by bookmakers. Once again, you can select and group more than two teasers to increase potential winnings.
NFL Betting Tips
Placing a wager on professional football requires a bettor to seriously crunch the numbers to determine a winner due to the parity among teams in the league with the expression "any given Sunday" being a common phrase, meaning on any given Sunday, any team can beat any other team.
However, if you can find value on NFL games and research matchups to beat the odds, then your path toward profit could begin on any given Sunday.
Develop A Good Betting Strategy
To improve your chances of placing winning bets, you must develop and use credible betting strategies. Such a strategy would catapult you into the rare category of professional NFL bettors who deploy sophisticated betting strategies that include variables such as free agency prospects, injuries, home team advantage, overall team strengths, winning/losing streaks, and overall team weaknesses. After carefully evaluating these factors and comparing results with bookmaker's odds, seasoned punters can determine more precisely odds of picking winning bets.
Financial Discipline
One of the most misunderstood, but important aspect in NFL betting, is financial discipline, which largely entails planning your bets in advance and more importantly, sticking to your plan. Jimmy Vaccaro, an influential Las Vegas bookmaker, recommends betting no more than $50 a game. If you do not fancy strait-jacket-style money management, Morey "Doc" Moseman, a professional gambler, recommends betting no more than you can afford to lose.
Contrarian Betting
Contrarian betting is similar to the stock market investment strategy that goes by the same name. By adopting this strategy, you would place bets that defy conventional wisdom. Nevertheless, only do so after carefully evaluating other factors like an NFL team's strengths and weaknesses.
Avoid Alcohol
Do not place bets when under the influence of alcohol, at least big bets. If you are just putting a few bucks on an NFL game to have something to sweat, that's one thing. But if you are betting big money, it's really not wise to bet under the influence. Yea it's fun, but it can bust you real quick if you aren't careful.
Consider Public Opinion
Before betting on any sporting event or game, consider the prevailing public opinion. You may come across new game-changing information that you had missed/overlooked earlier.
5 Things You Didn't Know About The National Football League
1. No original film of Super Bowl I
No complete original film exists of the first Super Bowl that took place in 1967 between the Green Bay Packers and the Kansas City Chiefs. Legend has it the broadcasters, NBC and CBS, taped soap opera content over the film of Super Bowl I.  In 2016 experts were able to recover films of individual plays from multiple cameras and combine them to recreate the game.
2. The Super Bowl trophy is worth $25,000
In an age when star players earn millions of dollars in salary per year, the most coveted trophy in the sport is worth only $25,000.
3. Fans only get 20% of all Super Bowl tickets
Corporate sponsors get the lion's share (80%) of Super Bowl tickets.
4. Smallest NFL player
Jack Shapiro played for the Staten Island Stapletons in 1929, despite weighing 119 pounds and standing 5' 1" tall.
5. NFL football material
Contrary to popular belief, footballs are made from cowhide, not pigskin.
Summing It Up
When it comes to online wagering, offshore betting operations generally offer more in terms of larger bonuses, mobile and live betting options, better odds and a wide range of wagering options. I don't know of any sportsbook in Vegas that will match your bankroll as soon as you walk in the door. Even the guru handicappers who live in Vegas bet offshore because of the benefits it offers. And the fact that there is nothing illegal about betting on NFL games through an offshore bookie makes it a no brainer for players living in the United States.
Additional Sports Betting Guides Included In Our Series:
Legal Online Football Betting Guide
Legal Online NCAAF Betting Guide
Legal NCAAF Championship Betting Guide
Legal Online Superbowl Betting Guide
Player Resources:
If you are wanting to get a jump on what is going to be happening in the 2018-2019 NFL season, you can find some great information on the NFL official website. You can also check out NFL's stance on betting online, it's a really interesting read.
Additional Sports Related Online Gambling Options:
USA MLB Betting Sites: Get the most current information on industry-leading sportsbooks covering MLB betting lines and offering a sophisticated security profile, legitimate licensing and certification profile, and an overall high-quality online sports betting experience.
US NBA Betting Sites: Obtain helpful information that introduces you to the safest and most trusted online sports betting brands that feature NBA betting lines and a wide range of wagering options, all within a safe and secure gaming environment.
USA Horse Betting Sites: Enjoy learning more about the horse betting industry and how to get involved by accessing the industry's most trusted and secure options. Our team has vetted several reputable brands for inclusion in our guide.
Additional Non-Sports Related Online Gambling Options:
For players who enjoy a variety of online gambling venues, feel free to visit our pages dedicated to legal USA poker sites and USA legal casinos.