Legal Online NFL Betting For 2020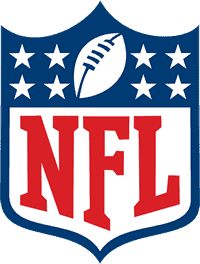 Betting on NFL games is as old as the league itself, dating back to 1920 when the National Football League was founded. Fast forward to 2020, the United States now has almost 20 states that have passed laws to legalize sports betting.  This gives players many different options to place their bets including the ability to enjoy legal NFL betting and to bet on the Super Bowl.
Between the expanding domestic sports betting market and legitimate offshore sportsbooks, football fans in the US have more options than ever to get in on exciting NFL betting action.
We've included some very helpful information in this guide, including which states offer local sports betting, which online sportsbooks cater to Americans, a breakdown of what types of wagering options there are, and how to get started placing your bets. We provide insight into the best NFL betting sites and options.
Coronavirus Update
The start of the 2020 NFL season is currently scheduled to begin on September 10th as planned. 
Where Can I Bet On NFL Games In The US?
State Regulated Betting Options
If you live in one of the following U.S. states, you can legally place your bets with one of the numerous state-regulated sportsbooks located in that specific jurisdiction. For states with online or mobile options, you are required to be physically present within the state's borders:
Arkansas
Colorado
Delaware
Illinois
Indiana
Iowa
Michigan
Mississippi
Montana
Nevada
New Hampshire
New Jersey
New Mexico
New York
North Carolina**
Oregon
Pennsylvania
Rhode Island
Tennessee**
Virginia**
Washington**
Washington DC**
West Virginia
**Sports betting is legal but not yet launched
Offshore Wagering Options
If you live in any other state, you can still bet on NFL games legally through an offshore site. As a matter of fact even with state-regulated options available, many players living in a state that has authorized sports betting still choose to bet with an offshore sportsbook.
Benefits Of Betting Offshore at Legal NFL Betting Sites
More Attractive Bonuses And Promotions By A Mile - It Isn't Even Close
Better Odds And Lines
More NFL Betting Options
Ability To Use Crypto Currencies Such As Bitcoin
No Geo-tracking restrictions
Can place bets anywhere that you have an Internet or cellular connection
Isn't Betting With An Offshore Site Illegal?
No! We realize there is a lot of misinformation on the internet regarding the legalities of betting on sports. The truth is there are actually no laws in the United States that specifically prohibit Americans from gambling via an offshore site. If you read differently, you are being led to believe something that is patently false. We go into more detail below.
Is It Legal To Bet On NFL Games In The United States?
Yes, it is.  Legally sanctioned betting destinations can be found through licensed sportsbooks and casinos located within one of the states that have legalized sports gambling post-PASPA or through legitimate offshore sportsbooks operating legitimatley within the industry such as the ones listed in this guide.
Thanks to the SCOTUS repeal of the Professional and Amateur Sports Protection Act, there are no longer any US federal laws prohibiting state-based sportsbook gambling.
Betting on sports through offshore sportsbooks has never been prohibited through federal gambling laws.  Both Washington state and Connecticut prohibit all forms of betting online regardless of the source.
#1  Sportsbook for Betting on NFL Games for the 2020-2021 Season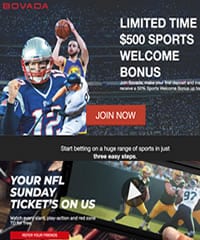 All of the sportsbooks we list on this page are in fact 5-star sites boasting years of experience in the sports betting industry. However one particular site "Bovada" rises above the competition and is the go-to #1 NFL betting site for thousands of players located in the United States.
Here are a few reasons why players love betting at Bovada. For starters, they are owned and operated by the Bodog brand, which is licensed in multiple jurisdictions and is one of the most trusted names in the industry.
New bettors can enjoy a 50% matching bonus up to $250 on their initial deposit and have access to a wide range of wagering options, including straight bets, point spreads; moneyline; over/unders (totals), teasers, parlays, prop bets, futures bets, quarters and half-line bets, and live in-play betting lines.
Bovada offers a mobile app for betting on the go and a banking suite that caters to US bettors. Their new Zelle to Bitcoin payment option provides members with instant Bitcoin deposits.
 Pros
Most All USA players accepted
Most Trusted Name In Online Gambling
100% Bonus Up To $250 Free
Easy deposits via credit cards, Bitcoin and Zelle
Same day payouts for cryptocurrency
Fast and reliable payouts guaranteed
Cons
Only accepts U.S.  bettors
Excluded States:

NV, NJ, DE, MD
Where Can I Bet on NFL Games Legally?
These are the top-rated sportsbooks to bet on professional football games for the 2019 NFL season. Each is licensed and regulated by an offshore commission that governs sports betting or they are owned and operated by a parent company that holds licensing credentials from one or more international gaming commissions. We can recommend each of them as a premium destination for your legal football betting action.
Best Legal USA NFL Betting Sites
How To Get Started Betting On NFL Games Online
With all the different betting options available, it might seem like a daunting task to get started betting on NFL games. Fortunately, it's a lot easier than most people think. If you're new to betting on football, you can get started by following the simple steps below. You can also check out our Beginners Guide To NFL Betting.
How to bet on NFL games online legally - A Step By Step Guide
With the expansion of legal sports betting throughout the US, betting on the NFL has become incredibly more popular.  There are a few different options for US bettors, including state-regulated sportsbooks or offshore NFL betting sites that are operating legally within the industry.  Here we'll break down the process for betting on NFL games legally.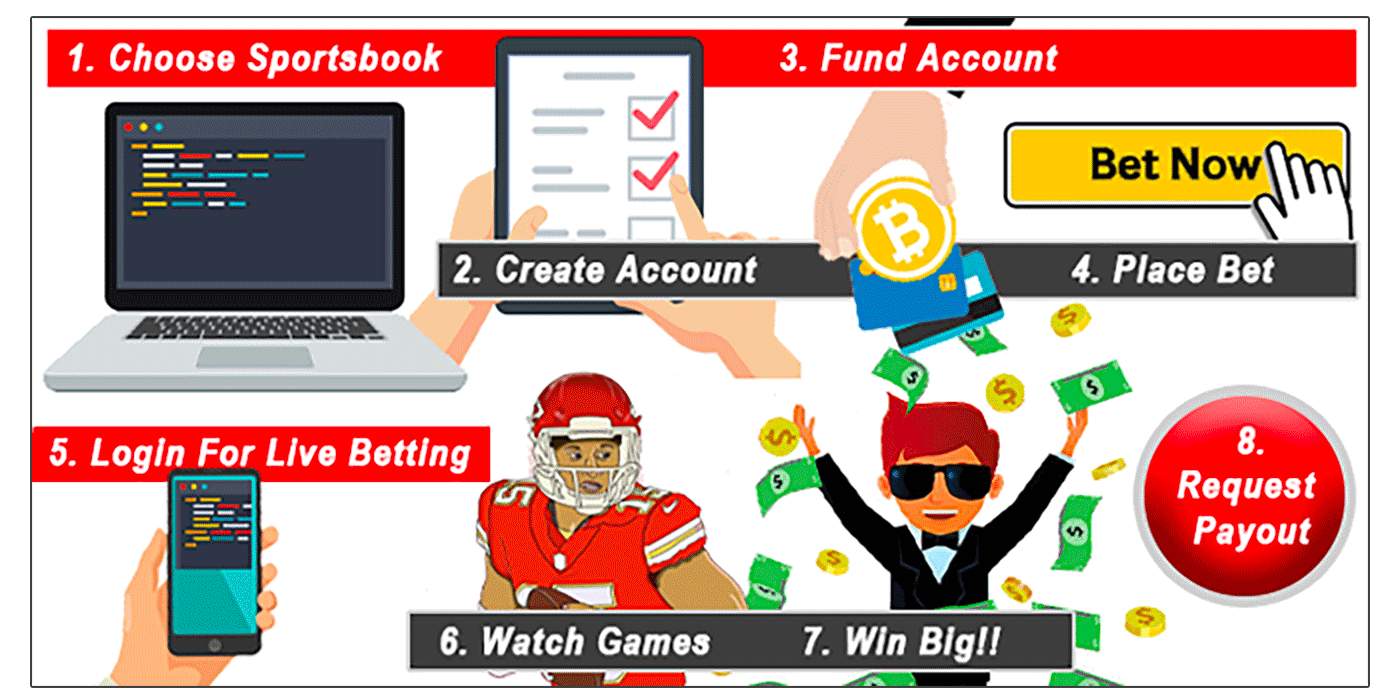 Time Needed to Sign Up & Place Bet: 10 minutes
Total Cost: Minimum Of USD 25
Things Needed
- Access to a sportsbook (brick and mortar or online)
- Funds to place your bet
- Enthusiasm for football!
Required tools:
- A Computer, Smartphone or Tablet
Steps for legally betting on NFL games online
Understanding NFL Betting Lines
To increase your likelihood of placing a winning bet, you need to understand NFL betting types. In other words, you should have excellent knowledge of how money line, point spread, teasers and parlays wagers work. Here is a quick primer on each of those terms to get you started:
NFL Live Betting
Live betting (aka in-game wagering) is quickly becoming the most popular of all NFL betting types. Unlike traditional wagering that requires your bets to be finalized and posted before any given game kicks off, live betting allows you to put your money down on dynamic lines all game long.
With NFL live betting, odds change by the minute to reflect the ebb and flow of each matchup. Anything can happen during a game and live betting accounts for every single snap. All of the best online sportsbooks offer live betting lines, including each of the following sites:
Bovada
BetOnline
SportsBetting
BookMaker
GTBets
BetDSI
NFL Betting Tips
Placing a wager on professional football requires a bettor to seriously crunch the numbers to determine a winner due to the parity among teams in the league with the expression "any given Sunday" being a common phrase, meaning on any given Sunday, any team can beat any other team.
However, if you can find value on pro football games and research matchups to beat the odds, then your path toward profit could begin on any given Sunday.
FAQ's For Legally Betting On the National Football League In The United States
5 Things You Didn't Know About The National Football League
1. No original film of Super Bowl I
No complete original film exists of the first Super Bowl that took place in 1967 between the Green Bay Packers and the Kansas City Chiefs. Legend has it the broadcasters, NBC and CBS, taped soap opera content over the film of Super Bowl I.  In 2016 experts were able to recover films of individual plays from multiple cameras and combine them to recreate the game.
2. The Super Bowl trophy is worth $25,000
In an age when star players earn millions of dollars in salary per year, the most coveted trophy in the sport is worth only $25,000.
3. Fans only get 20% of all Super Bowl tickets
Corporate sponsors get the lion's share (80%) of Super Bowl tickets.
4. Smallest NFL player
Jack Shapiro played for the Staten Island Stapletons in 1929, despite weighing 119 pounds and standing 5' 1" tall.
5. NFL football material
Contrary to popular belief, footballs are made from cowhide, not pigskin.
Summing It Up
When it comes to online wagering, offshore betting operations generally offer more in terms of larger bonuses, mobile and live betting options, better odds and a wide range of wagering options. I don't know of any sportsbook in Vegas that will match your bankroll as soon as you walk in the door.
Even the guru handicappers who live in Vegas bet offshore because of the benefits it offers. And the fact that there is nothing illegal about betting on professional football games through an offshore bookie makes it a no brainer for players living in the United States.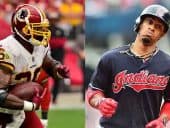 During this current political and social climate, many organizations are looking inward, reevaluating their policies and procedures to determine if they are insensitive to certain groups. Nothing stimulates large scale change in the United States quite like the almighty dollar, and when bottom lines are affected, so are motivations. The Washington Redskins now find themselves in a predicament. They have faced criticism over their racially insensitive mascot and franchise name for years, but now, the organization appears willing to consider …
Read moreWashington Redskins And Cleveland Indians Consider Name Change After Corporate Backlash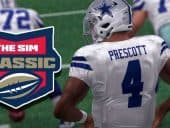 Online sports betting and casino site Bovada has organized an online tournament featuring simulated NFL games using Madden 20 as the software. They are calling it the Sim Classic, which began on May 9th with games continuing until the Sim Bowl championship game on May 24th. We've got a long way to go until Sim Bowl Sunday, and that's the idea. Bovada has designed this first-ever simulated online tournament to cover the time between now and when major sports begin …
Read moreBet On A Month's Worth Of Simulated NFL Games With Bovada's Sim Classic Tournament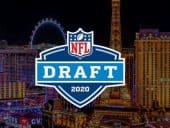 Each April, top offshore sportsbooks roll out a full slate of odds for events occurring during the NFL Draft. This year the draft is receiving extra attention because it is the only major sporting event to occur live over the last several weeks, with many in the USA still on lockdown due to COVID-19. This unprecedented level of exclusivity for the NFL Draft has caused an increased volume of NFL Draft betting across the board. Las Vegas sportsbooks have traditionally …
Read moreNFL Draft Prop Bets Now On The Table In Some States