Legal Online NFL Betting 2017/2018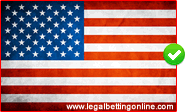 In the United States, sports betting is a vibrant and lucrative industry generating billions of dollars in revenue from both legal and illegal betting operations. In fact, according to a Washington Post article, Americans place illegal sports bets totaling $80 to $380 billion annually. As an example, the 2015 Super Bowl attracted illegal bets worth $3.8 billion and $100 million is bet on the Super Bowl legally each year, according to the American Gaming Association (AGA). College football betting is not far behind those figures, especially when you add in the NCAAF Championship game. In Las Vegas, one of the largest gambling cities in the world, legal sports betting generates about $4 billion annually. It is worth noting that NFL games account for 40% of all legal US sports bets, according to the National Gambling Impact Study carried out in 2012.
Is It Legal To Bet On NFL Games In The United States?
Illegal sports bets far exceed legal bets in the US because sports betting is largely illegal across the country. The only states that allow this form of gambling include in Nevada, Montana, Oregon and Delaware. Still, this has not stopped American players from betting via offshore bookmakers because
the law does not ban this practice.
For instance, if you bet with an offshore sportsbook such as those we recommend below, there is nothing written in any law book that makes the act of placing the bet illegal. You can read more about the specific laws that come into play when betting on NFL games in our FAQ's section below.