Legal NFL Betting Online For 2023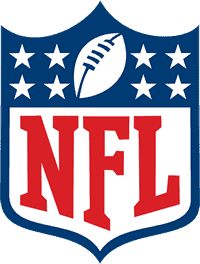 Betting on NFL games is as old as the league itself, dating back to 1920 when the National Football League was founded. Fast forward to 2023, the United States now has several states that have passed laws to legalize sports betting.  This gives bettors multiple options to enjoy legal NFL betting and to bet on the Super Bowl each February.
Between the expanding domestic sports betting market and the legitimate offshore sportsbooks operating online, legal football betting fans in the US have more options than ever to get in on the football betting action this season.
Below you will find information on which states offer local sports betting, which online sportsbooks cater to Americans, a breakdown of what NFL bet types there are, and how to get started placing your bets. Whether you are looking to legally bet on the NFL playoffs, weekly games, or the Super Bowl, we provide insight into the best NFL betting sites for US bettors and the options they offer. 
Bovada Sportsbook
#1 Rated NFL Betting Site For 2023
All the sportsbooks we feature here are 5-Star betting sites with years of experience in the sports gambling industry. But Bovada Sportsbook stands out from the rest as the #1 sports betting site for millions of football fans in the USA. Bovada LV offers a mobile betting app and US-friendly banking suite that supports Bovada Bitcoin betting, which is highly recommended and scores the best Bovada bonuses when gambling on NFL odds.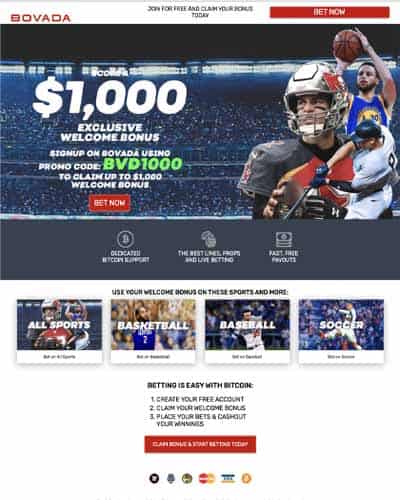 US Friendly - Most US States Accepted

Most reputable name in online sports betting

Licensed by Curacao - Operates within Costa Rica

Generous 50% bonus up to $1,000 for new members

Easy deposits using credit cards or Bitcoin/crypto

Fast and reliable payouts guaranteed
Only US, Mexico and Brazil players accepted

Residents of DE, MD, NJ, NV, NY not accepted

Limited deposit options compared to other sites
Where Can I Bet on NFL Games Legally Online?
These are the top-rated sportsbooks to bet on professional football games for the 2023 season. Each is legally authorized to offer legitimate real-money international sports betting to US gamblers and follows all industry best practices. We can recommend every site here as a premium destination for your legal football betting action.
Best NFL Betting SItes In The USA For 2023
Where Can I Bet On NFL Games In The US?
Is It Legal To Bet On NFL Games In 2023?
Yes, it is.  Legally sanctioned options for betting on pro football can be found through licensed sportsbooks and casinos located within one of the states that have legalized betting on NFL games post-PASPA or through legitimate online sportsbooks operating legally within the industry such as the ones listed in this guide.
Thanks to the SCOTUS repeal of the Professional and Amateur Sports Protection Act, there are no longer any US federal laws prohibiting state-based sportsbook gambling.
Are NFL Sportsbooks Legal in the United States?
Betting on sports through international sportsbooks operating legally offshore has never been prohibited through US federal gambling laws.  There are also a few state-regulated sportsbooks offering limited online betting options. There is only one state that currently imposes restrictions for online betting at any type: Washington. Though these restrictions have apparently never been enforced, we recommend that you follow the laws of your state. 
NFL Betting Odds For The 2023-24 Season
Here we will list the current Super Bowl 58 betting odds, the AFC and NFC Championship betting odds, and the NFL divisional betting odds. We generally obtain the odds and betting lines that we list in this section from Bovada Sportsbook. However, all of the sportsbooks listed above will have competitive odds and betting lines for all games played in the National Football League.
Below is our props betting section. You will find Super Bowl player props, Super Bowl Team props, and more odds for the NFL Championship game.
Key Dates for the 2023-24 NFL Season
A new rule that is being introduced for the 2022-23 season requires that both teams will be allowed an offensive possession in the event that an NFL Playoff game requires an overtime period. The rule means that the team that possesses the ball first in an overtime playoff game can no longer win by scoring a touchdown.
In this scenario, the team that gave up a touchdown on the opening possession of overtime will be granted the opportunity to tie the game by scoring a TD or win outright if they successfully convert a 2-point conversion that gives them the lead.
If the playoff game is tied after each team has possessed the ball once, the next score by either team will result in a win. Had this rule been in place last postseason, the Buffalo Bills would have been given an opportunity to tie, or possibly beat the Kansas City Chiefs after they fell behind in overtime.
This new rule change can alter the outcome of playoff games, thus impacting wagers on straight moneyline bets, conference winner odds, and Super Bowl futures.
How We Determine the Best Sites for Betting On Football
Selecting an online sportsbook to legally bet on pro football games is just as important a decision as what team to bet on.  Making a hurried decision based on a Google search can land you at an NFL betting site that is not legitimate or operating legally within the industry.
We've carried the heavy load here for you when it comes to the process of evaluating and scrutinizing the industry's leading sportsbooks, and you'll find that each of the brands we feature on this page meets a very high standard of quality, legitimacy, and reliability.  Here is a small sampling of the criteria that must be met for inclusion in our guide.
Getting Started at Legitimate NFL Sportsbooks
How To Bet On NFL Games
 

Online: A Step By Step Guide

With the expansion of legal sports betting throughout the US, betting on professional football has become increasingly popular.  There are a few different options for US bettors, including state-regulated sportsbooks or betting sites that are operating legally outside of the US.  Here we'll break down the process for betting on NFL games legally online. 
Things Needed:
Access to online sportsbook
Funds to place your bet
Enthusiasm for football!
Required Tools:
Computer, smartphone, or tablet
Internet connectivity
Steps For Legally Betting on NFL Games Online
Can I legally bet on NFL games in my state?
There are several legal options for betting on NFL games, the Pro Bowl, and the Playoffs in 49 out of 50 states in the US, and in some of those states, there are multiple options to choose from. Here we break down those opportunities by state so that you have a quick access reference point to quickly determine what opportunities are available for legal betting near you. As you review our state by state information, there are a few things we need you to be aware of:
Though Washington prohibits all forms of online gambling, there have been no recorded instances of these restrictions being enforced in any way.  In addition, all of our recommended online sportsbooks do accept members from WA.  That being said, residents from Washington who decide to place bets online do so at their own risk.
NJ does not prohibit international online sports betting, but influencers in the industry have reached agreements with most reputable online sportsbooks that resulted in these bookmakers voluntarily refusing services to bettors in the Garden State, limiting bettors to only those betting options available to them locally.
Legal NFL Betting By State
Is Offshore Sports Betting Legal?
Yes! Offshore simply means that the sportsbook is operating outside of United States borders. As you've probably seen several times on this page, there are no federal laws that criminalize the act of placing bets on football games at international sportsbooks operating legally within the industry. There is only one state (WA) that has online gambling restrictions on the books, however, they have yet to enforce them.
Are all offshore sportsbooks operating legally and ethically?  Absolutely not. That's why we've curated a list of the most trustworthy, secure, and reliable NFL betting sites that are operating legally within their respective jurisdictions.
Each August, NFL Preseason game lines are posted for each contest occurring before the season start date including the point spread, moneyline, and the over/under.
Throughout the entire preseason, there are also football futures odds for Super Bowl Champions, the AFC and NFC Conference winners, and the first place finisher in each division. These preseason futures will remain on the boards into the regular season as long as a winner has yet to be decided.
Betting on the NFL Playoffs
The action heats up during the NFL postseason, and so does betting on the NFL Playoffs. The playoffs now include seven teams from each conference, for a bracket that includes fourteen total teams. That's two extra playoff games to bet on each year.
Popular sportsbooks will feature lines on each game, as well as prop bets for each conference champion. Wagers can also be placed on each division winner, which comes along with an automatic playoff berth.
Betting on Super Bowl LVIII
Of course, the conclusion of the playoffs features the most-watched event of the year, sports or not, the Super Bowl. Betting on the Super Bowl inspires a lot of action at sportsbooks for standard wagers and especially the wide array of Super Bowl prop bets that can be made on the big game. Our guide to Super Bowl betting tips is a great resource for people looking to learn the best practices for betting on the NFL Championship game.
During the week between the Conference Championships and the Super Bowl, the Pro Bowl is played which brings together some of the best NFL players for a light-contact All-Star Game. Pro Bowl betting lines and prop bets are on the boards for sports wagering online for each year's game.
Prop bets and futures odds for the NFL Draft will populate the boards each April, and there are often lines posted throughout the year if the number one pick is obvious enough that far in advance. Bet on who the first pick will be, how many players from a college will go in the first round, and more at legal online sportsbooks.
Understanding NFL Betting Lines - What You Need To Know
To increase your likelihood of placing a winning bet, you need to understand NFL betting types. In other words, you should have excellent knowledge of how money line, point spread, teasers and parlays wagers work. Here is a quick primer on each of those terms to get you started:
Live betting (aka in-game wagering) is quickly becoming the most popular of all NFL betting types. Unlike traditional wagering that requires your bets to be finalized and posted before any given game kicks off, live betting allows you to put your money down on dynamic lines all game long.
With NFL live betting, odds change by the minute to reflect the ebb and flow of each matchup. Anything can happen during a game and live betting accounts for every single snap. All of the best online sportsbooks that we suggest offer live betting lines.
There are some US states that provide online and mobile domestic sports betting, but the best options for most American football fans will be the online sportsbooks we recommend in this guide.
Each of them delivers an NFL betting app that is web-based and mobile-optimized with cross-platform compatibility for a slick sports betting experience across most mobile operating systems, networks, and devices.
Just by clicking on one of the sportsbook links we've provided using a current iPad, iPhone, or Android-based smartphone or tablet, you can access the full scope of the sportsbook site in the palm of your hands from anywhere with a solid internet connection. Mobile NFL betting is available from just about anywhere in the USA.
Placing a wager on professional football requires a bettor to seriously crunch the numbers to determine a winner due to the parity among teams in the league with the expression "any given Sunday" being a common phrase, meaning on any given Sunday, any team can beat any other team.
However, if you can find value on pro football games and research matchups to beat the odds, then your path toward profit could begin on any given Sunday. I you are looking for better odds, see our strategy NFL guide for buying points, handicapping and more.
NFL Teams, Divisions, and Conferences
American Football Conference (AFC)
Buffalo Bills
Miami Dolphins
New England Patriots
New York Jets
Houston Texans
Indianapolis Colts
Jacksonville Jaguars
Tennessee Titans
Baltimore Ravens
Cleveland Browns
Cincinnati Bengals
Pittsburgh Steelers
Denver Broncos
Kansas City Chiefs
Las Vegas Raiders
Los Angeles Chargers
National Football Conference (NFC)
Dallas Cowboys
New York Giants
Philadelphia Eagles
Washington Commanders
Atlanta Falcons
Carolina Panthers
New Orlean Saints
Tampa Bay Buccaneers
Chicago Bears
Detroit Lions
Green Bay Packers
Minnesota Vikings
Arizona Cardinals
Los Angeles Rams
San Francisco 49ers
Seattle Seahawks
The two main federal laws governing sports betting in the US include the Federal Wire Act, and the Unlawful Internet Gaming Enforcement Act (UIGEA). In addition, numerous states are passing legislation to regulate domestic sports betting within their borders.
Federal Wire Act Of 1961
The Federal Wire Act came into effect in 1961 when sports fans used the phone to place bets on games. The aim of this act was to outlaw organized crime syndicates illegally accepting bets outside of Nevada. At the time, the Internet did not exist - meaning the creators of the Wire Act may not have envisioned or foreseen the technological changes that would revolutionize communication a few decades later.
In 1961, the then Chairman of the House Judiciary Committee, Emanuel Celler, warned while delivering his contribution to the debate on this bill that it only targets bookmakers or gamblers who place bets on behalf of others. It does not focus on the casual gambler.
The Federal district court of Rhode Island concurred with this view during the United States v. Baborian case when it said that Congress "did not intend to include social bettors within the umbrella of the statute, even those bettors that bet large sums of money and show a certain degree of sophistication."
Following the repeal of PASPA in 2018, the Wire Act now simply stands to regulate interstate wagering, and prohibit bets and betting information from crossing state lines. This new and smaller scope of application of the law is currently being opposed by several states and what the final outcome will be is unclear as of yet.
UIGEA (2006)
The Unlawful Internet Gaming Enforcement Act of 2006, on its part, does not expressly ban online sports betting in the US. Instead, it simply bars US financial institutions from processing payments related to gambling sites. While the UIGEA did make online sports betting difficult, it did not stamp out the practice completely. It is easy to circumvent this legal hurdle by using financial institutions that have no connection with US banks. Alternatively, you can use pre-paid cards to avoid leaving a digital trail.
PASPA (1992)
The last major legal framework related to sports betting is the Professional Amature Sports Protection Act (PASPA). PASPA was repealed in 2018 but before the repeal, PASPA banned domestic sports betting in 46 of 50 states. Only Nevada, Montana, Oregon, and Delaware were exempt from the PASPA law. Since PASPA's repeal, states have been allowed to enact domestic sports betting laws. Several states have already enacted laws and started accepting bets and many more are expected to follow in the coming years.
Betting on NFL legally does not mean, however, that each Internet sportsbook offers a reliable experience. A thorough review process should still be undertaken before you open an account at any online sports betting portal. Whether betting on football in the U.S.A., the UK or some other country, you will find that different casinos offer vastly different NFL betting odds, and it often pays well to hold multiple accounts at competing Internet sportsbooks. This always ensures you can get the most attractive side, number, line or total, giving your Sunday or Monday night wager the best possible chance at winning.
A lot of players just want a straight-up answer as to whether or not it is legal to bet on NFL games. We are not lawyers and recommend all players to consult with an attorney for a definitive legal answer. As a whole our feeling is that there is nothing illegal about betting with an offshore sportsbook with the exception of Washington state.
There are no federal laws in place that prohibit Americans from betting on pro football online at offshore sportsbooks. However, because domestic online gambling is slowly becoming legal in the United States, the laws are constantly changing. So again we really encourage all players to consult with an attorney.
We can say with 100% confidence that every one of legal US online betting sites that we endorse are in fact legally operating in their respective jurisdictions and are able to accept most US bettors at 18 and up.
Each of them has been vetted by our team to ensure they employ advanced security protocols, are compliance certified, utilize an industry leading, reliable software platform, and provide an overall high-quality sports betting experience.
Learn more about accessing the industry's leading online sports betting brands in our section covering online sportsbook reviews.
Many people want to know if there are any benefits with betting offshore compared to your local bookie.
Offshore sports betting has several advantages.
First, most offshore bookies offer great bonuses.  Such offers may include reload bonus, signup bonus, and referral bonus.
Secondly, you would be able to enjoy sports betting without breaking the law. As mentioned earlier, the US sports betting laws do not prohibit the use of offshore bookies, meaning you do not have to worry about the feds knocking on your door.
Thirdly, offshore betting operations generally offer better odds compared to US-based bookies because they are domiciled in countries that do not subject them to heavy tax burdens and they can pass this benefit down to their clients in the form of better odds.
Finally, offshore betting sites offer a wide range of wagering options and sports coverage typically not available at US-based bookmakers.
5 Things You Didn't Know About The National Football League
1. No original film of Super Bowl I
No complete original film exists of the first Super Bowl that took place in 1967 between the Green Bay Packers and the Kansas City Chiefs. Legend has it the broadcasters, NBC and CBS, taped soap opera content over the film of Super Bowl I.  In 2016 experts were able to recover films of individual plays from multiple cameras and combine them to recreate the game.
2. The Super Bowl trophy is worth $25,000
In an age when star players earn millions of dollars in salary per year, the most coveted trophy in the sport is worth only $25,000.
3. Fans only get 20% of all Super Bowl tickets
Corporate sponsors get the lion's share (80%) of Super Bowl tickets.
4. Smallest NFL player
Jack Shapiro played for the Staten Island Stapletons in 1929, despite weighing 119 pounds and standing 5' 1" tall.
5. NFL football material
Contrary to popular belief, footballs are made from cowhide, not pigskin.
Additional Football Betting Guides Included In Our Series: