A Guide To NFL Handicapping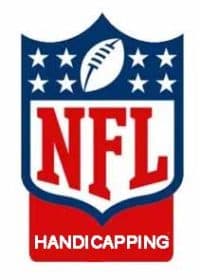 NFL handicap betting involves coming up with point spreads, moneyline odds for winners, and the over/under in pro football game lines. This guide to NFL handicapping details what aspects are in play when calculating pro football betting lines and how those strategies can apply to your own online wager.
We'll disclose how the experts handicap pro football games and what that means regarding how readers should develop their own NFL betting strategy. We'll also provide a list of the best online betting sites for handicapping games in the United States.
Best Online Sportsbooks For NFL Handicap Betting
What Is NFL Handicapping?
Two NFL teams are rarely evenly matched, so pro football oddsmakers need to create lines that handicap the favored and underdog teams in order to generate a level contest.
Online NFL sportsbooks make money through the vigor they collect on top of each football bet, so it is in their best interest that wagers come in evenly on both sides of the action.
Each sportsbook and oddsmaker will have their own unique NFL handicapping formula based on head-to-head histories, weather, injury status, past performance against the spread, and more variables.
When gamblers bet on a game, they are handicapping the game lines themselves to outsmart the bookie and earn some extra cash.
When someone examines a betting line and then places a wager against the spread, on the moneyline, or the over/under, their handicapping formula has revealed a potential flaw in the sportsbook's odds worth exploiting.
How To Handicap NFL Games
If you want to take a cold NFL matchup and handicap it yourself, you'll need to apply all known elements of each team toward the projections. Since we have the benefit of browsing hundreds of online football betting sites if we so choose, it is best to find a common point spread, moneyline, and over/under to work from based on those findings.
Winning bets against the spread are made by correctly choosing the winners and losers after applying any differentials. If your NFL handicap formula comes up with something drastically different than what the boards are producing, use that to your advantage and bet in that direction. Other popular NFL Strategies include buying points, betting against the spread, and betting on the underdog.
The same can be said for moneyline bets or over/under totals. If the pregame calculations you've made point heavily in one direction or another, consider betting that way.
Remember, if there are no NFL betting lines that leap out to you on a given week, trust your instincts and hold off until your handicapping techniques reveal a winning wager. Other popular NFL Strategies include buying points, betting against the spread, and betting on the underdog.
How Does NFL Handicap Betting Work?
Handicap betting on NFL games involves making for an even match by favoring a team by a negative point spread or declaring a team an underdog by granting them extra points. Legal online sports betting sites come up with these point spreads through their own calculations of variables that include numerous data points.
NFL bettors can then further handicap pro football betting lines by applying their own formula and using it as a reference point as to where to place their wagers. For instance, if a sportsbook suggests that the Cowboys will win by 5 points, but your handicapping formula suggests they'll win by 8, then the spread on Dallas is safe to wager on.
NFL Handicap Betting Tips
There Is No Substitute For Researching The Stats
Leave no stone unturned when comparing stats that are available for each team. That said, gamblers do not have an unlimited amount of time to compare statistical performances and other variables, so coming up with a solid formula is key to sensible wagering.
Take Advantage Of Early Betting Lines When You're Confident
Some of the best paying NFL odds are offered at legal online betting sites when lines debut, so if you're confident, don't hesitate.
Wait For Live Betting If NFL Handicap Projections Are Tight
If your projection models are coming up too close to what betting sites are posting, wait for in-play odds that take action after kickoff and through the fourth quarter. Live betting on NFL games is available throughout the regular season and playoffs.
Keep Up To Date On Weather And Injury Reports
Listen to the latest NFL handicap podcasts and news reports leading up to the game. Remember, if there are too many unknown variables as kickoff approaches, it is probably best to wager on a different game.
Become Familiar With Coaching Strategies
All NFL coaches and coordinators present recognizable traits when calling plays and selecting personnel. When these coaches change teams, they bring these philosophies with them and apply them to a new batch of players. Knowing how these variables factor into the overall chemistry of the team keeps surprises to a minimum on game days.
Watch NFL Games
Handicapping is primarily based on each bettor's historical perspective of professional football. All gamblers are susceptible to their gut instinct, and the depth of knowledge that backs up that initial reactionary thought can mean the difference between a win or a loss. Game data and the personal viewing of past performances is the best information gathering technique there is, so watch recent game replays on the NFL Network and all the live football you can each fall.