2023 Guide To NFL Teaser Bets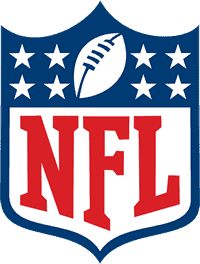 There are many types of NFL bets that can be placed at offshore and domestic sportsbooks, including combination wagers that decrease the chances of winning but increase the cash payout potential. This 2023 guide to NFL teaser bets gives readers insight into how teasers work in pro football and where they can be placed legally.
Risk vs. reward is perhaps never more evident than when combining NFL bets and then tweaking the odds to your liking. Don't settle for simple NFL parlays when you can set the betting lines how you want them by taking advantage of teaser betting on pro football.
Are NFL Teaser Bets Legal?
Yes, offshore NFL betting sites and domestic books can and will offer teasers, and there are no specific laws that forbid them. Offshore sports betting sites can legally accept NFL teaser bets from gamblers over the web in the United States because they operate from within a regulated gaming jurisdiction. That means they are not impacted by US gambling laws and will not get American NFL bettors into any trouble for becoming a member and placing a wager. 
Best USA Sportsbook Site For NFL Teaser Bets
Bovada NFL Sportsbook
#1 Rated Online Sportsbook Site For 2023
We rate the services Bovada Sportsbook provides over all other legal offshore sports betting sites catering to American gamblers. Bovada delivers its members the best NFL teaser odds with payouts that can be secured using the most popular cryptocurrencies on the planet. Bovada.LV's robust customer service and timely payout deliveries make them the best NFL betting site on the web today.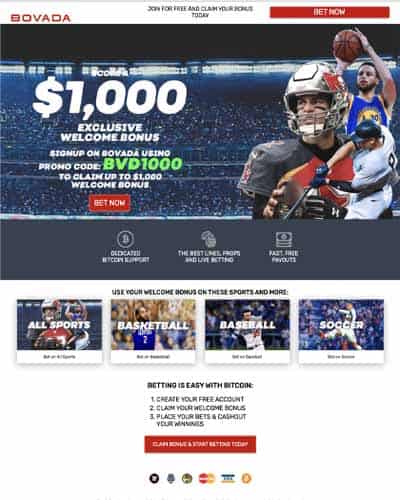 US Friendly - Most US States Accepted

Most reputable name in online sports betting

Licensed by Curacao - Operates within Costa Rica

Generous 50% bonus up to $1,000 for new members

Easy deposits using credit cards or Bitcoin/crypto

Fast and reliable payouts guaranteed
Only US, Mexico and Brazil players accepted

Residents of DE, MD, NJ, NV, NY not accepted

Limited deposit options compared to other sites
Best NFL Teaser Betting Sites
What Is A Teaser In NFL Betting?
Legal football betting sites allow their members to combine multiple wagers into one bet, exponentially decreasing the chances of a successful bet and creating the opportunity for a payout that greatly exceeds the amount risked.
What we've described above is a standard parlay bet. What turns it into a teaser NFL bet is when the sportsbook allows gamblers to move the point spread or over/under on each parlay pick by a designated number of points. This makes each leg of the teaser more winnable and provides much smaller cash-winning potential.
How Do NFL Teaser Bets Work?
Once logged in to the legal online sportsbook you intend to do business with, make more than one NFL pick against the spread or the over/under and allow them to fill your bet slip. Inside the slip, select the teaser tab and then choose how many points you want to adjust each point spread or over/under by.
Most books allow users to toggle the number of points allowable to see how it impacts the overall moneyline. The NFL moneyline adjusts depending on how many points are applied to each spread or over/under in the teaser.
Each NFL sportsbook varies in the number of spreads or over/under totals that can be included in an NFL teaser. If all bets included in the combined wager cover, the NFL teaser is a winner, and payouts will be deposited into accounts. The entire bet loses if any portion of the teaser is a loser.
Below we have placed a three-team NFL parlay, and then created a 6-point and 9-point teaser on the same line. As you can see, the moneylines decrease from +596, to +150, to -115. NFL teasers do aid in adjusting the odds to your advantage, but lines can dip into the negative if you move them too far.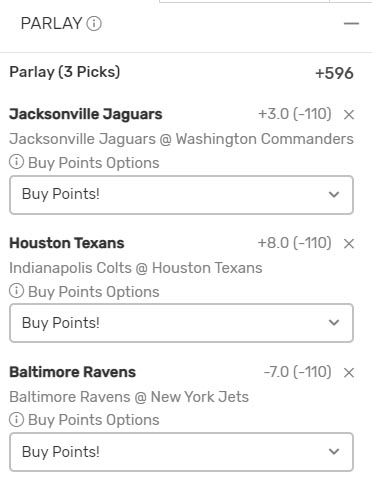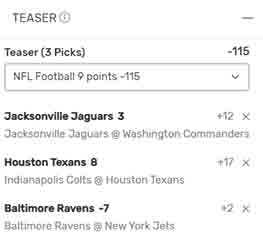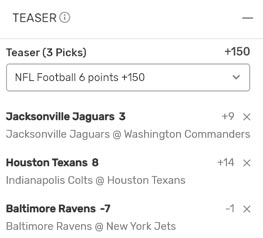 Don't purchase too many points – Adjusting the collective NFL point spreads and totals beyond three points brings the overall moneyline for the teaser too close to even. You can get those kinds of odds without any combination at all, so don't risk it.
Keep teaser picks to 5 or fewer – Even 5 NFL teaser picks in a single wager is ridiculous, so never exceed that amount. The National Football League is unpredictable and often produces extremely lopsided results, so spreading the web too wide is not worth it.
Investigate the NFL teaser rules at each legal online sportsbook – Gamblers should not make assumptions when placing a teaser bet at an offshore gambling site. Investigate how each site handles teaser calculations so there are no surprises when laying some action on multiple games.
Manage your bankroll – Don't blow your whole stack on risky teaser bets. Keep wagers small and limit the amount of each bet to 5% of your total bankroll. That will keep bettors in the game longer and preserves funds for the following weekend.
How Many NFL Teaser Picks Can Be Included In One Bet?
Bovada Sportsbook: 2-12
BetOnline: 2-15
MyBookie: 2-10
BetUS: 2-15
Calculating NFL Teaser Odds
Our top offshore sportsbook sites include an NFL teaser calculator inside the bet slip. All members need to do is click on each spread or over/under that they want to include in the teaser, and the sportsbook immediately calculates the moneyline odds.
These teaser calculations change as the total point variance for the football teaser is adjusted. The formula for each teaser calculation is unique to each site.
Expedited NFL Teaser Payouts
So, you've hit it big and scored a large payout on an NFL teaser bet, and now you want to collect your winnings quickly? The fastest way to do that is by withdrawing funds using cryptocurrency (Bitcoin, Ethereum, Tether, Cardano, Dogecoin, etc.).
Same-day payouts are available using crypto, whereas USD requests tend to take 48 hours or more before transacting.
The Best NFL Betting Apps For 2023
NFL parlays, teasers, and all other bet types offered at the desktop sportsbook site can be accessed using the world's most popular smartphones and tablets. Just use mobile web browsers to click on any sportsbook within this guide, and the best US-friendly sports betting apps will populate Apple and Android screens.
Gamblers do not have to download any software to their devices because these web apps operate via mobile browsers. These apps offer superior NFL betting lines with more opportunities for teasers, props, futures, and other bets that domestic books don't provide.
Is There Live Betting Options For NFL Teasers?
While most NFL betting sites we suggest here at LBO allow for live parlay betting, we've yet to encounter any that permit live teasers. There is a chance that an online betting site will get the appetite for live NFL teaser betting in the future. If that happens at a reputable sportsbook, we'll report our findings here.
Should I Accept A Sportsbook Bonus?
Sportsbook promo codes can be entered when deposits are being made that allow promotional cash to be added to accounts based on a percentage of the transaction. Read through any attached terms and decide if you can meet them before accepting a discretionary bonus.
If you can quickly achieve the conditions, then there's no reason not to accept the free cash and use it for betting on NFL teasers.