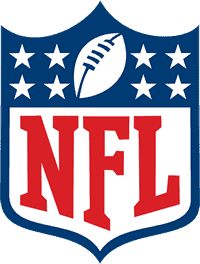 What is a prop bet, you ask? A prop bet or "proposition" bet is any wager that is not directly related to the final score of a game. For the NFL, these "side bets" can cover anything from game and season statistics, team and player performance, in-game occurrences, and much more.
Hundreds of prop bets and other types of NFL bets are available for every game during the regular NFL season and the playoffs. The Super Bowl is king when it comes to prop betting, and online sportsbooks will compete with one another by offering thousands of Super Bowl prop bets leading up to the big game.
To get you in shape for NFL prop betting this season, we've provided examples, and a detailed explanation for each type of prop bet you'll encounter when legally betting on NFL football this year. Additionally, we've also included our recommended list of the best NFL prop betting sites, so you can see all the proposition wagers offered for yourself.
Are NFL Prop Bets Legal In 2023?
Online NFL prop betting is legal in the United States barring state laws. There are no US gambling laws that make it illegal for any US citizen over the legal gambling age (18+) to place wagers online. Our legal experts have found that only one US state has enacted distinct laws against all online betting: Washington. While these laws are not enforced, we recommend abiding by all local mandates if you live in WA. 
Best Sportsbook For NFL Prop Bets In 2023
Bovada Sportsbook
#1 Rated Online Sportsbook For USA Players
When we see a site with so many competitive NFL prop bets for every single game all season long, we've got to give it up for them. So, big props to Bovada Sportsbook! With hundreds of NFL player props and NFL team props for each game on the schedule – as well as season-long props (aka NFL futures) – Bovada itself is a can't-miss proposition!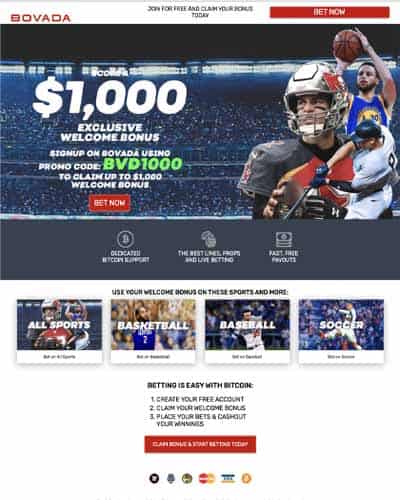 US Friendly - Most US States Accepted

Most reputable name in online sports betting

Licensed by Curacao - Operates within Costa Rica

Generous 50% bonus up to $1,000 for new members

Easy deposits using credit cards or Bitcoin/crypto

Fast and reliable payouts guaranteed
Only US, Mexico and Brazil players accepted

Residents of DE, MD, NJ, NV, NY not accepted

Limited deposit options compared to other sites
Top Betting Sites For NFL Props In 2023
Types Of NFL Prop Bets - Examples
We've categorized the different types of prop bets you'll see posted week in and week out and included an example of each, so you don't get popped by a blindside hit during the NFL season. Keep in mind: There are even more than these, so check the online sportsbook you're interested in to see what's readily available.
Team Win totals: Think you know how many wins an NFL team will have after a 16-game season? Online sportsbooks post over/under bets for all 32 teams before the start of the season.
New England Patriots Total Wins In The Regular Season - Over/Under 11.5 Wins
Playoff specials: Only 12 of the 32 NFL teams will make the playoffs each year and betting sites let you wager on the odds for each team and whether they'll qualify for the postseason.
Will The Los Angeles Rams Make The NFL Playoffs? Yes -330, No+270
Season winners: Whether you're betting on a team to win their division or the AFC or NFC conference, season winner prop bets let you predict what the standings and results will look like when all is said and done.
Odds To Win The NFC South: New Orleans Saints -160
Award winners: Which players and coaches will rise above the rest and take home some hardware at the end of the year? Odds to win awards such as the MVP, Rookie of the Year, AP Comeback Player Of The Year, Coach of the Year, or any other honor are available each season and are included in lines for NFL player prop bets.
Season performance: For performance-based prop bets, cold, hard statistics are all that matters and wagering on who will finish the season with the "most (insert stat here)" is the most common type of player prop futures.
Most Regular Season Rushing Touchdowns: Todd Gurley +650
Game performance: Regardless of whether a matchup is still days away or if a game is currently in progress, betting how players and teams will perform during a single matchup is available 24/7 throughout the entire season.
Total Passing Yards Against The Jets: Tom Brady Over/Under 300.5
Novelty props: Lastly, we arrive at my favorite type of prop bet. Novelty props are available throughout the season but are known to make headlines during the Super Bowl due to their wackiness. These props aren't based on stats, but rather, on unique or funny things occur both inside and outside the game itself.
How Many Times Will Gisele Bundchen (Tom Brady's wife) Be Shown On TV? Over/Under 1.5 Times
Which sportsbook has the best selection of NFL props in 2023?
For my money, if wagering on props is your biggest selling point, then there's no question that Bovada is the king of NFL prop bets. Not only do they have hundreds of props available for each and every game throughout the season, but the sportsbook also lets you customize your own prop bet with their "Player Props" tool.
Simply select an NFL game, and then choose the player you want to put money on. Depending on the position of the player you selected, the relevant stats will be displayed (i.e., quarterback = passing yards, passing TDs, etc.). The odds change based on how likely a player is to finish the game with the stat you selected. With customization like this, BetOnline is simply unrivaled in the NFL prop bet market.
Why does the Super Bowl receive so many props?
In short: Super Bowl betting gets the most prop bets because it's the most-watched, with over 100 million viewers, the most covered, and the most bet on (approximately $6 billion each year) sporting event in the United States each year.
Pretty much every single aspect of the game can be bet on. Prop bets such as song length of the national anthem, coin toss result, MVP, Super Bowl commercials, color Gatorade dumped on the winning coach, and halftime performance odds are available every year and have since become a Super Bowl betting tradition.
Additionally, with pretty much every news outlet in America covering it, there are hundreds of unique articles that come out on the NFL players, coaches, and members of the entire team. Because of this, the personality and uniqueness of those individuals get a spotlight and with an extra week to prepare, online sportsbooks simply get more time to plan what prop bets they want to offer and love to go "all in" since more people will be betting on Super Bowl Sunday than any other day of the year..
Can I bet on NFL props during a game and from a mobile device?
Absolutely and definitely. In fact, wagering on props while the game is currently progress, also called "live" or "in-game" betting, is arguably the most popular way to bet on NFL games throughout the season. Gone are the days where "all bets are off" when the game begins. Nowadays, when the game starts, the prop betting fun has only just begun.
But wait: The game is on, and you just sat down with your ice-cold beer, but your only in-game wagering option is to get up and go to your computer, right? Wrong! The best way to place a prop bet while the NFL game is being played is from your mobile sports betting apps! All Apple and Android mobile devices are supported by the betting sites we recommend, so whether you're on the couch or at a bar with friends, you never have to worry about missing out on the action ever again.