NFL vs. College Football - Betting Differences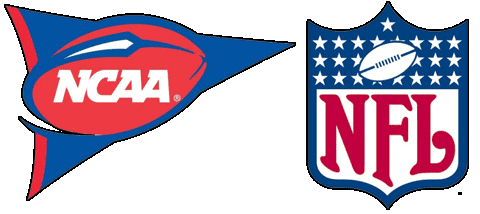 Football is most bet on sport in the United States and has been around since Rutgers beat New Jersey (now Princeton) by a score of 6-4 on November 6, 1869.
Even though football got its start on college campuses, and the National Football League wasn't founded until August 20, 1920, today – at first glance – the two levels of football appear the same: Both wear and use similar equipment, have similar rules with some minor exceptions, and play games in stadiums with thousands of fans in the stands.
However, there are some major differences to know before placing a bet on NFL or college football games. These differences affect odds, lines, and payouts of both college and professional football so it's vital information and could determine whether your wager is won or lost.
So, what are the differences?
Betting On NFL Jobs Or On School-Sponsored College Football
No, the Alabama Crimson Tide Can't Beat the Cleveland Browns
The biggest overall difference between the NFL and college football is simple: The NFL is a job and college football is school-sponsored sport. Players on NFL teams are full-grown adults who practice and study film for 10 to 14 hours a day each week where college football teams, which are comprised of teenagers and young adults, can only commit, at most, roughly half that time due to college classes along with some having part-time jobs.
But how does this affect betting on the NFL or college football? Well, "practice makes perfect" as the saying goes and having less time to prepare for an opponent means teams are more likely to make mistakes in crucial situations, making sloppy play more common and outcomes of college football games more unpredictable. You'll even hear broadcasters mention "chaos" when calling an upset in college football, further emphasizing the unpredictable nature of betting on football.
To put it as simple as possible: A college football team isn't nearly as good at playing football as a professional football team. And just for fun: If the Crimson Tide and the Browns did ever play each other, a wager on the Browns winning head-to-head would be the surest bet in USA legal sports betting history.
More NCAA Football Players Means More Possibilities
Mo' College Football Players, Mo' Problems
Further complicating college football betting as opposed to wagering on the NFL is the sheer number of players and possibilities needed to be predicted correctly to ensure a winning bet. Eliminating unlikely outcomes is biggest challenge professional bettors face and the biggest problem they must solve before placing a wager.
The NFL has 32 teams and each team can have a maximum of 53 players, which means 1,696 NFL players are eligible to play each week. However, only 45 of the 53 players can be active for a game, meaning a total of 1,440 players suit up before kickoff each week.
In contrast, NCAA Division I FBS Football currently has 128 teams and each team can have a maximum of 85 scholarship players in addition to 20 walk-ons for a total of 105 players. This isn't including the fact that teams often add more than 105 during the season since the rules only limit roster size at the beginning and end to each season. But if we ignore that, and you only consider the 105 players, it means each week, roughly 13,440 players on are on college football rosters, nearly eight times the amount of NFL players. The amount of factors in-play on every play with this amount of players would difficult for any mathematician – let alone your average college football bettor – to make an education choice on who to bet on.
Don't Be Fooled By Point Spreads With A Wider Gap
Good in Head-to-Head but Bad Against the Spread
Because there is such a larger number of players at the college level when compared to the NFL, it means there is also a larger skill gap as well. It's common to see point spreads of -20, -30 or even -40 in college football, but in the NFL, if the spread is -14 then the team is considered heavy favorites.
This is due to the wider gaps in talent among college football teams, since top 25 teams regularly schedule bottom tier Division I FBS – and sometimes FCS – opponents as warm up games. There are no warm up games in the NFL and every opponent has reasonable chance to beat your team, but what about when it comes to betting?
During 2017, college football teams picked as the favorites in straight up, head-to-head won roughly 75% of their games when compared to the favorited NFL teams only winning 60% of their head-to-head matchups. However, here is how both levels of football faired against the spread (ATS) during the 2017 season:
NFL: Favorites ATS 54.55% – Underdogs ATS 45.45%
CFB: Favorites ATS 48.25% – Underdogs ATS 51.75%
As you can see, the NFL favorites drop roughly 5% when comparing the head-to-head to point spread, but on the flip side, college football drops nearly 27% when betting on favorites against the spread. This is due to sportsbooks being able to take advantage of big-time programs play smaller schools. Will the Alabama beat Charleston Southern? Almost certainly. Will they beat them by at least 50 points? Maybe, but it's a lot less likely.
Keeping Players Leads To Familiarity And Safer Bets
The Well-Established System or the Revolving Door
When betting on college football teams, it's harder to measure how a team will perform from one year to the next. In college football, each player has four years of eligibility and after that, they are no longer allowed to compete at the collegiate level. Even if a team is good one season, it doesn't mean they will be good the next season, which often leads to myriads of disappointed fans and huge loses at sportsbooks simply due to the "revolving door" business that is college football.
In the NFL, while having a similar roster turnover rate, does offer opportunities to the best players to make longer commitments to teams. So, if a team is good one year then they are much more likely to be good the next season when compared to a college team because of the ability to keep good players on the roster. On average, this makes betting on an NFL team a safer bet each season.
Effects On Betting On The NFL More Often
Heavy NFL Action and Obscure College Football Lines
In addition to the talent level being closer in the NFL, the betting lines are also closer due to more "action" on each individual matchup. NFL is bet on more between the two levels of football and because of this, more money comes in on one of the two teams in the NFL matchup. When this happens, the line will change as sportsbooks want to keep the amount of money placed on both sides as equal as possible to ensure a profit. For example, NFL lines that start at -7 could drop by half to say -3.5 at game time, making the margin of error when picking a team much smaller.
However, college football does have one thing in its favor: The obscure betting lines where sportsbooks and the public are unlikely to pay too much attention. Sure, matchups between top 10 teams or top tier in-conference matchups are going to have large amounts of money wagered on them but looking outside Power 5 Conference may find bettors soft lines, lines with good value, between smaller schools. Sportsbooks are less likely to put much effort into changing the lines of games that aren't getting as much betting action. These are lines professional bettors with vast college football knowledge will like to take advantage and are ones you might consider looking into if you consider yourself knowledgeable of collegiate football.
Making An Informed Bet
Knowledge is Betting Power If You Can Find It
Another reason why the NFL is more bet on is due to the constant stream of news and reports regarding injuries and player performance. NFL teams are also required to submit injury reports. As soon as sportsbooks have this knowledge, the public does as well, making it easier to react to adjustments on a set of odds or point spreads.
College football on the other hand is a lot harder to get information on important factors such as injuries or which players are going to start in an upcoming game. Injury reports aren't mandatory until kickoff but at that point the information isn't valuable to bettors. A lot of time the facts will come from unknown sources who have inside information on the team. Sportsbooks usually won't budge on this information, unless they have an inside source of their own, but if you act on it then do at your own risk since it's information that didn't come from the horse's mouth.
Conclusion
Betting on NFL vs. CFB Finale
Wagering on the NFL and college football are two different levels of playing football and in turn, require two different levels of thinking when betting on America's game. The NFL is more streamlined, well known, and overall a safer bet in most wagers placed. College football is much harder to predict, has less information overall, and has a certain chaotic nature that can lead to bigger payouts, since if its hard for you to predict then its equally as hard to a sportsbook. The choice is ultimately yours which to bet on, but regardless, the goal here is to win the football wager and being more informed about the NFL and college football is the biggest step in achieving that goal.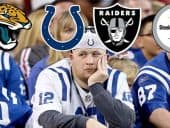 Week 9 in the National Football League began last night when the Philadelphia Eagles continued their dominance by beating the Houston Texans by a final score of 29-17. With a record of 1-6-1, the Texans can no longer cling to … Read more