Legal Football Betting By State In 2023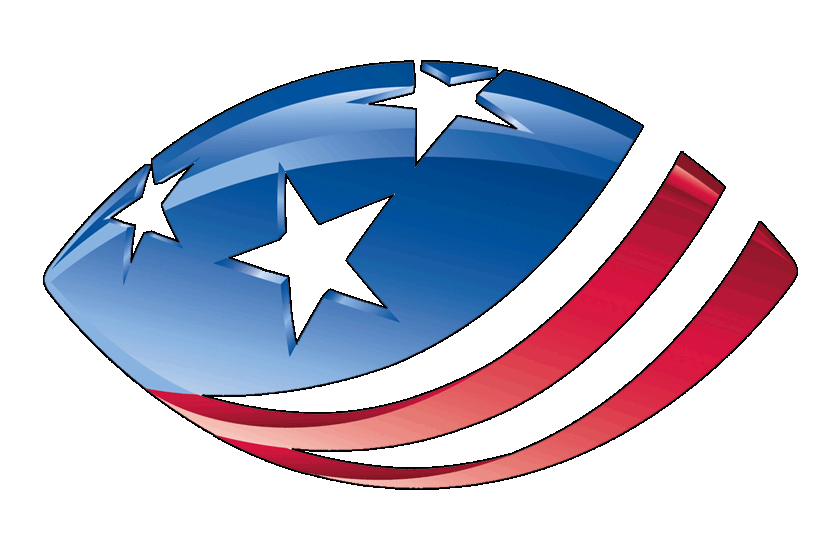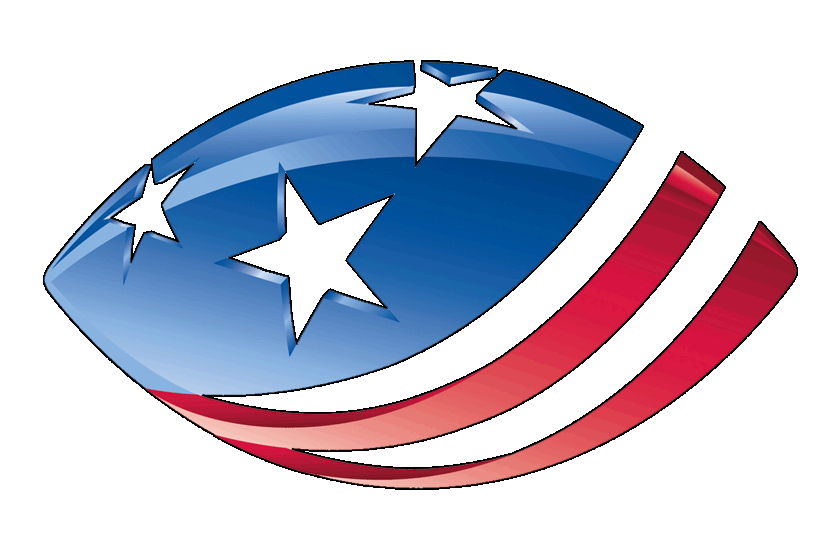 There are two ways that bettors in the United States can wager on football, with a domestic sportsbook located nearby, or an international betting site operating outside of the USA's jurisdiction. 
Football is the most bet on sport in the United States with an estimated $100 billion to be wagered on NFL and college football betting combined each year. Below we detail the status of legal domestic football betting in each state in the country. 
2023 Legalized Football Betting By State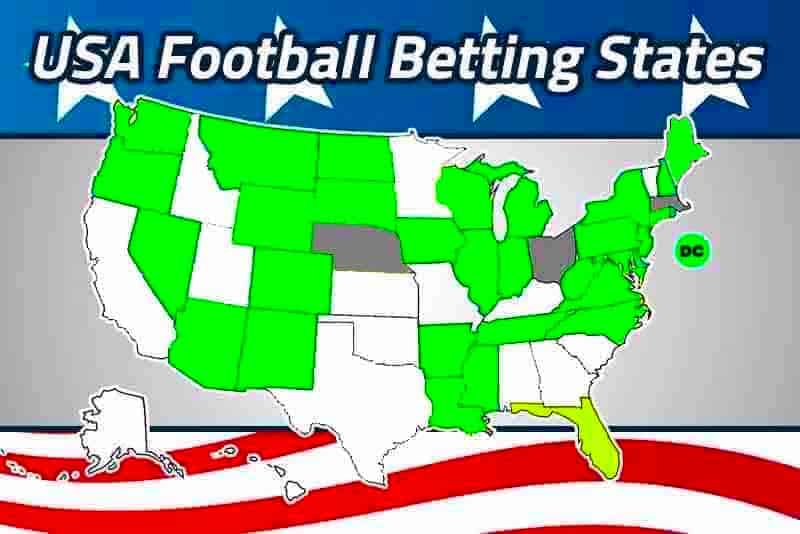 Pending Legislation
No Action
Outlawed

States With Legal Football Betting As Of September 2023
Arizona – In what was once a sports betting holdout, AZ now allows for state-regulated sportsbooks via in-person retail venues, online, and downloadable mobile gambling apps. The Arizona state legislature finally passed legal sports betting in the spring of 2021, with sportsbooks debuting later that year.
Arkansas - Voters passed Issue 4 in the 2018 Midterm elections. The amendment makes sports betting legal throughout the state and approves four licenses for casino-style gaming establishments. Arkansas launched domestic sports betting on July 1st, 2019. In 2022, domestic mobile sportsbook apps debuted in AR.
Colorado - In November of 2019, voters passed Proposition DD to allow the state legislature to enact sports betting laws. After Prop DD passed the voter referendum, lawmakers subsequently enacted HB19-1327, which allows casinos to obtain state-issued sports betting licenses. Online sportsbooks will also be permitted with proper licensing. Online and mobile sportsbooks launched in May 2020.
Connecticut - CT ushered in mobile, online, and retail sportsbooks in 2021, although brick-and-mortar venues are currently limited to two locations - the Mohegan Sun and Foxwood Casino.
Delaware – On June 5, 2018, Delaware became the first state to launch legal sports betting following the repeal of PASPA, allowing bets to be placed at three Delaware-based casinos: Delaware Park, Dover Downs, and Harrington Raceway. Gambling research experts are predicting Delaware sports betting to generate at least $23.1 million in annual revenue for the state and when including online, as much as $49.6 million in annual revenue – most of which is expected to come from betting on the NFL and college football.
Illinois - Packaged with a gambling expansion bill, Illinois Governor signed S-516 into law, allowing a sports betting industry within state lines. The state also has plans to allow sportsbooks at sports stadiums across the state. Land-based sportsbooks launched in March of 2020.
Indiana - Indiana started accepting bets on sports on September 1st, 2019. There are currently seven casinos that have licenses issued by the state to accept sports wagers. More sports betting locations are expected to be added later this year and in 2020. Mobile sports betting was also passed on 9/1/19 and launched in the spring of 2020.
Iowa - In late April of 2019, Iowa Governor Kim Reynolds signed into law SB 617, which allows 19 of the state's casinos to offer wagering options in person or online. Under this bill, in-state college game props are banned, and in-person registration for gambling is required until the end of 2020. College, professional, and fantasy sports games can be legally wagered on by players over the age of 21. The state will collect 6.75% in taxes on the gross revenue of wagers. Licenses for operators will cost $45,000, and $10,000 for annual renewals. The state launched sports betting on August 15th, 2019.
Kansas - In lte 2022, Kansas debuted online, mobile, and in-person sportsbooks that allow 21 and older patrons to legally bet on football odds. Area gamblers can now bet on the Super Bowl at any of their online and retail venues.
Louisiana - 2021 ushered in domestic in-person sports betting within the state of LA in a majority of parishes across the state. Louisiana debuted mobile sports betting in 2022.
Maine - The Pine Tree State legalized mobile and in-person sportsbooks in 2022, with their launch expected as soon as possible. Further legislation is expected as the region's tribes will seek sovereignty in the realm of sports betting in Maine.
Maryland - Online, mobile, and in-person sports betting are open for business in Maryland. Legal sports betting in MD debuted in late 2021, with more vendor licenses expected to be granted soon. Expect a large expansion of domestic Maryland sports betting in 2022 and beyond.
Michigan - The state legislature passed a bill allowing for domestic sports betting via physical locations and online in December of 2019. Michigan features legal domestic mobile sports betting apps as well as casinos within Michigan that feature operating sportsbooks.
Mississippi – Following the PASPA repeal, Mississippi became the third state and first state in the South to launch legal sports betting on August 1, 2018, with the first bets being placed at the Beau Rivage and Gold Strike Casino Resort. Mississippi currently requires all football bets to be placed in person, with legislation regarding the operation of online sportsbooks within state lines to be voted on at a later date.
Montana - On May 3rd of 2019, Governor Steve Bullock signed into law HB 725, which gives the Montana Lottery regulatory and operational control over domestic wagering activities in the state. The House Bill allows wagering in-person or online through a browser or mobile app. The state lottery is expected to provide the state government with $3.7 million in tax revenue after the first year of legalized operations. The state launched its sportsbooks in March of 2020, much later than they had hoped.
Nevada – Before the PASPA repeal, Nevada was the only state permitted to offer full-blown legal betting on football centered around its Las Vegas gambling market, which had existed for decades prior to the law being enacted. In fact, a record $158.58 million was bet on Super Bowl LII at Nevada sportsbooks in 2018. Many states are expected to examine Nevada's gambling laws and find the best regulations that apply to their state regarding gambling oversight, integrity, and management.
New Hampshire- In July, New Hampshire became the 6th US state to legalize domestic sports betting in 2019. Only ten licenses will be awarded.  Statewide mobile betting was launched in January 2020.
New Jersey – New Jersey became the second state to launch legal sports betting following the PASPA repeal on June 14, 2018, with the first bets placed at Monmouth Park. In addition, DraftKings Inc., the world's most popular daily fantasy football company, launched the DraftKings Sportsbook app, the first legal online sportsbook in the country on August 1, 2018, allowing New Jersey residents and visitors to place wagers on the 2018 NFL and college football season.
New Mexico - A New Mexico tribal casino started accepting bets on sporting events in October of 2018. Since there is no federal ban on sports betting, tribal casinos in New Mexico are allowed to offer domestic sports betting through their gaming agreements with the state. More NM tribal casinos are expected to have sports betting operations in place by the end of 2018.
New York - New York now allows mobile sports betting apps in addition to their sparse in-person retail sportsbook venues in the northern part of the state. Betting on sports in New York can be achieved by all available means as of 2022.
North Carolina - In July of 2019, North Carolina lawmakers passed a sports betting bill that allowed two tribal casinos to offer domestic sports betting. Harrah's casino resort in Cherokee, NC, and Harrah's casino in Murphy, NC, are accepting football bets domestically in North Carolina, and both are open for operation now.
North Dakota - In-person domestic sports betting is allowed at three ND casino locations. The state legislature has considered adding online and mobile sports betting apps to its arsenal, but the current outlook suggests that it is years away from becoming a reality.
Oregon - Oregon launched its Scoreboard sports betting app on October 16th. The day before the launch, the state's Lottery website crashed, but officials say it was not because of the sports betting app.
Pennsylvania – Pennsylvania approved legal sports betting in 2017 with the repeal of PASPA. Sports betting officially launched on November 15th, 2018. The Hollywood Casino at Penn National Race Course was the first establishment to start accepting bets on sports. Mobile sports betting apps in PA are now available from well-established worldwide sportsbook vendors.
Rhode Island – Governor Gina Raimondo signed the state budget on June 22, 2018, giving the Lincoln and Tiverton Twin Rivers Casino locations the exclusive rights to brick-and-mortar sportsbooks in the state. Rhode Island became the 7th state to launch domestic sports betting on November 26th, 2018.
South Dakota - Domestic sportsbooks at SD casinos located in Deadwood have been approved and are open for business. South Dakota lawmakers are considering an allowance for online sports betting while on the grounds of a Deadwood gaming location.
Tennessee - TN rolled out domestic sports betting applications in the fall of 2020 and is unique in that their state-regulated sportsbooks only accept wagers on pro and college sports via mobile means.
Virginia - In April of 2020, a law was enacted that allows for in-state sports betting that can be performed online or on mobile betting applications. Online and mobile sportsbook applications are currently accepting sports wagers in VA.
Washington D.C. - Players 18 and over in D.C. are now able to legally wager on football via their mobile betting website, GambetDC, the same software provider that operates the city's lottery system.
West Virginia – On August 30, 2018, West Virginia became the fourth state to offer legal sports betting following the repeal of PASPA when the first bets were placed at the Hollywood Casino. West Virginia was the last state to permit wagering on NFL and college football before both fully kicked off their 2018 seasons. All other states will have to vote on legislation during or after the 2018 NFL and college football season. West Virginia launched statewide mobile betting in August 2019.
Wisconsin - Tribal casinos have signed into a sports betting compact with the Governor, and a single in-person location has begun operating within WI. Expansion is expected soon, but there is no official word. Online sports betting can occur within the lone sportsbook in Wisconsin as long as gamblers are within the Casino property.
Wyoming - Online sports betting in Wyoming is now available domestically to regional gamblers that are 18 years of age or older. Web-based sports betting, as well as sportsbook apps, are able to legally place wagers on pro and college sports within Wyoming.
Sports Betting Laws Passed - Pending Launch of Sportsbooks
Florida - Domestic sportsbooks in FL were expected to be in place and operating online and in-person by the end of 2021 inside of Tribal casinos, but a lawsuit has shelved all activity for now. The outlook is not good for legal sports betting in Florida anytime soon.
Massachusetts - In early 2023, MA is preparing to roll out mobile and brick-and-mortar sportsbooks. In-person operations are poised to debut prior to Super Bowl 57, with mobile options debuting shortly after.
Nebraska - In 2021, Nebraska passed legal sports betting laws at their racino tracks, but another legislative session is required to hammer out regulation.
Ohio - Legal sports betting in OH is on the way as it was approved by the state legislature in the winter of 2021. Online and in-person Ohio sportsbooks should debut prior to the end of 2022 with any luck.
Washington - In March of 2020, the governor signed a new bill into Washington state law that will allow for the construction of domestic sportsbooks. The bill now needs to be vetted by regional Tribal gaming interests to see if the new regulation adheres to gaming compacts that are currently in place. No activity can proceed until clearance has been received from the Native American casinos, which could cause a delay of several months.
States That Introduced Legislation on Football Betting - Pending Action
The following states have either presented sports betting bills that did not pass in previous legislative cycles, are expected to present those bills that previously did not pass in the next legislative cycle, or have introduced football betting legislation for the first time.
California
Georgia
Texas
Vermont
States With No Football Betting Bills Announced
The following states have laws prohibiting the wagering on football at brick-and-mortar locations in state lines and have not publicly announced any plans to legalize betting on football.