NFL Bet Types - How To Bet on the NFL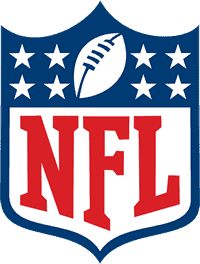 Any sportsbook serving US bettors will specialize in legal NFL betting as a matter of course. Thus, when you visit a reputable online oddsmaker, you can expect to see all kinds of NFL bet types available.
Of course, given how much money is wagered on professional football, those new to America's favorite game might be overwhelmed with all the choices on hand.
But that's not really necessary, as all the different NFL betting options are straightforward and easy to understand.
Below, we break down the many types of NFL wagers you're likely to come across online, briefly explaining how each one works. We will also offer tips and strategies to inform our readers on how to bet smarter.
After brushing up with our guide, you'll be ready to wager on all the NFL lines you're ever likely to come across.
To get you in shape for NFL prop betting this season, we've provided examples, and a detailed explanation for each type of prop bet you'll encounter when legally betting on NFL football this year. Additionally, we've also included our recommended list of the best NFL prop betting sites, so you can see all the proposition wagers offered for yourself.
Best Online Sportsbook For NFL Betting In 2023
Bovada Sportsbook
Top Rated USA Online NFL Betting Site
Bovada Sportsbook has been providing US bettors with NFL odds for over a decade and has become a trusted leader in the online football betting world. With countless NFL bet types available for each contest, Bovada members can easily place bets on NFL straights, NFL spreads, NFL over/unders, NFL props, and more.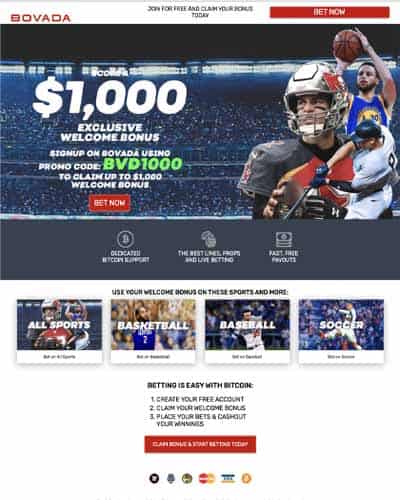 US Friendly - Most US States Accepted

Most reputable name in online sports betting

Licensed by Curacao - Operates within Costa Rica

Generous 50% bonus up to $1,000 for new members

Easy deposits using credit cards or Bitcoin/crypto

Fast and reliable payouts guaranteed
Only US, Mexico and Brazil players accepted

Residents of DE, MD, NJ, NV, NY not accepted

Limited deposit options compared to other sites
2023's Best Online NFL Sportsbooks
Different Types Of NFL Bets Available At Most Sportsbooks
Understanding The Moneyline
Before diving into all the different NFL wager types, you first need to understand how the moneyline works. In American sports betting, a moneyline is attached to every single wager, with no exceptions. Most simply, the moneyline is a bet's price tag and will either be a negative or positive number, most often found in parentheses alongside a given wager.
A negative moneyline indicates how much money you have to wager in order to win $100. Negative moneylines often indicate betting favorites or more likely outcomes. On the other hand, a positive moneyline shows how much money a bettor stands to win on a $100 wager. Positive moneylines usually indicate betting underdogs, or less likely outcomes.
Note: Moneyline amounts are not betting minimums. Instead, they simply show each wager's ratio of risk to reward. Most NFL sports betting sites will accept wagers of as little as $0.50 to $1.00.
NFL Point Spread
Betting against the spread or the NFL point spread is the most popular kind of football wager. Point spreads allow sportsbooks to "handicap" contests to entice action on both sides, taking points away from the favorite and giving them to the underdog. The following is an example of a typical NFL spread bet:
New England Patriots -7.5 (-110) at Pittsburgh Steelers +7.5 (-110)
Here, the Patriots are 7.5-point favorites, meaning that in order to win the wager, they must beat Pittsburgh by at least 8 points. Conversely, the underdog Steelers can lose by up to 7 points and still win the bet. Note that both teams in this example have an associated moneyline of -110, meaning that bettors must pay at a ratio of $110 to win $100.  For a more in-depth explanation, visit our page on understanding football point spread betting.
NFL Straight Moneyline
The straight NFL moneyline bet (aka the straight or straight-up bet) is another major NFL bet type. Here, there is no handicapping, and the moneyline alone shows the terms of the wager:
Seattle Seahawks +220 at Cleveland Browns -165
In this example, the Seahawks are big underdogs, and a $100 wager pays out $220 if they win the game outright. On the other side, Cleveland is a strong favorite, and a $165 wager would pay out $100. The bigger the underdog, the bigger the payout, while the bigger the favorite, the smaller the payout.
NFL Over/Under (Totals)
The third and final of the "Big Three" NFL bet types is the totals wager, which is commonly called the NFL over/under bet in the US. NFL over/unders are not concerned with who wins or loses. Instead, your sportsbook will assign a number to each game, and your task is to choose whether the two teams will combine to score more points or fewer points than that number:
Dallas Cowboys at Washington Redskins O/U 37.5 (-110)
Here, if you think the Cowboys and Redskins will combine to score 38 or more points, you would pick the over. If you think they'll score 37 or fewer points, you'd take the under. The moneyline, or price, is the same for both sides (-110), but this isn't always the case.
NFL Halftime Bets
For NFL games, most sportsbooks will offer halftime bets, also called first half bets. These comprise the three main bet types listed above (spreads, straights, and totals), but they're limited to only the first half of a given game. Sportsbooks used to simply halve their full-game odds to offer halftime lines, but that is no longer the rule, and many factors go into where a book sets its first half lines.
NFL Quarter Bets
Quarter bets are the same as halftime bets, only the odds are reduced further to reflect individual quarters. NFL quarter bets will always be labeled by the quarter to which they refer (first, second, third, or fourth), and you will commonly find spread, straight, and over/under quarter lines offered at most NFL betting sites.
NFL Props
NFL proposition bets are wagers on an individual team or player performances within a given contest. NFL player props allow bettors to put money on things like the total number of TDs a QB tosses, the total number of yards an RB tallies, and so on. NFL team props are similar, allowing bettors to place wagers on how many total yards an offense will rack up, how many turnovers a defense will force, and more. Sportsbooks may also offer game props and broadcast props on marquee matchups. There is always an abundance of Super Bowl props available for the NFL's biggest game.
NFL Futures
For most US bettors, NFL futures are what keeps them going through the eternal funk of the football offseason. Futures wagers are exactly what they sound like: bets that are based on longer-term outcomes. The most common type of NFL futures bet is the Super Bowl future, where you can bet on the team to win the next NFL title. This comes as no surprise since Super Bowl betting sees some of biggest action at any legal US friendly sportsbook. You can also typically find future odds for the NFL Playoffs and the NFL Pro Bowl. Futures odds are typically available year-round, with the odds paying out better the further out you place your bets.
NFL Specials
In many parts of the world, specials betting is just another term for prop betting. However, in the US market, that's not the case. In the NFL, a special is a type of futures bet that isn't strictly related to action on the field. NFL specials are commonly reserved for newsworthy behind-the-scenes events, like whether or not a player will be traded, ending a holdout, sign a big contract, etc. Draft specials are especially popular in the NFL, allowing bettors to wager on a prospective star's chances to be picked by a given team.
NFL Parlay Bets
Parlay wagers are popular at NFL betting sites, allowing the bettor to combine multiple different wagers into one giant bet with a bigger payout than the sum of its constituent parts placed individually. Most NFL sportsbooks will allow parlay tickets to combine 10 or more wagers, and you can sometimes even place cross-sport parlays, combining NFL bets and college football bets (or MLB bets, or NBA bets, etc.).
NFL Teasers
NFL teasers are a parlay bet where lines are shifted in your favor by the number of points indicated in the terms of the teaser. For example, if you have a 5-point teaser, each individual bet included in a given parlay will move in your favor by 5 points. As a result, a teaser will pay out less than a corresponding simple parlay.
NFL Pleasers
An NFL pleaser is the exact opposite of a teaser. Instead of moving the lines in your favor, pleaser bets move the lines of your parlay in the sportsbook's favor. Pleasers are much tougher to hit on, but the payouts are substantially better than those of standard parlays. (There is some debate as to which party is actually being "pleased" by a pleaser bet: the sportsbook or the bettor.)
NFL If Bets
The if bet is a kind of parlay where each leg is contingent on the success of the previous wager in the chain. In other words, if you place an NFL if bet, you have to hit on the first wager before the next wager has action, and so on. In a regular parlay, if you lose any leg of the bet, you lose the whole bet. With if bets, if you win your first wager, you're paid out, and your initial stake is put towards the next wager. If you lose that next wager, you only lose your stake, but those losses are tempered by winnings from previous legs.
NFL Round Robin Bets
Round Robins allow you to "box" your parlay bets. Let's say you want to place a three-bet parlay involving all combinations of five potential wagers. By boxing your parlay into a Round Robin, you can save the time required to place all those different 3-bet parlays individually. Because a Round Robin increases your chances to win, the associated payout will be less than the payout you'd get for winning a standard parlay.
NFL Live Betting
Live betting, or in-play betting, is an increasingly popular style of NFL wagering. As opposed to traditional NFL betting, NFL live betting allows you to place wagers as games are being played in real-time, with odds that are automatically updated to reflect the in-game action.
NFL live betting is extremely popular, and all the major online sportsbooks offer the amenity. Live betting is usually limited to the main betting lines (spreads, straights, totals) and player/team props, though different sportsbooks will offer different NFL in-play options.
Mobile NFL Betting Apps
Today, most sports bettors expect not only to be able to wager online but also to be able to bet while out and about. Currently, mobile sports betting accounts for more than half of all NFL betting, and every major offshore sportsbook offers its full selection of NFL lines and odds via mobile-optimized portals.
All you need to take advantage of the freedom that mobile wagering affords is a recent smartphone, tablet, or other modern mobile device and an Internet connection. To enjoy NFL mobile betting, just log on to your sportsbook of choice and start making your picks!