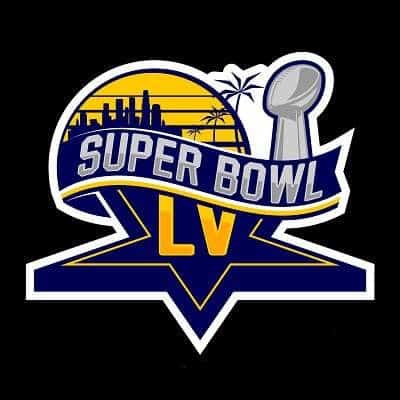 Super Bowl 55 represents the climax for betting on the NFL as it is the season's final game and is the single most wagered upon sporting event on the calendar. Can Tom Brady and the Tampa Bay Buccaneers award the G.O.A.T. a seventh ring while adding a second Lombardi to their trophy case, or will the Kansas City Chiefs repeat as champions and earn Patrick Mahomes another title in his quest to catch Brady?
The NFL postseason betting odds came to fruition, as they predicted that Tampa Bay would win three road games en route to Super Bowl LV, but those very same predictions also suggested that they'd lose the big game to KC. The winner of Super Bowl LV will be known soon, but until then, have a look at our prediction for how it all will go down, and if the betting odds alighn with our beliefs.
Top Superbowl Betting Sites For US Players
Latest Super Bowl 55 Betting Odds
Via Bovada
Super Bowl 55 Betting Odds
Kansas City Chiefs (-3.5) vs. Tampa Bay Buccaneers
Spread: KC -3.5, TB +3.5
O/U: KC -160, TB +140
How To Watch Super Bowl 55
Date: February 7, 2021
Time: 6:30 p.m. EST
Location: Tampa Bay, Florida
Venue: Raymond James Stadium
Teams: Kansas City Chiefs vs, Tampa Bay Buccaneers
Odds: KC favored by -3.5 points
National Anthem: Eric Church & Jazmine Sullivan
Halftime Act: The Weeknd
Broadcast: CBS
Streaming: CBS All Access
Super Bowl LV Predictions
The Tampa Bay Buccaneers will be the first NFL franchise in league history to play a Super Bowl in their home stadium when they suit up to battle the Kansas City Chiefs in Raymond James Stadium on February 7, 2021.
The early lines favor KC by roughly a field goal, depending on where you look, and it seems that oddsmakers are ignoring the fact that Tom Brady and Tampa Bay are coming off of back-to-back underdog wins where they defied their unfavorable NFL Playoff odds.
The point spread margin of 3.5 and the over/under total of 56.0 suggests the following final score for Super Bowl 55:
Kansas City Chiefs 30
Tampa Bay Buccaneers 26
The benchmark to beat the Chiefs is 30 points. We believe that Kansas City will put north of 30 on the scoreboard in SB 55, and Tampa will have to keep pace. It could come down to Tom Brady in possession of the ball in the final minutes, attempting to score the game-winning TD. It will be up to Kansas City and their mega-trio of Patrick Mahomes, Tyreek Hill, and Travis Kelce to stay far enough ahead to remove that possibility.
We're going to go against the grain and predict that it is the Kansas City defense that rises to the occasion and brings their A-game pass rush for Super Bowl LV. KC will jump out to an early lead and Tampa will struggle to keep up, missing key opportunities as the remainder of Tampa's offense finally succumbs to postseason pressure and loses to a favored opponent. Our final score prediction for Super Bowl 55 is as follows:
Kansas City Chiefs 43
Tampa Bay Buccaneers 31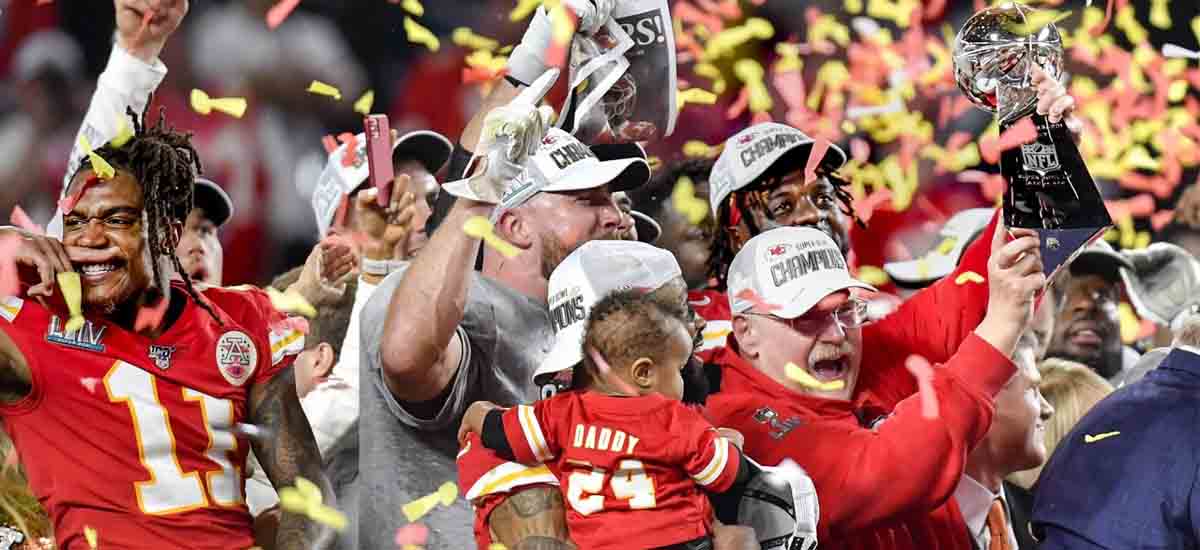 Kansas City Chiefs 31, San Francisco 49ers 20
Spread: Chiefs -1.5
MVP: Patrick Mahomes (QB – Chiefs)
Nielsen Ratings: TBA
Viewers: TBA
The Kansas City Chiefs rally and push past the San Francisco 49ers in the fourth quarter to capture the Lombardi Trophy and win the 2020 Super Bowl.
The Chiefs were favored to win by 1.5 points, but only Super Bowl 25 finished with that close of a margin.  The score would have to open up eventually, and it did.
Super Bowl MVP Patrick Mahomes led his offense to post 21 points in the game's final period, a scoring bunch that the 49ers had no answer for.  Mahomes had been the odds on favorite to win the MVP of Super Bowl LIV.
For the Chiefs, it is their second NFL title in franchise history.  For Andy Reid, it is his first championship as a head coach after 21 years of success.  For Patrick Mahomes, it is another step towards him being considered the best quarterback in the game.  Many think he has already arrived at that summit.
After a 10-10 tie at halftime, San Francisco added another 10 points to take a 20-10 lead into the fourth quarter.  It seemed like the 49ers defense was going to get the job done.  They had intercepted 2 Mahomes passes and made several key stops.
The over/under for interceptions that Mahomes would throw was set at 0.5.  He had yet to throw an interception in the 2019 playoffs.
Then everything changed when the Chiefs' offense finally broke loose and started scoring points.  The 49ers were forced to become one-dimensional, passing on nearly every down.  They had some success, but ultimately couldn't score any more points and keep pace.
The 10-point comeback is in a four-way tie for second place for the largest comeback in the history of the Super Bowl.
After celebrating, the Chiefs will turn their focus towards Andy Reid's future and resigning Patrick Mahomes to a new contract.  For San Francisco, they'll look to offseason preparations and getting ready to make another run at a championship.
Oddsmakers have already begun posting Super Bowl odds for 2019, and the 49ers and Chiefs are early favorites to face off for the title again.
Kansas City Chiefs +600
San Francisco 49ers +800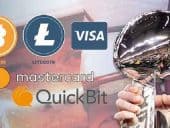 Super Bowl 55 is Showtime vs. The GOAT. But, if you're one of the hundreds of millions of Super Bowl betting enthusiasts in the US and around the world, it's also You vs. the Sportsbooks. That's because, like each year, … Read more