*Super Bowl 57 Preview Coming In January Of 2023!
Super Bowl 56 represents the climax for betting on the NFL as it is the season's final game and is the single most wagered upon a sporting event on the calendar. Tom Brady and Patrick Mahomes are absent from the Super Bowl, and have given way to the Los Angeles Rams and the Cincinnati Bengals to battle for this year's Lombardi Trophy.
The NFL postseason betting odds featured several underdog winners, as the home field advantage seemed to mean less than ever during the 2022 postseason. The winner of Super Bowl LVI will be known soon, but until then, have a look at our prediction for how it all will go down, and if the betting odds align with our beliefs.
Top Superbowl Betting Sites For US Players
Latest Super Bowl (2022) 56 Betting Odds
Via Bovada
Super Bowl 56 Betting Line
Los Angeles Rams (-4.0) vs. Cincinnati Bengals
Moneyline: LA -195, CIN +165
O/U: 48.5
How To Watch Super Bowl 56
Date: February 13, 2022
Time: 6:30 p.m. EST
Location: Los Angeles, CA
Venue: SoFi Stadium
Teams: Cincinnati Bengals vs. LA Rams
Super Bowl 56 Point Spread: Rams -4.0, Bengals +4.0
Super Bowl LVI Moneyline Odds: Rams -195, Bengals +165
Superbowl National Anthem: Mickey Guyton
Halftime Act: Snoop Dogg, Dr. Dre, Eminem, Kendrick Lamar, Mary J. Blige
Broadcast: NBC
Streaming: Peacock
Super Bowl LVI Predictions
The LA Rams will be the second NFL franchise in league history to play a Super Bowl in their home stadium when they suit up to face the Cincinnati Bengals in SoFi Stadium on February 13, 2022.
The early lines favor LA by 4, depending on where you look, and it seems that oddsmakers are ignoring the fact that Joe Burrow and Cincinnati are coming off of back-to-back underdog wins where they defied their unfavorable NFL Playoff odds.
The point spread margin of 4.0 and the over/under total of 48.5 suggests the following final score for Super Bowl 2022:
Los Angeles Rams 27
Cincinnati Bengals 21
We believe that Cincinnati is completely unphased by championship caliber matchups in games that are televised to millions of fans worldwide due to the experience of quarterback Joe Burrow and Ja'Marr Chase.
Both Chase and Burrow won a CFP National Title 2 years ago when they were teammates at LSU, and here they are just two years later in Super Bowl 56 threatening to knock off the Rams and establish their championship legacy well in advance of even the loftiest expectations.
Despite the historic production achieved by Matt Stafford and Rams wide receiver Cooper Kupp, the combination of Burrow and Chase is equally threatening.
We're most impressed by the Bengals defense who have been clamping down on opposing offenses during the second half this postseason, and for that reason, we're granting Cincinnati the edge and projecting them to win the Superbowl by the following final score:
Cincinnati Bengals 31
Los Angeles Rams 28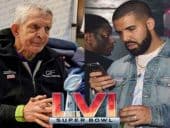 A Houston-based furniture seller may become more than $6 million richer on Sunday, thanks to a hefty Super Bowl bet placed last week. It was then that Jim McIngvale, known far and wide as "Mattress Mack," put down a whopping … Read more