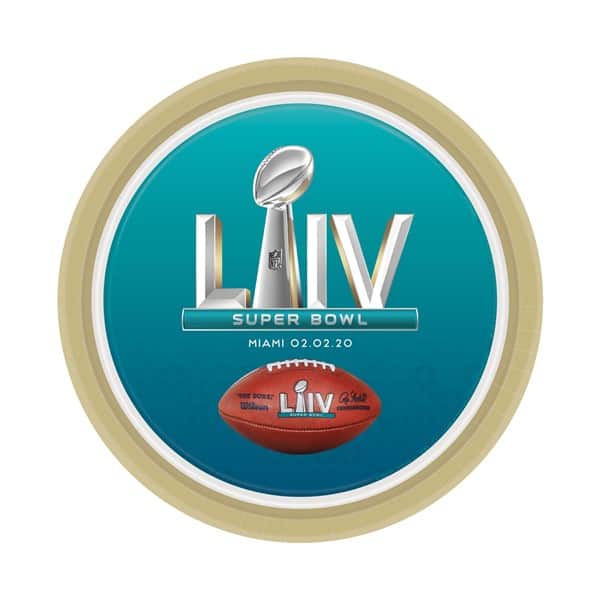 Super Bowl 55 is several months away but betting on the NFL is already on the minds of fans, oddsmakers, and sports bettors alike. Will Tom Brady make a run at the title with his new team, the Tampa Bay Buccaneers, or will Cam Newton show the football world that his career is not over and that he can get the job done under center with the New England Patriots. One thing is for sure, the season will be a competitive one, and there are several that could contend for the Super Bowl title. 
The Kansas City Chiefs and Baltimore Ravens are the most heavily favored teams in NFL postseason betting odds to become the winner of Super Bowl LV, but the San Franciso 49ers, Seattle Seahawks, New Orleans Saints, and Green Bay Packers have similar intentions and the talent to back it up. Hopefully, there'll be no COVID-19 related setbacks, and the full NFL season can proceed as planned, and deliver an epic championship game worth remembering. 
Top Superbowl Betting Sites For US Players
Latest Super Bowl 55 Betting Odds
Via Bovada
Super Bowl 55 Winner
Baltimore Ravens +500
Kansas City Chiefs +500
New Orleans Saints +900
San Francisco 49ers +1200
Seattle Seahawks +1200
Dallas Cowboys +1600
Tampa Bay Buccaneers +1600
New England Patriots +1800
Pittsburgh Steelers +1800
Arizona Cardinals +2000
Buffalo Bills +2000
Green Bay Packers +2000
Los Angeles Rams +2200
Tennessee Titans +2200
Indianapolis Colts +2500
Cleveland Browns +4000
Minnesota Vikings +4000
Philadelphia Eagles +4000
Chicago Bears +5000
Las Vegas Raiders +5000
Los Angeles Chargers +5000
Houston Texans +6600
Atlanta Falcons +8000
Denver Broncos +10000
Detroit Lions +10000
Washington Football Team +12500
Miami Dolphins +15000
New York Giants +15000
Carolina Panthers +17500
Jacksonville Jaguars +17500
Cincinnati Bengals +20000
New York Jets +20000
How To Watch Super Bowl 55
Date: February 7, 2020
Time: 6:30 p.m. EST
Location: Tampa Bay, Florida
Venue: Raymond James Stadium
Teams: TBD
Odds: TBD
National Anthem: TBD
Halftime Act: TBD
Broadcast: CBS
Streaming: TBD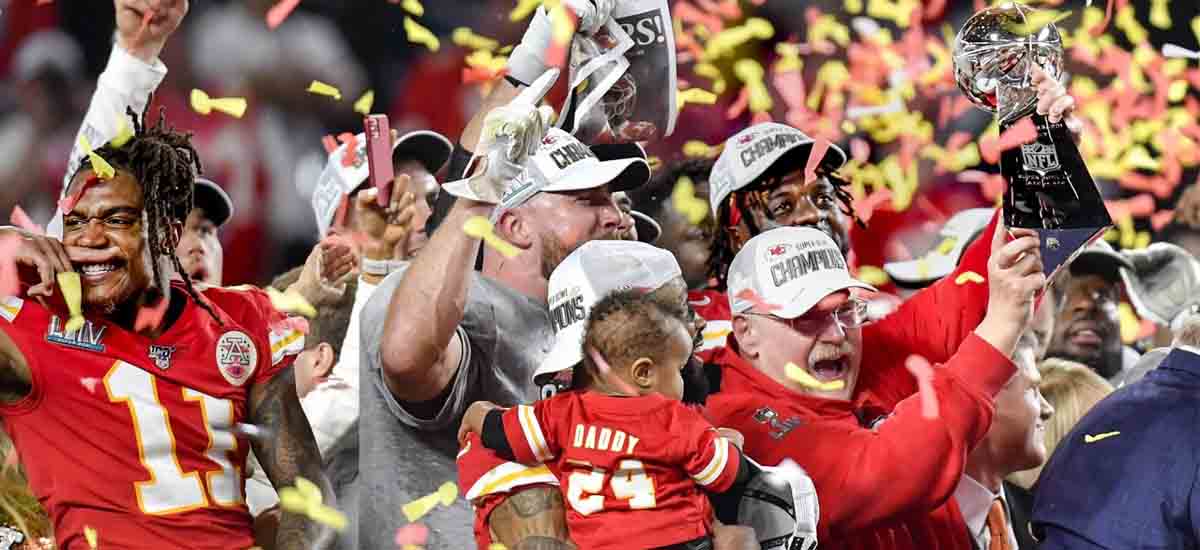 Kansas City Chiefs 31, San Francisco 49ers 20
Spread: Chiefs -1.5
MVP: Patrick Mahomes (QB – Chiefs)
Nielsen Ratings: TBA
Viewers: TBA
The Kansas City Chiefs rally and push past the San Francisco 49ers in the fourth quarter to capture the Lombardi Trophy and win the 2020 Super Bowl.
The Chiefs were favored to win by 1.5 points, but only Super Bowl 25 finished with that close of a margin.  The score would have to open up eventually, and it did.
Super Bowl MVP Patrick Mahomes led his offense to post 21 points in the game's final period, a scoring bunch that the 49ers had no answer for.  Mahomes had been the odds on favorite to win the MVP of Super Bowl LIV.
For the Chiefs, it is their second NFL title in franchise history.  For Andy Reid, it is his first championship as a head coach after 21 years of success.  For Patrick Mahomes, it is another step towards him being considered the best quarterback in the game.  Many think he has already arrived at that summit.
After a 10-10 tie at halftime, San Francisco added another 10 points to take a 20-10 lead into the fourth quarter.  It seemed like the 49ers defense was going to get the job done.  They had intercepted 2 Mahomes passes and made several key stops.
The over/under for interceptions that Mahomes would throw was set at 0.5.  He had yet to throw an interception in the 2019 playoffs.
Then everything changed when the Chiefs' offense finally broke loose and started scoring points.  The 49ers were forced to become one-dimensional, passing on nearly every down.  They had some success, but ultimately couldn't score any more points and keep pace.
The 10-point comeback is in a four-way tie for second place for the largest comeback in the history of the Super Bowl.
After celebrating, the Chiefs will turn their focus towards Andy Reid's future and resigning Patrick Mahomes to a new contract.  For San Francisco, they'll look to offseason preparations and getting ready to make another run at a championship.
Oddsmakers have already begun posting Super Bowl odds for 2019, and the 49ers and Chiefs are early favorites to face off for the title again.
Kansas City Chiefs +600
San Francisco 49ers +800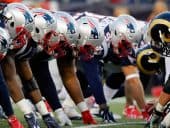 Heading into Super Bowl 53 tomorrow, both the New England Patriots and the Los Angeles Rams appear to have relatively few injuries across the depth chart. Both teams released their injury reports earlier this week and each side has only … Read more