Legal 2023 MLB Betting Guide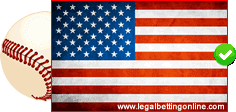 For sports gamblers, there's no better sport than Major League Baseball. With a whopping 2430 MLB games in a season, this American institution is perfect for casual, professional, and high-volume bettors. This guide focuses on legal MLB betting and will help newbies get started and the more serious betters find the best sportsbooks to suit their preferences. 
You can bet on MLB games online by using any of the most reputable legal sports betting sites in the business. While some US states now offer legal sports betting with domestic books, these are geofenced to in-state residents and visitors only, so they tend to have skewed betting lines for local favorites. If you want the best baseball betting odds on your favorite MLB teams and players, offshore betting sites take action from all US states, giving you higher-value lines across the board. You will also find lines at our recommended sportsbooks for legally betting on the World Series. 
Of course, many online books are out on the mound throwing junk, so if you want to knock it out of the park on the first pitch, it's important to pick an MLB betting site that's earned its place in the Bigs. Our online sportsbook reviews highlight the best of these so you can swing for the fences. 
Is MLB Betting Legal In 2023?
Ever since PASPA was overturned in 2018, many states have legalized some form of in-person or online sports betting (or both). However, most states have not yet done so. But for those who live in states with no local sports betting, don't worry – You haven't struck out!
That's because online baseball betting with bookmakers operating outside of US jurisdiction is legal and safe for almost everyone in the US. Legal online sports betting is a lot easier to access than most people think. 
Washington has laws explicitly banning online gambling, however, these restrictions remain unenforced. Still, if you reside in WA, we advise following all state gambling laws and betting on baseball over the Internet only at your own risk.
Best MLB Betting Site For US Baseball Fans
Bovada Sportsbook
#1 Rated Online Sportsbook For 2023
Betting on MLB odds at Bovada is a first-class experience. Bovada Sportsbook is the New York Yankees of gambling sites, offering unrivaled MLB betting lines and thousands of daily game odds. The site even features a custom prop builder for baseball betting fans who want to create their own MLB bets!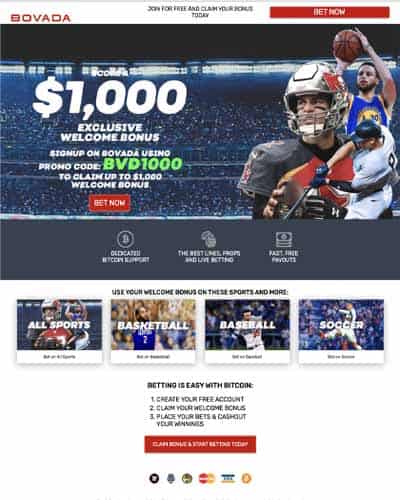 US Friendly - Most US States Accepted

Most reputable name in online sports betting

Licensed by Curacao - Operates within Costa Rica

Generous 50% bonus up to $1,000 for new members

Easy deposits using credit cards or Bitcoin/crypto

Fast and reliable payouts guaranteed
Only US, Mexico and Brazil players accepted

Residents of DE, MD, NJ, NV, NY not accepted

Limited deposit options compared to other sites
Best Online Sportsbooks For 2023 MLB Betting
MLB Teams, Divisions, And Leagues To Bet On
Major League Baseball, as we know it today, is the merger of America's original two professional baseball leagues: the National League, founded in 1876, and the American League, founded in 1901. The two combined forces in 1903, but they remained separate on paper until 2000, when they merged legally as a single organization. However, the customary NL and AL structure remains.
The MLB is the oldest professional American sports league, and there are 30 teams currently competing, with 15 in the AL and 15 in the NL. Each league is split into three divisions (East, Central, and West) with five clubs apiece.
Betting on the World Series and other MLB games are very straightforward and simple to understand.
When it comes to how to bet on baseball, the first step, of course, is to secure membership at a legal online sportsbook operating overseas. Signing up is free and fast – just follow any link you see above, find the "Join" button on your chosen site's homepage, plug in your credentials, make a deposit, select an optional bonus, and take your cuts!
Of course, that's just for starters. The real fun begins once you're all signed up. When browsing the odds boards at any top site, simply select the MLB section, and you'll see all the current games of the day. For games in progress, you'll see live betting lines, and you can also place wagers on things like division winners, league winners, and World Series champions all season (and offseason!) long.
After choosing the lines you want to wager on, simply complete the bet slip. This is very straightforward and provides prompts as you move through the process.
Requestion your payout is probably the most exciting part of the whole experience, and simply requires that you visit the cashier and select your preferred withdrawal method.
As long as you understand the basics about MLB betting odds and how they work, you'll never run out of action. For those, consider the next section your cleanup hitter!
Baseball betting has a very mild learning curve. This isn't a crazy Sandy Koufax 12-to-6, after all – It's more like batting practice from a Jugs machine. Just keep the following basics in mind, and you'll be hitting dingers in no time.
MLB Straight Bet
The straight bet uses the moneyline to show which team is favored, which team is the underdog, and how much each wager pays out. Favorites will have negative moneylines, showing how much you must risk to win $100, while dogs will have positive moneylines, showing you how much you can win on a $100 bet. These are ratios rather than betting minimums, and all bets have associated moneylines.
MLB Runline Bet
The runline is the baseball point spread. Usually, both teams will carry the same moneyline payouts (-110 or -115), and the runline is typically set at -1.5 for the favored team (or +1.5 for the underdog). In other sports like football, the spread varies, but in baseball betting, the spread is almost always going to be 1.5 runs.
MLB Totals Bet
Totals, aka over/under bets, require bettors to wager on whether the final combined score of a given game will be higher than (over) or lower than (under) the total given by the sportsbook. Most sportsbooks mark these wagers with an "O/U" designation.
MLB Prop Bets
Baseball props can be player props or team props. These are over/under bets or yes/no bets where you put money on whether or not a player or team will eclipse a statistical total set by the sportsbook. You can place MLB props on things like how many strikeouts a starting pitcher will get, how many errors a team will commit, and more.
MLB Futures Bets
Baseball futures are wagers on events that won't occur until much later in the season. For example, you can place an MLB futures bet on which team will win a division, the AL championship, the NL championship, and the World Series. You can also place player futures bets on who will win a Silver Slugger, Golden Glove, Cy Young, or MVP award. The earlier you place a futures bet, the better it pays out.
More than any other sport, live betting is perfect for Major League Baseball. Because of the pace of the game and the time between each pitch and play, live baseball odds update in almost real-time, letting you get betting lines that change according to the ebb and flow of the game.
Live betting means that the wagering doesn't stop until the final out, and many bettors use this option to recover from bad pre-game bets or to double down on good ones when the odds shift more favorably.
One day soon, in-game betting should be so granular and up-to-the-second that you should literally be able to bet on each pitch before it happens. However, even now, live betting requires you to make lightning fast decisions. It's like being in the box against Randy Johnson – blink and you'll miss it!
Mobile betting is the most popular way to enjoy the best baseball bets today. Every sportsbook listed here offers dedicated mobile portals that use dynamic, responsive designs to fit every possible device.
From the smallest iPhones to the biggest iPads, and from Apple to Android and everything in between, as long as you use a modern web browser, you can access a custom mobile betting experience anywhere you have an Internet connection.
You don't have to worry about downloading an iPhone sports betting app or Android sportsbook app, either, and there's never anything to update. Just grab your phone or tablet, head over to your book of choice, and make that call to the pen!
Betting On The World Series
For online baseball gamblers that want to bet on World Series odds, the offshore sportsbook sites listed on this page are your best option. Trust us when we say, we wouldn't date make a World Series bet with a sports gambling site not linked to within this guide.
For the entire year, World Series futures odds are on the board for wagering on the team that will become that season's MLB Champion. After the American League and National League Championship Games have concluded, World Series betting lines and prop bets will appear in the thousands at the legal online MLB betting sites we recommend here at LBO.
Legally Betting On MLB Playoff Odds
Once the MLB's regular season wraps up, betting lines and prices for each MLB Playoff game and series will be offered at legal online baseball sportsbooks like the ones featured on this page.
MLB gamblers do not need to wait until the season is over to bet on the Major League Baseball Playoffs, as division futures, AL and NL odds to win, and tons of MLB prop bets are offered 365 days a year.
Just keep in mind that when betting on MLB Playoff futures, payouts cannot be collected until an outcome has been reached, which oftentimes means weeks or months of waiting.
Betting On MLB All Star Odds
At the mid-season break of each season, MLB All-Star Weekend commences with the Home Run Derby, Celebrity Softball Game, MLB Futures All-Star Game, and the MLB All-Star Game prompting baseball betting sites to produce odds on each and every event.
Whether it is MLB All-Star prop bets on who hits the most home runs and the derby, or MLB All-Star Game betting lines, the offshore sportsbook sites featured on this page have got all bases covered.
Live MLB All-Star betting odds are also on the boards from the first pitch of the Home Run Derby all the way until the ninth inning of the All-Star Game.
Even though MLB betting trends are so specific in nature and powered by advanced analytics (thanks, Sabermetrics!), there's still a lot of gut feelings required when trying to find a diamond on the diamond.
Of course, the most ideal scenario is to combine analysis and instinct into one set of standard rules, and while every bettor will eventually establish their own routines, this basic baseball betting strategy should serve beginners well:
Research, research, research! Baseball betting lines are somewhat fixed, particularly on the runline. That means you can really get an edge by looking up raw data that sportsbooks – and other bettors – might have missed. You'll want to look at player data, win-loss records, home and away numbers, ATS (against the spread) records, and more.
That's some weather we're having! While baseball games will get delayed by inclement weather and are frequently rained out, you need to pay attention to the forecast. High winds affect longballs, the cold affects pitching, and the difference between day games and night games can be night and day. And then, of course, there are Rockies games at Coors Field.
Bad blood is thicker than Gatorade. MLB players hold grudges like nobody else. There are more "unwritten rules" in baseball than in any other sport, and retaliation is often swift and severe. Make sure to take backstories into account when gauging any matchup. If you know someone's getting plunked, plunk down that cash!
What are we playing for? Due to baseball's absurd traditional grind, the MLB season length can cause bettors to lose sight of the prize. Sometimes, a team will be out of playoff contention before the final month of the season even gets underway. When that happens, adjust your bets accordingly, as AA and AAA call-ups will often lead to major unknowns on the betting boards.
Who's On First? Bettors need to always keep abreast of MLB trade rumors, free agent signings, and similar team management issues. Sometimes, a big mid-season acquisition might seem like a team is all in on a division win or a league pennant when the opposite is true.
Where do you stand? Always check the league standings before placing any wager, whether you're betting in person or enjoying baseball betting online. Of all the major professional leagues, Major League Baseball is the hardest one in terms of making the playoffs. Only 10 teams out of 30 typically make the MLB Playoffs, and a whole season can be lost – or won – over the course of a weekend in the middle July.
If you like to keep up to date on the latest news and information regarding MLB teams and players, and want access to info on special events and ticket purchases to games, then you may want to bookmark the MLB official website.
Additional Sports Sections For Year Round Betting Action
US Legal NFL Betting Sites: Find information on selecting a secure, legitimate, and high quality online sportsbook for engaging in reputable NFL betting action that provides a safe and protected sports betting environment.
US Legal NBA Betting Sites: Betting on NBA is a safe and secure experience when you use our guide to learn how to select a legitimate and legal sportsbook that also provides a strong selection of NBA betting lines and wagering options.
US Legal MLS Soccer Betting Sites: Learn which are the safest options for betting on Major League Soccer legally.
USA Legal Horse Betting Sites: The racebooks that we've featured in this guide have been verified to be operating legally, certified, and safe with a high-end security profile. These are the elements you need to look for in order to ensure a secure and trustworthy sportsbook experience.
For Non-Sports Related Betting Options:
USA Legal Poker Rooms - A guide to finding the safest and most trusted online poker rooms that are confirmed as legitimate, legal, and compliance certified in fair gaming practices and RNG technology. Our featured brands all employ state-of-the-art security protocols to keep you and your investment safe.
USA Legal Online Casinos - This casino guide only highlights those brands which are highly respected throughout the online gambling community, and that offer the most secure and reliable software and gaming environment.