Legally Betting On Virtual Soccer 2023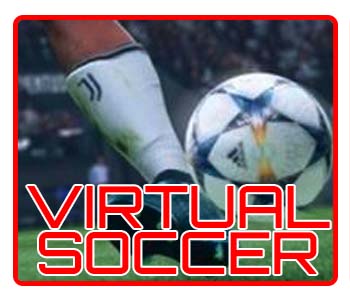 Nothing has emerged onto the field of sports wagering quite like virtual sports betting has over recent months. These options have been around for years, but currently, they are experiencing a surge in online wagering action and are drawing the eye of curious bettors worldwide.
Naturally, as the world's most popular and widely played game, legally betting on virtual soccer (or virtual football if you are outside of the USA) has taken top-billing at online sportsbooks in their virtual sports sections. The games may look familiar to soccer fans, but there are some key differences between simulated soccer and the real game.
We'll cover the differences in our virtual soccer betting guide, and we will also assist bettors in finding the best legal outlets to wager on virtual soccer online. Most importantly, we'll discuss the legal aspects of soccer sim betting and provide some pre-game breakdowns on what to expect when preparing to make a wager at your favorite Internet sportsbook.
Is Online Virtual Soccer Betting Legal In 2023?
Domestic: New Jersey is currently the only state in the USA that is offering virtual soccer betting, but it is only made available online. Also, players can only place virtual soccer bet with a NJ online sportsbook if they are within state lines. Cross-state gaming is illegal because of the Federal Wire Act, which prohibits interstate sports betting.
Land-based sportsbooks have yet to take the inbound pass and allow for virtual soccer ball games at their facilities, but the popularity of virtual sports is on the rise, and that situation could change in the near future.
Offshore: Online sportsbooks operating in legal jurisdictions outside of the USA offer virtual soccer games throughout the day. These offshore sites accept members located in the United States. Outside of WA, there are no states that prohibit online gambling in their lawbooks, even though members from Washington are still able to sign up and play (and we've never heard of anyone getting in legal trouble for doing so). Since there is no law to break, players will not get into any trouble when placing a wager on virtual soccer with an offshore betting site.
Bovada Sportsbook
#1 Rated Legal Online Sportsbook For 2023
Virtual Bovada soccer betting might seem like a bizarre niche market for the most die-hard fans, but it's actually more like a soccer-themed slots experience with highlights! With virtual soccer betting at Bovada, you can bet on soccer sims the same way you'd wager on real soccer games, with spreads, straights, props, and more.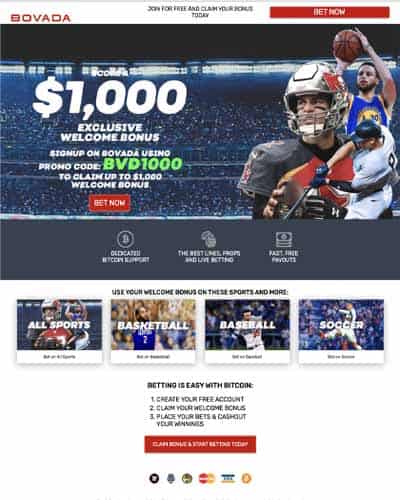 US Friendly - Most US States Accepted

Most reputable name in online sports betting

Licensed by Curacao - Operates within Costa Rica

Generous 50% bonus up to $1,000 for new members

Easy deposits using credit cards or Bitcoin/crypto

Fast and reliable payouts guaranteed
Only US, Mexico and Brazil players accepted

Residents of DE, MD, NJ, NV, NY not accepted

Limited deposit options compared to other sites
Best Online Virtual Soccer Betting Sites For 2023
Virtual soccer games are produced by supplying random numeric data to a soccer software program with results that bettors can wager on. There are no human players, and the contests are completely simulated from kickoff to final whistle.
Although virtual teams feature the names of real countries and regions and sport real national flags next to their names, that is where the similarities end. The players are not a representation of actual human players, and therefore, no historical data can be researched to gain a legal betting advantage.
What little there is in referential data is represented in the odds and betting lines that are listed underneath the virtual soccer video stream, though you can consult the results from the current "season" at your sportsbook of choice. Games are shown over the course of roughly 3-5 minutes and are delivered in a series of highlights that sometimes feature "live" audio commentary. Seasons begin and end over the course of a single day, so the action never stops!
Understanding Virtual Soccer Betting Odds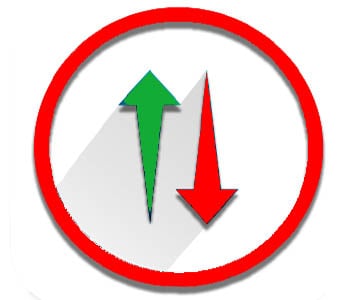 When betting on soccer, options include wagering on spreads, totals, and straights for the winner. Virtual soccer provides different lines that what you will see when browsing real soccer betting options. Although there are many angles to wager on the games, every single one of them are based on a moneyline format. Bettors can place a wager on what they think will occur in a variety of scenarios, and if it hits, they win. Lines are offered on winners, halftime leaders, correct score predictions, total goals, and a variety of totals on combined and individual team performances.
Since soccer games are low scoring and often end in a tie, double chance betting lines account for this. This allows gamblers to bet on either team to win and/or tie, so the wager has a definitive conclusion no matter how the game ends. Asian handicap bets allow for the punter to pick the spread, with various odds placed on each selection.
How To Bet On Virtual Soccer
Since virtual sports are confined to the internet at the moment, joining a sportsbook is the first step toward participating in the wagering. Below, we detail the steps involved in becoming a new member with a legal online betting site and discuss some of the options that bettors will encounter at the top books in the business.
Once you've determined which online sportsbook is optimal for your purposes, follow the links here and select the button that says "Join."
You'll be taken to a page that asks for new members to enter personal information such as your name and address, and you will also be required to create a username and password.
The next page will ask for your initial deposit and will allow for multiple financial methods to make this happen. Wire transfer, cashier's check, credit and debit cards, and Cryptocurrencies such as Bitcoin, Litecoin, Ethereum, and more are accepted at most books.
Once you've made your deposit, you'll have the option of accepting a welcome bonus. Since this will be for the purposes of betting on virtual soccer, which takes place inside of the sportsbook section, a sports-related bonus will be best suited for your needs. Often, the welcome bonus will be higher when using cryptocurrency. Accepting a bonus is not required and can be declined if you wish.
Once your new membership enrollment is complete, you can now venture to the sportsbook section of the site and locate the virtual sports tab. There, you'll find the virtual soccer category and can start browsing the betting lines before the next game begins.
The Difference Between Virtual Sports, eSports, and Video Game Simulations
We've covered virtual soccer and what virtual sports play consists of, but what about other simulated sports that are available at online betting sites? They can look similar when browsing past them at an online sportsbook, but the options differ for each type. Below, we detail what makes eSports and video game simulations different from virtual sports.
Soccer Video Game Simulations
Much like virtual sports, these legal video game sims are played without human involvement, allowing the computer to dictate the action and provide a randomly generated outcome that can be bet upon. The main difference between virtual soccer and a soccer video game sim is the software that is used. Virtual sports use custom software with generic players and teams that do not reflect the attributes of any existing counterpart. Soccer video game simulations use FIFA 20, the most popular soccer video game franchise on the market, and the title accurately mirrors the skills and club makeup of actual players and teams. Odds are based on these characteristics, and historical data can be relied upon when researching for the best bet to make. These games are shown in their entirety and often feature weather conditions as a factor.
Soccer eSports
Like video game sims, soccer eSports utilizes the popular video game franchise FIFA 20 for its gaming software. Instead of CPU controlled action, human players battle it out, testing their skill against one another either online or in-person. These games can be viewed via an online stream or in an arena-like setting. Contests are typically full length and feature odds that resemble real soccer lines, including spreads, straights, totals, and props. The odds are based on a combination of the abilities of the teams and players selected, as well as the skill levels of the human gamers facing off.
If you want to learn how to win virtual soccer, there are a few tips we can offer to improve your game. The best legal virtual soccer practice is watching the games and observing the betting lines prior to risking any money. Prospective bettors can watch virtual soccer games online free at betting sites without becoming a member, so there is no reason to jump in headfirst without any familiarity of the proceedings.
Other virtual soccer tips include setting a maximum bet limit for yourself and sticking to a monthly wagering budget. Just gearing your mindset towards budgeting and bet limits alone will make players more aware of the importance of bankroll management. Reckless wagering can drain a player's funds and terminate the gambling experience prematurely, which is a major red card. Set a reasonable, sound budget, and become a virtual soccer player than can last for many seasons!
Best Virtual Soccer Betting Apps For 2023
Mobile soccer betting is available on popular Android and iPhone devices, but they do not require a download. All that is needed is a membership to an online sportsbook and an up to date mobile browser.
Once players arrive at the virtual sports section of their favorite betting sites, the responsive design tech will assist the graphics in adhering to all screen sizes and will feature all the bells and whistles of a downloadable iPhone soccer app or Android app. This allows for the use of the entire site on the go.
Live Betting On Virtual Soccer
The thrill of legally betting on soccer can be augmented through live betting during the game. Since games of virtual soccer are so quickly presented in highlight form, live betting opportunities are not available.
Of course, with games starting back up every few minutes, there is no shortage of opportunities to wager on legal simulated soccer, even without the presence of live betting.
Note: Live betting is typically available for branded soccer simulations and eSports soccer. This is possible because these games last for much longer, allowing bettors to wager on the in-game ebb and flow.