Belmont Stakes Horse Betting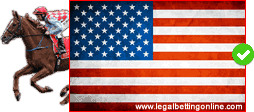 Usually held every June at Belmont Park in Elmont, New York, this 1 1/2 mile Thoroughbred horse race is the final leg of the venerable US Triple Crown and is one of the most anticipated events throughout the legal online horse betting community. There can be a lot at stake with the Belmont race, especially if there is potential for a Triple Crown winner by the time the third race comes around.
The Kentucky Derby and Preakness Stakes are traditionally the first two legs of the three-race Triple Crown, and any horse that can take all three races becomes an instant legend. Legal betting on the Belmont stakes is possible at brick-and-mortar racetracks around the United States, state-regulated online betting sites and OTB terminals, and also through online sportsbooks operating legally outside of the US.
The 2021 Belmont Stakes is slated for June 5, 2021, though the official race time is TBA. Typically, it's run in the late 6:00 hour on Saturday evening, with coverage starting earlier in the afternoon. NBC will be carrying the event, which boasts a $1.5 million purse.
Is It Legal To Bet On The Belmont Stakes Horse Race In The United States?

Yes, it is, and although the Belmont Stakes is one of the important US Triple Crown of thoroughbred races, there is not an abundance of state-regulated opportunities for legally betting on the race.  Options include:
Placing bets at the race track in person
Utilizing one of the very few US-based interstate racebook services that covers lines on the race
Placing a bet at a legitimate offshore racebook that accepts US residents, such as the ones you see listed on this page.
Best US Online Horse Betting Site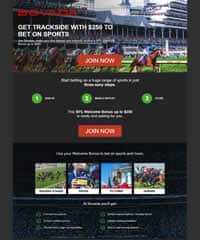 Bovada is one of the most reputable offshore horse betting websites offering players a wide variety of pari-mutuel and house-banked options for every major horse racetrack around the world, including those in the US, UK, Japan, Australia, and elsewhere.
The Belmont Stakes turns one of the biggest handles of all races every year at Bovada, and you can use the site's $250 Sports Welcome bonus to bet the ponies (linen suit and cigar not included).
 Pros
USA players accepted at 18+
Easy credit card funding with great approval rates
Now accepting Bitcoin + Bitcoin Cash + Bovada Vouchers
Generous 50% sign up bonus
Also offers sports betting, casino gambling, and tournament poker
Cons
They only accept USA players - no other countries
Excluded States: NV, NJ, DE, MD, NY
Top Legal USA Friendly Online Sportsbooks
For Betting On The Belmont Stakes Race
About the Belmont Stakes
The Belmont Stakes makes up the third leg of the storied Triple Crown horse racing series in the United States. The race is preceded by the Kentucky Derby and Preakness Stakes, in that order, and it concludes the most anticipated five weeks on the horse racing calendar.
Nicknamed "The Test of the Champion" (as well as "The Run for the Carnations"), the Belmont Stakes debuted way back in 1867, making it the oldest of the Triple Crown races and one of the oldest horse races in the world. The left-handed dirt track has been home to some of the most significant horse races in history.
The famous Secretariat holds the track record at 2:24:00, established back in 1973 when he won the Triple Crown. Secretariat's time has never been approached at the Belmont, and he also holds the fastest quarter-mile splits at the track, as well as the longest margin of victory at 31 lengths.
The Popularity of the Belmont Stakes Race
Along with the Breeders Cup and the two other Triple Crown races, the Belmont Stakes is one of the most-viewed horse races globally, and it's sometimes even the most wagered upon – usually when a Triple Crown contender is in the running.
In years when no horse can win the award (i.e. different horses win the Kentucky Derby and Preakness Stakes), betting dwindles a bit at the Belmont simply due to the lack of historic champion hype. Still, the race regularly sees a handle of over $130 million domestically, with far more being wagered internationally and offshore.
Most legitimate and legal Internet sportsbooks will offer betting opportunities on all three Triple Crown races, and they'll also post futures betting options on the Belmont Stakes.
2021 Belmont Stakes Odds
Currently, there are no 2021 Belmont Stakes odds, as the field has not yet been set. However, all the best online racebooks will have betting lines for the big race once the Preakness Stakes concludes. If the same horse wins both the 2021 Kentucky Derby and the 2021 Preakness, there will be a chance that a Triple Crown winner will emerge at the Belmont.
Until the race revs up, of course, you can still wager on whether or not there will be a Triple Crown winner in 2021. Just make sure to get your horse racing futures bets in early, because the odds are sure to shift after the Derby!
Will there be a US Triple Crown winner in 2021? 
Via Bovada Racebook
Legally Betting On The Belmont Stakes
You should always ensure the betting site you are using is authorized and legal for US players. US gambling laws permit the use of offshore sportsbooks and racebooks, and they're safe for American horseplayers to use as long as they meet those requirements.
All of the sportsbooks/racebooks listed on this page are considered legally sanctioned, and placing bets with them does not violate any US gambling laws. We have screened each of the destinations listed on this page for legal access and authorization, compliance certifications, betting line selection, reliability, and much more.
Exception: Residents of Washington are barred by state laws from gambling online, including participating in horse racing betting. That said, there are no records of these laws ever being enforced, and residents of WA are eligible to sign up with the international racebooks mentioned here. Please proceed at your own risk if you decide to do so.
Types Of Wagers On The Belmont Stakes Race
There are three kinds of general wagers you can place on the Belmont Stakes. The first two are straight bets and exotic bets, and these are typical for all horse races. The third type – the futures bet – is available only at international racebooks operating outside of US jurisdiction because they are house-banked wagers rather than parimutuel wagers.
Straight Bets
Win - Pick the winner.
Place - Pick a horse to finish either first or second.
Show - Pick a horse to finish first, second, or third.
Exotic Bets
Quinella - Pick two horses to finish first and second in either order.
Exacta - Pick two horses to finish first and second, in order.
Trifecta - Pick three horses to finish first, second, or third, in order.
Superfecta - Pick four horses to finish first, second, third, or fourth, in order.
Daily Double - Pick the winner of two different races held on the same day at the track.
Pick 3 - Pick the winner of three different races held on the same day at the track.
Pick 5 - Pick the winner of five different races held on the same day at the track.
Pick 6 - Pick the winner of six different races held on the same day at the track.
Boxed Bets - Box a certain number of horses to have a chance at all possible finishing orders. Boxing a trifecta bet with five horses gives you a much better chance to hit on the trifecta, but the wager must account for each possible outcome.
Futures Bets
Futures bets work in horse racing the same way that they work in sports betting, where your goal is to pick a series champion (or any other significant outcome) long before it happens.
During Triple Crown season, before the first race gets underway, you can find futures odds on potential winners of each race, and you can also make bets on whether or not there will be a Triple Crown winner this year. Futures pay out the best when you place your bets early.
Remember, futures bets are not pari-mutuel, which means that domestic racebooks can't offer them. If you want to get in on the action, you'll need to sign up at a top-rated legal offshore racebook that accepts US customers.
2020 Belmont Stakes Results
Tiz the Law
Jockey: Manuel Franco
Trainer: Barclay Tagg
Winnings: $535,000
Dr Post
Jockey: Irad Ortiz, Jr.
Trainer: Todd Pletcher
Winnings: $185,000
Max Player
Jockey: Joel Rosario
Trainer: Linda Rice
Winnings: $100,000
Pneumatic
Jockey: Rocardo Santana, Jr.
Trainer: Steve Asmussen
Winnings: $65,000
Tap It to Win
Jockey: John Velazquez
Trainer: Mark Casse
Winnings: $40,000
Sole Volante
Jockey: Luca Panici
Trainer: Patrick Biancone
Winnings: $30,000
Modernist
Jockey: Junior Alvarado
Trainer: Bill Mott
Winnings: $25,000
Farmington Road
Jockey: Javier Castellano
Trainer: Todd Pletcher
Winnings: $20,000
Fore Left
Jockey: Jose Ortiz
Trainer: Doug O'Neill
Winnings: $0
Jungle Runner
Jockey: Reylu Gutierrez
Trainer: Steve Asmussen
Winnings: $0
2020 Belmont Stakes Summary
The 2020 Belmont Stakes was held to record low fanfare due to the coronavirus outbreak and the Triple Crown circuit's rescheduling. While normally occurring as the last and longest leg of the Triple Crown, the 1.5-mile (12-furlong) Belmont Stakes was shortened to 1 1/8 miles (9 furlongs), making it the shortest race of the series.
2020 was the first time since 1931 that the Triple Crown series was run out of order, and it was the first time that the Belmont Stakes was the first race of the three.
Tiz the Law won the 152nd Belmont Stakes with a time of 1:46.53, though because of the shortened length, this will not count as the record, which still stands as set by Secretariat in 1973 (2:24:00). Tiz the Law became the first horse bred in NY to win the seminal NY horse race since 1882.
Bets on Tiz the Law paid out per the following table (at $1 per ticket):
Win: $3.60
Place: $2.90
Show: 2.60
When Is The Next Belmont Stakes?
The next Belmont Stakes is scheduled to be run at its correct time per the traditional Triple Crown slate, with a tentative date of June 5, 2021. This will be the 153rd running of the Belmont Stakes, and it should return to its former glory as the rigorous and daunting Test of the Champion for which its full 12-furlong length is so famously celebrated.
Resources For The Belmont Stakes
Belmont States Official Site: http://www.belmontstakes.com/ - however they offer no betting options. That site is for informational purposes only.
Additional Legal Sportsbook Betting Options:
Legal NFL Betting Sites: Find information on high quality and respected sports betting sites that offer a wide range of NFL betting lines and wagering options, as well as player and team stats and additional helpful resources.
Legal NBA Betting Sites: NBA fans can visit this section to gain access to our most trusted and secure sportsbooks that cover NBA basketball events closely, including the pre and post season action.
Legal MLB Betting Sites: Our guide to betting on MLB baseball games will provide you with access to online sportsbooks which have already been vetted by our team, and were found to be secure, legal, and offer an overall distinguished sports betting experience.
Other Legal Online Gambling Platforms To Consider:
Legal Online Casinos: Get information on the industry's most trusted and secure online casino options that have been personally vetted by our team of online gambling professionals and found to be completely legitimate and safe.
Legal Online Poker Sites: Finding safe and secure online poker gaming opportunities may not be quite as easy as a simple Google search. You'll want to ensure that each poker room you consider is legal to use, offers users high quality software, and boasts a high end security profile. Our team of professionals has done this for you and created this guide to assist you.