Belmont Stakes Horse Betting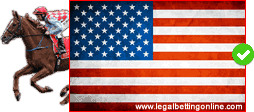 The Belmont Stakes makes up the third leg of the storied Triple Crown horse racing series in the United States. The race is preceded by the Kentucky Derby and Preakness Stakes (in that order). Held every June at Belmont Park in Elmont, New York, the 1 1/2 mile thoroughbred horse race is the final leg of the venerable US Triple Crown, and one of the most anticipated events throughout the legal online horse betting community. There can be a lot at stake with the Belmont race; especially if there is potential for a Triple Crown winner by the time the third race comes around.
The Kentucky Derby and Preakness Stakes are the first two legs of the three-race Triple Crown, and any horse that can take all three races becomes an instant legend. Legal betting on the Belmont stakes is possible at brick-and-mortar racetracks around the United States, state regulated online betting sites and terminals, and also through offshore online sportsbooks.
Nicknamed The Test of the Champion, the Belmont Stakes debuted way back in 1867, making it the oldest of the Triple Crown races and one of the oldest in the world. The dirt left-handed track has been home to some of the most significant horse races in history, and the famous Secretariat holds the track record at 2 minutes 24 seconds, established back in 1973 when he won the Triple Crown that year.
Is It Legal To Bet On The Belmont Stakes Horse Race In The United States?

Yes it is, and although the Belmont Stakes is one of the important US Triple Crown of thoroughbred races, there is not an abundance of state-regulated opportunities for legally betting on the race.  Options include placing bets at the race track, utilizing one of the very few US based sportsbooks that cover lines on the race, or placing a bet at one of the legitimately licensed and regulated offshore racebooks that accept US residents, such as the ones you see listed on this page.
Best US Online Horse Betting Website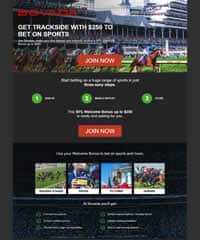 Bovada is one of the most reputable offshore horse betting websites offering players a wide variety of horse betting options for every major horse racetrack around the world.
 Pros
All USA players accepted
Owned and operated by the Bodog brand - Very trusted
Easy credit card funding with great approval rates
Now accepting Bitcoin
Generous 50% sign up bonus
Enjoy sports betting, casino and horses
Cons
They only accept U.S. players - no other countries
Excluded States: NY, NV, NJ, DE, MD
Top Legal USA Friendly Horse Betting Sites
For Betting On The Belmont Stakes Race
The Popularity of the Belmont Stakes Race
Along with the Breeders Cup and the two other Triple Crown races, the Belmont Stakes is one of the four most viewed horse races, and the most wagered upon, every year. Most legitimate and legal Internet sportsbooks will offer betting opportunities on all three important Triple Crown races, and futures betting options on the Belmont Stakes. Technically, legal betting on the Belmont Stakes delivers a wagering format which is different than most professional sports. You can place a wager on any horse in the field to win, place (finish second), or show (finish third).
Legal Belmont Stakes betting online also includes Exacta (correctly picking both the first and second place horses in order), Trifecta (picking the first, second and third place horses in that order correctly) and Superfecta (correctly picking the finishing order of the top four horses) wagering options. When choosing to make a bet on an individual horse, the different strengths and weaknesses of the Belmont Stakes entries are reflected in odds which are closed for betting right before the start of the race.
For example, a long shot horse may offer legal Belmont Stakes betting odds of 20 to 1 to win, and 15 to 1 to place. Never held before June 5 nor after June 11 and run exactly 3 weeks after the Preakness Stakes, which is raced two weeks after the Kentucky Derby, the Belmont Stakes is the longest of the three Triple Crown races. This makes a win at this important thoroughbred race a major achievement after running two Triple Crown races the previous five weeks against the strongest and most talented 3 year old thoroughbreds in the sport.
Legally Betting On The Belmont Stakes
You should always ensure the sportsbook you are using is both legally licensed and regulated. US gambling laws permit the use of offshore sportsbooks and racebooks as long as they meet those requirements. All of the sportsbooks listed on this page are considered legally sanctioned and placing bets with them does not violate any US gambling laws. We have screened each of the destinations listed on this page for licensing, regulation, compliance certifications, betting line selection, reliability, and much more.
Types Of Wagers On The Belmont Stakes Race
Along with the Breeders Cup and the 2 other Triple Crown races, the Belmont Stakes is 1 of the 4 most viewed and wagered on races each year. Most legal online sportsbooks host betting lines on each of these races, including money line, props, and futures.
Other legal horse betting venues offer Exacta (correctly picking the first and second place horses in order), Trifecta (picking the first, second and third place horses in order) and Superfecta (correctly picking the top 4 placed horses), however, these types of wagers are not always available through licensed offshore sportsbooks.
You can make parlay wagers in the same style. Wagering type variance depends on the sportsbook you are using. You can always place money line bets on certain horses to win the race outright. Payouts vary based on the type of wager you are placing.
2018 Belmont Stakes Results
Justify
Jockey: Mike E. Smith
Trainer: Bob Baffert
Winnings: $800,000
Gronkowski
Jockey: Jose Ortiz
Trainer: Chad Brown
Winnings: $280,000
Hofburg
Jockey: Irad Ortiz Jr.
Trainer: Bill Mott
Winnings: $150,000
Vino Rosso
Jockey: John Velazquez
Trainer: Todd Pletcher
Winnings: $100,000
Tenfold
Jockey: Ricardo Santana Jr.
Trainer: Steve Asmussen
Winnings: $60,000
Bravazo
Jockey: Luis Saez
Trainer: D. Wayne Lukas
Winnings: $45,000
Free Drop Billy
Jockey: Robby Albarado
Trainer: Dale Romans
Winnings: $35,000
Restoring Hope
Jockey: Florent Geroux
Trainer: Bob Baffert
Winnings: $30,000
Blended Citizen
Jockey: Kyle Frey
Trainer: Doug O'Neill
Winnings: $0
Noble Indy
Jockey: Javier Castellano
Trainer: Todd Pletcher
Winnings: $0
2018 Belmont Stakes Summary
The 2018 Belmont Stakes had some historical pressure on it. Justify, the winner of the Kentucky Derby and Preakness Stakes, was up for a Triple Crown with a victory here. American Pharoah was the last horse to do so back in 2015. Justify would be up against some old faces from both the Derby and Preakness.
His main competition included Bravazo (6th in the Derby, 2nd in the Preakness), Tenfold (3rd in the Preakness), Hofburg (7th in the Derby), Vino Rosso (9th in the Derby), Noble Indy (17th in the Derby), Free Drop Billy (16th in the Derby), Gronkowski (multiple European stakes winner) and Blended Citizen. Some of these horses had a rest from not racing in the Preakness, giving them an advantage on the worn out Justify.
The hype around this race was palpable. A sold-out crowd of 90,327 came to watch and the on-track handle totaled $16,159,584. The all-source handle exceeded $70 million. Justify had the #1 pole position, putting him in jeopardy of being pushed up against the rails if locked in.
The horse broke well and managed to escape that pocket and obtain the lead. Restoring Hope followed behind by just over a length and seemingly blocked the competition from challenging Justify, which is interesting given both horses are trained by Bob Baffert.
Most of the horses stalled until the home stretch to make a push for the win. While Restoring Hope dropped back, Vino Rosso and Gronkowski pushed forward. Justify was able to stave off the late surges by Rosso and Gronkowski to secure the historic Triple Crown victory. He became just the 13th horse in history to pull off such an incredible feat.
Resources For The Belmont Stakes
Belmont States Official Site: http://www.belmontstakes.com/ - however they offer no betting options. That site is for informational purposes only.
Additional Legal Sportsbook Betting Options:
Legal NFL Betting Sites: Find information on high quality and respected sports betting sites that offer a wide range of NFL betting lines and wagering options, as well as player and team stats and additional helpful resources.
Legal NBA Betting Sites: NBA fans can visit this section to gain access to our most trusted and secure sportsbooks that cover NBA basketball events closely, including the pre and post season action.
Legal MLB Betting Sites: Our guide to betting on MLB baseball games will provide you with access to online sportsbooks which have already been vetted by our team, and were found to be secure, legal, and offer an overall distinguished sports betting experience.
Other Legal Online Gambling Platforms To Consider:
Legal Online Casinos: Get information on the industry's most trusted and secure online casino options that have been personally vetted by our team of online gambling professionals and found to be completely legitimate and safe.
Legal Online Poker Sites: Finding safe and secure online poker gaming opportunities may not be quite as easy as a simple Google search. You'll want to ensure that each poker room you consider is licensed, certified, users high quality software, and offers a high end security profile. Our team of professionals has done this for you and created this guide to assist you.