Triple Crown Horse Betting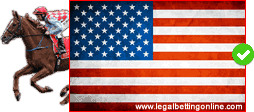 The Triple Crown is a series of three horse races in the US that takes place over several weeks throughout May and June. It is comprised of the Kentucky Derby, Preakness Stakes and Belmont Stakes. The Triple Crown series is considered one of the most storied traditions in horse racing.
There is a lot of betting activity surrounding the Triple Crown races each year as well. For a horse to complete the Triple Crown, they have to win all three races. It has only happened 13 times in history. The most recent winner in Triple Crown history came in 2018 with Justify.  Before Justify, the most recent Triple Crown winner – American Pharoah – took the title in 2015.
Note: Due to the coronavirus pandemic, the 2020 Triple Crown races were rescheduled significantly and there was no Triple Crown winner, but this year's series is set to proceed as normal, with the following race dates:
2021 Kentucky Derby - Saturday, May 1, 2021
2021 Preakness Stakes - Saturday, May 15, 2021
2021 Belmont Stakes - Saturday, June 5, 2021
Establishing Early Triple Crown Betting Odds
Predicting a correct Triple Crown winner yields a lot of money in legal horse betting, especially if you can get your wagers in early. Some people begin placing future bets on a potential Triple Crown winner as early as before the Kentucky Derby.
If you place a bet sooner than later, you can lock in better odds versus waiting for the safe bet. For example, if a horse wins the Derby, their odds to be a Triple Crown winner increase. If that same horse wins the Preakness, their odds increase greatly.
Placing a bet on a horse that has won the first two Triple Crown races to be a Triple Crown champion will yield far less in winnings compared to what you could've gotten wagering prior to the first leg. Predicting a Triple Crown winner that early on is an obviously difficult task. The best strategy is to look at the favorites heading into the Derby. If those horses do well and escape without injury or strain, they will likely compete in the second and third legs.
Is It Legal To Bet On The Triple Crown Horse Race In The United States?

Yes. Some states permit online horse race betting through sites operated by the tracks themselves. For those outside of participating states, legitimate offshore racebooks present the only legal viable alternative according to the 1978 Interstate Horseracing Act (IHRA). If the online racebook you are using operates out of a legitimate governing jurisdiction located outside the United States, you are not in violation of any US gambling laws.
The reputable offshore sportsbooks and racebooks listed in this guide are legal based on their industry credentials and regulatory protocols. It is not unusual for offshore online racebooks and sportsbooks that offer Triple Crown betting odds to provide an expanded range of wagering options that exceed those offered at physical racetracks.
Top US Online Horse Betting Website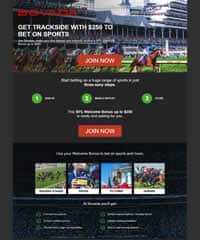 Bovada is a world-class sportsbook offering all types of betting options under one single account – including horse betting! They have earned an impeccable reputation by treating players right and paying winnings out like a bank.
 Pros
USA-Friendly For 18+ Players
Best credit card approvals
Generous 50% welcome bonus for new players
Daily cashback for the racebook
Daily promotions for horse wagering
Now accepting Bitcoin + Bitcoin Cash
Bovada Voucher support
Bet horses, sports, poker, and casino with 1 account!
Legally operates out of Costa Rica
Cons
They only accept U.S. players - no other countries
Excluded States: NV, NJ, DE, MD, NY
Legal USA Friendly Horse Betting Sites
Offering Triple Crown Winner Odds
Identifying The Top Triple Crown Betting Sites
We exhaustively vet all the major websites which offer legal Triple Crown betting online, and the first thing we validate is a sportsbook's legitimacy and legal operation within the industry, and you should as well. Some jurisdictions are stricter and more reputable than others concerning who they allow to operate an international online sportsbook.
By checking customer reviews online, which number in the thousands literally, and trolling sportsbook betting forums and chat rooms, we can get a very good idea of just how safe and secure a particular operation is. And as always, one of the top considerations when choosing an Internet sportsbook is its banking suite. Demand 128 or 256 bit SSL security, a wide range of traditional and safe banking options, and speedy payouts.
Looking Forward To The 2021 Triple Crown Series
The 2021 Triple Crown Series will surely produce some new names and horses. Right now, the Kentucky Derby favorite – Essential Quality – has to be the favorite to take the Triple Crown, but there are several strong horses that could play spoiler. Nevertheless, regardless of which horse wins the Derby, there will be plenty of Triple Crown odds posted once we head into the second leg of the series.
2021 Triple Crown Betting Odds
Via Bovada Racebook
Will there be a US Triple Crown winner in 2021? 
When Are The 2021 Triple Crown Races?
2021 Kentucky Derby - Saturday, May 1, at Churchill Downs in Louisville, Kentucky
2021 Preakness Stakes - Saturday, May 15, at Pimlico Race Course in Baltimore, Maryland
2021 Belmont Stakes - Saturday, June 5, at Belmont Park in Elmont, New York
Results Of The 2020 Triple Crown Series
After American Pharoah (whose name is intentionally misspelled) won the Triple Crown in 2015 and Justify took the title in 2018, there was plenty of buzz for another Triple Crown champion in 2020. For whatever reason, these winners seem to come in bunches historically, with decades between those bunches where no Thoroughbred wins the ultimate prize. In 2020, that horse appeared to be Tiz the Law.
However, despite winning the Belmont Stakes (which was run first – and at a far shorter track length – due to coronavirus rescheduling), Tiz the Law finished in second at the Kentucky Derby, losing to Bob Baffert's Authentic. Then, at the 2020 Preakness, Authentic was the favorite and finished second to Swiss Skydiver.
2020 Triple Crown Race Winners
2020 Belmont Stakes - Tiz the Law
2020 Kentucky Derby - Authentic
2020 Preakness Stakes - Swiss Skydiver
It is unusual for three different horses to win the three legs of the Triple Crown, but 2020 was an unusual racing season, to say the least. 2021, however, should be right back to normal. But even still, it's always a longshot for any horse to win the Triple Crown championship.
Other Legal Betting Options For US Players
The following sites are all U.S.A. friendly and are known for offering robust legal online horse betting portals that are often labeled as racebooks on their site.
We've also provided information on some other online gambling platforms, with one of the most popular being legal online sports betting. As sports fans ourselves, we definitely saw the value in expanding our sports betting guide to include the major sports events that we follow all year:
Legal Online NFL Betting: NFL football is probably the most watched sport on TV and live at stadiums by both Americans and even non-U.S. fans. Fans cannot get enough of their favorite teams and players, and this guide will ensure that you have access to the most reputable and secure online sportsbooks to get involved in safe online sports betting.
Legal Online NBA Betting: NBA basketball is another favorite among sports fans, and we follow the season closely, right up to the NBA championship. Even the draft process garners fan appreciation, and many sportsbooks now allow you to bet on the draft outcomes as well, drawing out the NBA action just a little more for us.
Legal Online MLB Betting: MLB baseball gives us a nice long season and a highly active game schedule that allows us to place wagers every day if we want to. Leading up to the World Series, baseball fans follow their teams through it all. Between in play betting, player props, and creative wagering options, baseball sports betting has really gained momentum.
For those times when you want some non-sports related wagering to enjoy, you can check out these pages:
Legal Online Poker: Our guide provides information on finding legal, USA friendly poker rooms which have been vetted for security, legitimacy, and performance. We've personally examined each of them as registered players in order to evaluate them from a hands-on approach.
Legal Online Casinos: We have verified the legality of a handful of industry-leading brands to ensure that they deliver a safe and secure gambling experience while providing an overall high-quality performance.