LEGAL DAYTONA 500 BETTING GUIDE FOR 2022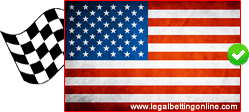 Since 1959, the Daytona 500 has been the most prestigious race on the NASCAR calendar and ignites more and more betting action from racing fans around the United States each year.
The annual 500-mile race in Daytona Beach, Florida, has marked the beginning of the NASCAR betting season since 1982, but before wagering real money on the biggest race of [the year, it's vital to know how you can legally bet on the Daytona 500 and where it's safe to bet on all NASCAR races online.
We're dedicated to informing you of the legalities of betting on NASCAR and steering you away from shady sportsbooks by providing you with our recommended list of the safest and most trusted betting sites for the Daytona 500. With our legal Daytona 500 betting guide as your crew chief, your best bets are sure to be headed for Victory Lane!
Is it legal to bet on the Daytona 500 in 2022?
If you're at least 18 years old and place your bets on the Daytona 500 at any of the legal offshore sports betting sites we recommend, you won't violate any federal laws in the US. However, one state (WA) has mandates nominally barring all online betting, so we recommend checking up on the sports betting laws in your state if you live in Washington.
Bovada Sportsbook
#1 Rated Legal Online Sportsbook For 2022
When it comes to the best Daytona 500 betting sites, Bovada Sportsbook always enters the race in the pole position. Daytona 500 odds are available nearly year-round as NASCAR futures at Bovada LV, and when the big race rolls around each year, there are literally hundreds of Daytona 500 odds and Daytona 500 props to choose from.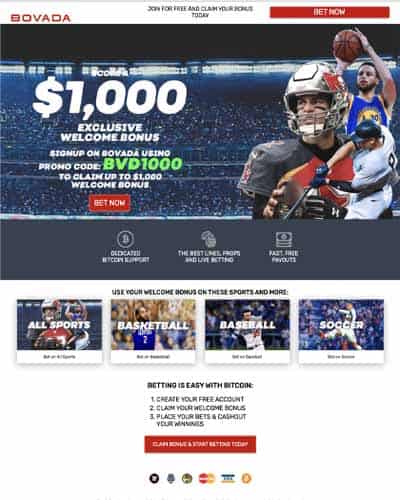 US Friendly - Most US States Accepted

Most reputable name in online sports betting

Generous 50% bonus up to $1,000 for new members

Easy deposits using credit cards or Bitcoin/crypto

Fast and reliable payouts guaranteed
Only US, Mexico and Brazil players accepted

Residents of DE, MD, NJ, NV, NY not accepted

Limited deposit options compared to other sites
Top Rated Sportsbooks For Daytona 500 Betting
Current Odds To Win The Daytona 500
Denny Hamlin #11 +700
Joey Logano #22 +800
Chase Elliott #9 +900
Brad Keselowski #2 +1000
Ryan Blaney #12 +1000
Kevin Harvick #4 +1500
William Byron #24 +1500
Alex Bowman #88 +1600
Aric Almirola #10 +1600
Kyle Busch #18 +1600
Kyle Larson #42 +1600
Ricky Stenhouse, Jr. #47 +1600
Kurt Busch #1 +1800
Martin Truex Jr. #19 +1800
Austin Dillon #3 +2000
Ross Chastain #77 +2000
Darrell Wallace Jr. #43 +2500
Matt DiBenedetto #21 +2800
Christopher Bell #95 +3300
Cole Custer #41 +3300
Tyler Reddick #8 +3300
Chris Buescher #17 +4000
Erik Jones #20 +5000
Ryan Newman #6 +5000
Daniel Suarez #96 +8000
Michael McDowell #34 +8000
Ryan Preece #37 +8000
Corey LaJoie #32 +10000
Timmy Hill #66 +10000
Ty Dillon #13 +10000
Brennan Poole #15 +12500
BJ McLeod #78 +15000
James Davison #77 +15000
Quin Houff #00 +15000
Reed Sorenson #7 +15000
Chase Elliott +575
Denny Hamlin +575
Kevin Harvick +575
Kyle Busch +675
Brad Keselowski +700
Joey Logano +700
Martin Truex Jr +700
Kyle Larson +1100
Ryan Blaney +1200
Alex Bowman +2200
Kurt Busch +3300
Aric Almirola +4000
Christopher Bell +5000
William Byron +5000
Darrell Wallace Jr. +6600
Matt DiBenedetto +6600
Ross Chastain +7000
Austin Dillon +8000
Cole Custer +8000
Tyler Reddick +8000
BJ McLeod +10000
Chase Briscoe +10000
Erik Jones +10000
Ryan Newman +10000
Chris Buescher +20000
Ricky Stenhouse Jr. +20000
Daniel Suarez +40000
Brennan Poole +50000
Corey Lajoie +50000
Betting Laws That Impact Wagering On Daytona 500 Odds

If you're seeking state-regulated opportunities for accessing Daytona 500 betting lines, your options are very limited – but they do exist. There were two US federal gambling laws that impacted the options available to US racing fans, though only one major law remains on the books today.
PASPA
The Professional and Amateur Sports Protection Act of 1992 was ruled unconstitutional by the Supreme Court in May 2018, and states are now free to decide whether or not to enact legislation related to sports betting.
Since the overturn of PASPA, more than 20 US states have enacted sports betting laws, and many others are in the process of passing legislation to allow domestic betting on sports.
Federal Wire Act
The Federal Wire Act prohibits interstate wagering in the sense that it bars domestic sportsbooks from accepting bets across state lines.
However, the legal offshore sports betting sites we recommend are not located in the US and so fall outside the Wire Act's jurisdiction. This is why you can legally bet on the Daytona 500 and other races at these sites.
Is it legal for US residents to bet on the Daytona 500 at offshore sportsbooks?
As long as you restrict your betting to those destinations that are operating legally, are certified, and subject to oversight by a legitimate governing body, then yes, it is legal for US residents to sign up and wager on the Daytona 500 at an offshore betting site.
All of the sportsbooks you see listed on this page are operating legally, and hold all required credentials to do so.
RECOMMENDING THE TOP U.S. FRIENDLY SPORTSBOOKS OFFERING NASCAR BETTING ODDS FOR THE DAYTONA 500
Our team of industry analysts have reviewed and vetted each of the betting sites found on our site and can ensure you that each one legally allows bets to be placed on the Daytona 500 and each one is verified to hold industry compliance certifications to ensure fair gaming practices.
As well as being legally sanctioned within the industry, these sportsbooks also offer the most competitive odds and highest quality betting services to users in the United States.
ABOUT THE DAYTONA 500 RACE
The 500-mile race is held on a 2.5-mile asphalt superspeedway with the winner of the Daytona 500 being the first driver to cross the finish line after completing 200 laps around the track.
The 2022 Daytona 500 will be the 64th running of the event, and it will be the first race of the 2022 NASCAR Cup Series season. The race is always held at the Daytona International Speedway in Daytona Beach, Florida.
TYPES OF BETS ON THE DAYTONA 500
There are four main types of bets that are made available for the Daytona 500 at any of our recommended online sportsbooks.
Futures
Futures is essentially a wager on straight odds of a driver prior to the race. For example, if a driver is leading the oddsmakers' predictions at +1000, it means betting $100 will win you $1000 if the driver wins the Daytona 500. In general, payouts in NASCAR are good because predicting a favorite is no easy task.
Prop Bets
Another popular bet on the Daytona 500 is a proposition bet or "prop" bet. This is when you're betting on something rather than the strict outcome. For instance, you can bet on who leads the most laps. So if a driver wins the pole, but you don't expect the driver to win the race, you can still bet that he'll lead the most laps. You can also place money on prop bets for caution flags, top-5 finishers, and many other categories, depending on the site with which you're betting.
Duel Bets
An increasingly popular type of wager is the duel bets, which is a bet made on the pole position of a driver prior to the actual race. Pole qualifying takes place during the week leading up to Daytona 500 on Sunday and bets can be placed on which drivers will beat out the car beside them in the pole position.
Live Betting
If you're rather bet on the odds to win the Daytona 500 during the race, then live betting odds are the way to go. This is for bettors who want to get a feel for how the race is going for each driver. The chances of winning are much high but the odds for the payout decrease as the race goes on since a certain outcome becomes more likely as the drivers get closer and closer to seeing the checkered flag.
2022 Daytona 500 Results
Austin Cindric
Bubba Wallace
Chase Briscoe
Ryan Blaney
Aric Almirola