Legal Online Belmont Stakes Horse Betting 2018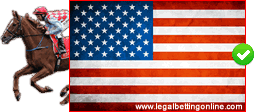 The Belmont Stakes makes up the third leg of the storied Triple Crown horse racing series in the United States. The race is preceded by the Kentucky Derby and Preakness Stakes (in that order). Held every June at Belmont Park in Elmont, New York, the 1 1/2 mile thoroughbred horse race is the third and final leg of the venerable US Triple Crown, and one of the most anticipated events throughout the legal online horse betting community. There can be a lot at stake with the Belmont race; especially if there is potential for a Triple Crown winner by the time the third race comes around.
The Kentucky Derby and Preakness Stakes are the first two legs of the three race Triple Crown, and any horse that can take all three races becomes an instant legend. Legal betting on the Belmont stakes is possible at brick-and-mortar racetracks around the United States, and also through offshore online sportsbooks. Nicknamed The Test of the Champion, the Belmont Stakes debuted way back in 1867, making it the oldest of the Triple Crown races and one of the oldest in the world. The dirt left-handed track has been home to some of the most significant horse races in history, and the famous Secretariat holds the track record at 2 minutes 24 seconds, established back in 1973 when he won the Triple Crown that year.
Is It Legal To Bet On The Belmont Stakes Horse Race In The United States?

Although the Belmont Stakes is one of the important US Triple Crown of thoroughbred races, legal Belmont Stakes betting is not available to the typical American. At Internet sportsbooks which cater to UK and other non-US countries and jurisdictions, Belmont Stakes wagering is readily accessible. And though current US legislation does not allow for federal or state sponsored gambling on the race, there are other legal options provided. Secure and legally licensed offshore online sportsbooks deliver dependable and trustworthy Belmont Stakes betting opportunities for US thoroughbred fans, as well as international gamblers. The list of the top legitimate and legally licensed Belmont Stakes betting sites below provides quick click-through access and US player support, as well as generous welcome deposit bonuses and other incentives.