Legal World Series Betting For 2018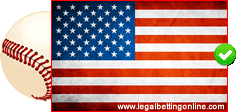 Baseball's "Rule 21" officially excludes any Major League Baseball player from betting on the World Series, but that doesn't apply to you and me. That is the particular baseball rule which is posted in MLB locker rooms and dugouts which states that, "Any player, umpire, or club or league official or employee, who shall bet any sum whatsoever on any baseball game in connection with which the bettor has a duty to perform shall be declared permanently ineligible." Shoeless Joe Jackson and 7 other members of the Chicago White Sox playing in the 1919 World Series were banned for life from professional baseball for breaking this rule. But did you know there are few rules which actually promote legal online World Series betting in the United States?
The Federal Wire Act of 1961 was established to prohibit the processing of gambling transactions through electronic technology. More than 50 years old, the law recently received a reversal opinion by the powerful Department of Justice, who claimed that this should only apply to sports betting. How does that help you legally bet on the World Series and other Major League Baseball contests? Because in conjunction with the Professional and Amateur Sports Protection Act of 1992, it seeks to govern US-based and US-managed companies offering sports betting, and processing transactions. When the UIGEA came along in 2006, the move by smart online sportsbook owners to legitimate offshore Internet gambling jurisdictions assured that US sports bettors can legally bet the World Series online.
But before you rush off and click on a link to any old offshore sportsbook, you need to know something very important. Not all international sports betting sites which support World Series betting are created equally. You should still identify those legal baseball betting sites which are regulated and have years of experience in running a first rate, reputable operation. As industry analysts in the sports betting field, as well as World Series bettors living in the United States ourselves, we have identified the top rated sites which are legally licensed for Internet sports betting. If you are wondering just how we qualify a particular web operation as one of the best World Series betting destinations online, keep reading.
Current Legal Status Of Betting On The World Series In The United States
We mentioned some very important pieces of US legislation which dictate where you have to go online to legally bet on the World Series. If the federal authorities in the United States ever legalize online sports betting, as delivered by USA companies, we will update our website immediately. But currently, you must head "offshore" to enjoy legal betting on the World Series, regular-season Major League Baseball games and popular sports leagues like the NBA, the NFL, the NHL and the PGA tour.
Just remember to focus on legal licensing. If you are unsure whether a particular sports betting site's licensing is respectable and legitimate, just click through one of the links we provide here on our site. We will never recommend a sports betting site where we ourselves do not hold accounts and have action. That is because we only frequent sportsbooks which have obtained certification in online gambling jurisdictions which are respected around the world. Some of the most reputable and dependable sports betting destinations are located in Costa Rica, the United Kingdom and Canada. The governments in those locations have created legal online gambling industries, and qualify which websites can or cannot legally offer Internet sports betting options. For safety, security, exclusivity and the best all-around experience, stick to the legally licensed World Series betting sites we recommend and your experience will always be world-class.