Canadian Legal Online Poker
Ranking The Leading Legal Online Poker Sites For Canadian Residents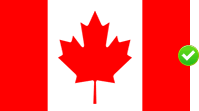 Poker is one of the most popular forms of gambling. The nearly 200-year-old game combines skill, resolve and a bit of luck to create a feeling unmatched by other gambling forms. In Canada, the poker culture is made up of three distinct options that give players a variety of ways to enjoy the game. Canada's gambling laws have put the burden of regulation and licensing in the hands of individual provinces. Each territory is responsible for facilitating their respective poker markets—both online and physical. Aside from the physical casino locations operating within Canadian borders, there are also local and offshore online venues that support poker for Canadian players. This guide will provide information about all three poker platforms available in an effort to supply resources that support players interested in making informed decisions regarding their own personal gambling entertainment.
Is Online Poker Legal In Canada?
Yes. Canadian gambling law permits both land-based and online poker. You can even play poker with offshore gambling sites that host several different poker versions. The only binding circumstance is that whichever poker venue you use must be legally sanctioned and regulated by a respected government. Canadian poker players are fortunate enough to have
several legal poker options
available to them.
---