Canadian Legal Online Sports Betting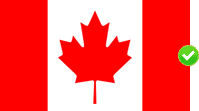 The history of betting in Canada dates back to the 15th century when the natives played several different games of chance. As time passed and sports, such as hockey, became increasingly popular across the country, so did the ability to bet on sports.
Today, many of the most trusted sportsbooks in the industry have been legally offering betting odds and lines on a variety of sports to Canadians for several years now.
Canadian gambling laws are handled provincially, meaning each individual province determines which forms of wagering on games and athletes are allowed.
It is our goal to provide all Canadian sports fans with legal and safe online sportsbooks for betting on their favorite teams, athletes, and sports and to inform you of the laws regarding sports betting in Canada.
Is Online Sports Betting Legal In Canada?
Offshore: Yes. Online sports betting is legal in Canada when wagering at any of the licensed online sportsbooks located outside the country that we have reviewed and can safely recommend for you.
Domestic: Local options are few and far between since sports betting sites that choose to base operations in Canada must obtain a government-issued gambling license and are limited by the types of bets and how much can be wagered on any betting line.
Top Rated Online Sportsbook For Canadian Players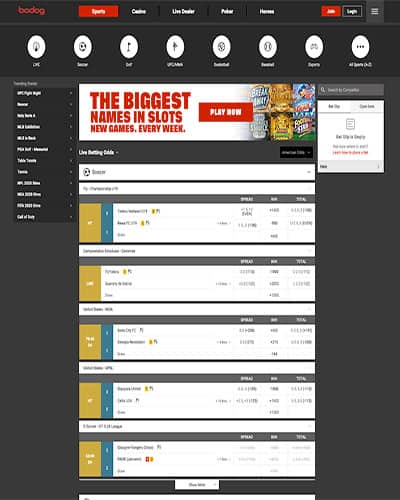 Bodog Sportsbook
50% Sports Bonus Up To $200
If you are a Canadian and enjoy betting on sports we highly recommend checking out Bodog. They are by far the most trusted and reputable online sportsbook and offer a host of betting options for sport betting enthusiasts.
Bodog offers many game lines for domestic and international sports including hockey, football, soccer, baseball, basketball, and many more.
Deposit Easily With Your Credit Card Or Bitcoin

Fast And Reliable Payouts Guaranteed

50% Welcome Bonus Up To $200

Enjoy Sports Betting, Casino, Horses Ect.. All With 1 Account

One of the oldest and most trusted names in online gambling
Canada Sports Betting Laws And Regulations
Sports betting laws and regulations in Canada are overseen and governed by the 10 provincial governments and the federal government. Both levels of government share the authority on placing legal wagers.
The 10 provinces in Canada, which are Alberta, British Columbia, Manitoba, New Brunswick, Newfoundland and Labrador, Nova Scotia, Ontario, Prince Edward Island, Quebec, and Saskatchewan, have laws regulating online sports betting and determine whether a citizen must be age 18 or 19 to place a bet on sports.
Some online sportsbooks are licensed to operate within provinces, and it is illegal to offer sports betting in Canada without a license. In addition, sports betting operators are limited by the provincial regulations, which limit both the types of bets that can be offered and how much can be wagered on a given betting line.
When it comes to online sportsbooks located outside the country, the is no federal law that bans offshore sports betting and to date, not a single Canadian citizen has been prosecuted by either level of government for betting on sports online at an offshore sportsbook.
Sports Betting Guide For Canada – How to Sign Up, Deposit, Bet, and Receive Winnings at a Legal Online Sportsbook
We made this step-by-step guide to assist Canadian residents with the process of signing up at any of our recommended online sportsbooks for the first time. All you have to do is follow these 10 simple steps and you'll be able to be on your favorite sports, teams, and athletes in no time!
Pick a Recommended Site: The online sportsbooks we've reviewed are the most trusted brands in the sports betting industry. Each site competes with one another to offer the best lines, odds, and bonuses to you.
Check Bonuses: All the sports betting sites we recommend offer special bonuses for things like first-time deposits, using cryptocurrencies, or to promote the start of the NHL season.
Sign Up: Once you've decided on a bonus and a site you like, visit any of the sites above and enter in the required information on the sign-up page to make your account.
Deposit Funds: It's important to determine the size of your starting bankroll, which should be solely based on what you can afford. After calculating that amount, choose the deposit payment options offered by the sportsbook that works best for you and allow the transaction to be processed.
Choose a Sport: Now that you've signed up and have a bankroll set, it's time to view the sports. In the beginning, stick to the sports you're most familiar with and have the most knowledge about.
View Betting Options: The are numerous types of bets offered by a sportsbook. The point spread or puck line is the best choice for beginner's since it not only requires you to examine the matchup but has the best value on average of any betting line.
Select a Betting Line: Once you've chosen a sport and the type of bet, then it's time to see what lines are available. Simply click or tap on a betting line available for a game, matchup, or player that you believe can win.
Enter Amount: Once the line has been selected, enter the amount from your bankroll that you'd like to wager. Going all in is not a good idea since the goal is to make money over time and not lose it all at once. The pros typically bet 1-3% of their bankroll on any line, so use this as a benchmark.
Confirm Bet: After you've determined the amount you'd like to wager, just hit the confirm button and your bet is all set! Then all that's left is to sit back, relax, watch the game, and root for the team or player you just put money on.
Request a Withdrawal: After winning your bet, you have two options: Continue betting to increase your bankroll or withdraw what you just won. In your account, there will be an option to withdraw funds. Confirm the withdraw and allow the site to process the transaction. If you have any questions or issues, contact the site's 24/7 support staff and they'll be happy to assist you.
And that just about wraps up everything you should know to get started when placing an online bet on sports in Canada. For any further questions you might have, we've included an FAQ section can be found below.
Our goal is to assist you with the process of choosing a legal and safe online sportsbook, signing up, depositing, betting, and withdrawing any money you've won. We hope this guide helped with all of those, and we wish you the best of luck for all your online bets on sports!
Canada Legal Online Sports Betting FAQ's
Yes. Each of the online sportsbooks we recommend is legally licensed and regulated along with having strong security profiles that use the latest data encryption technology to keep both your personal and financial information safe and secure.
The online sportsbooks we recommend that accept Canadians offer a wide range of sports to legally bet on. The sports and leagues include NFL, CFL, NHL, NBA, MLB, UFC, MMA, the Olympics, lacrosse, soccer, tennis, golf, horse racing, motorsports, esports, and many more. In addition, local options are available as well and these vary depending on the sports betting site you choose to use.
Our reviewed online sportsbooks offer numerous betting lines on the sports and leagues mentioned above. The most common types of bets are point spread, puck line, money line, game and player prop bets, parlays, teasers, futures, and live in-game betting are among the most popular options in Canada.
Yes. When reviewing the online sportsbooks listed above, we also confirmed that the Canadian Dollar can be used for both depositing and requesting a withdrawal at any of sports betting sites we recommend.
Yes. Mobile betting options are available for all the online sportsbooks we recommend via their mobile site or in their downloadable app available on their site. Canadians can wager on the full offerings of sports and types of bets when using an Apple, Android, or smartphone mobile device.