Legal USA Betting Options for the 2017 Stanley Cup Finals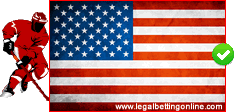 The National Hockey League makes up one of America's big-four professional sporting leagues, following the NBA, the NFL, and MLB. The NHL pulls in billions of dollars in revenue on an annual basis, but even still that's only a fraction of the money that exchanges hands in the NHL's name. Once you factor in sports betting, a league like the NHL has more money exchanging hands than the biggest publicly traded players on the stock exchange. Sports betting is something that simply comes with the territory for most sports fans, but is also something that is primarily illegal and very controlled in the US.
With the playoffs just starting and the Stanley Cup Finals quickly approaching, it's important for many gamblers that they find a safe site with which to bet for the upcoming event. If you think that locating any old site will do, think again.
The American Illegality of Sports Betting and the Beautiful Loophole
There are two US federal gambling laws that control sports betting throughout the United States. The first is the Professional and Amateur Sports Protection Act, which prohibits sports betting in all but four specific states in the US, those being Delaware, Nevada, Oregon and Montana. Of those four exempted regions, only Nevada and Delaware provide any type of USA sports betting options. The second law that affects US sports bettors is the Federal Wire Act, which prohibits any type of US based online sports betting. However, these two laws do not prohibit American residents from participating in legally sanctioned sportsbook gambling that is licensed, regulated and based outside of the United States.
Can I Bet On The Stanley Cup Hockey Playoffs Legally In The United States?
While PASPA and the Federal Wire Act prohibit most US based sports betting, the fact of the matter is that America can only control America. Forget for a second about the hypocrisy of the supposed freest nation on earth and its draconian legislation against gambling. Moaning about the Puritanical totalitarianism of American do-gooder politicians doesn't help you find betting sites. Understanding the facts, however, will. For instance, America has no jurisdiction whatsoever over offshore betting sites allowing you to gamble. And while some don't want the hassle of allowing Americans to join, many accept Americans with open arms. It's like an unavoidable loophole. America can legislate gambling in America, but the Internet is global and there isn't a thing the USA can do about it. So if there exists an offshore site allowing you to wager, it is 100% legal to join and gamble there 'til your heart's content.