Stanley Cup Legal Hockey Betting Options For USA Players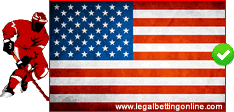 The National Hockey League makes up one of America's big-four professional sporting leagues, following the NBA, the NFL, and MLB. The NHL pulls in billions of dollars in revenue on an annual basis, but even still that's only a fraction of the money that exchanges hands in the NHL's name. Once you factor in sports betting, a league like the NHL has more money exchanging hands than the biggest publicly traded players on the stock exchange. Sports betting is something that simply comes with the territory for most sports fans, but is also something that is primarily illegal and very controlled in the US.
With the playoffs just starting and the Stanley Cup Finals quickly approaching, it's important for many gamblers that they find a safe site with which to bet for the upcoming event. If you think that locating any old site will do, think again.
Legal Status:
There are two US federal gambling laws that control sports betting throughout the United States. The first is the Professional and Amateur Sports Protection Act, which prohibits sports betting in all but four specific states in the US, those being Delaware, Nevada, Oregon and Montana. Of those four exempted regions, only Nevada and Delaware provide any type of USA sports betting options. The second law that affects US sports bettors is the Federal Wire Act, which prohibits any type of US based online sports betting. However, these two laws do not prohibit American residents from participating in legally sanctioned sportsbook gambling that is licensed, regulated and based outside of the United States.
Can I Bet On The Stanley Cup Hockey Playoffs Legally In The United States?
While PASPA and the Federal Wire Act prohibit most US based sports betting, the fact of the matter is that America can only control America. Forget for a second about the hypocrisy of the supposed freest nation on earth and its draconian legislation against gambling. Moaning about the Puritanical totalitarianism of American do-gooder politicians doesn't help you find betting sites. Understanding the facts, however, will. For instance, America has no jurisdiction whatsoever over offshore betting sites allowing you to gamble. And while some don't want the hassle of allowing Americans to join, many accept Americans with open arms. It's like an unavoidable loophole. America can legislate gambling in America, but the Internet is global and there isn't a thing the USA can do about it. So if there exists an offshore site allowing you to wager, it is 100% legal to join and gamble there 'til your heart's content.
Best USA Sportsbook
For Betting On The Stanley Cup Finals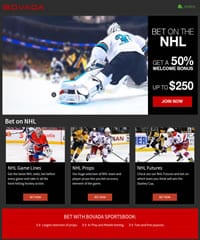 If you are looking for a 5 Star USA friendly sportsbook to place your Stanley Cup bets, then Bovada is by far the most reputable and popular. Players can enjoy all types of legal USA hockey betting options including parlays, to straight bets, round robins, first period lines and so much more.
 Pros
Most USA Players Welcome
Most Trusted Name In Online Gambling
Live Hockey Betting Offered
50% Welcome Bonus Up To $250
Enjoy Sports Betting, Casino And Mobile Betting All With 1 Account
Cons
Only accepts U.S. Mexico And Brazil Players
Excluded States: NY, NV, NJ, DE, MD
All Legal US Hockey Betting Sites
The Vital Necessity of Legitimate Websites
Let's say that you're able to find a sports book and end up depositing using an online payment solution that is US friendly. So, you've created an account, you've put your money in, and you've started betting. Everything's going fine, right? Well, unless this is a legally licensed offshore betting site, you will find out the hard way that US-based online sports books are illegal and likely won't pay you. They will not transfer the funds back to your e-wallet, to your bank, or even mail you a check. Unfortunately, there are many shady websites out there that will accept your money with the full knowledge that they can never pay you. This is why finding a legitimate offshore site that is operating legally within the industry is so vital. Even sites you think are welcoming to US-based gamblers may be stealing from you at the end, covered due to that extremely fine print that no one ever reads. The sites we have recommended in this guide have been vetted by professionals and hold legitimate credentials for legally accepting US players.
What We Aim to Provide
As an online gambling resource, we aren't claiming any special status as the greatest such place to exist online. We don't carry it like that; we simply aim to provide you with up-to-date information about online sports betting, covering a wide variety of sports and events, and we want to make sure that you not only find a safe space to gamble with, but also that you're gambling responsibly and winning. So, we aim to provide you with relevant information for finding gambling sites, as well as practical betting tips and other sports betting-based information to help you understand how to place smart, winning wagers.
A 2018 Stanley Cup Preview
The NHL postseason is about to begin, and we here at Legal Betting Online have everything you need to bet on the Stanley Cup Winner. Many NHL analysts have formed their opinions on who will be in the Stanley Cup Final already, but anything can happen in the Playoffs. Below is a list of the Playoff teams in order of their odds to win the title:
Nashville Predators
Boston Bruins
Tampa Bay Lightning
Vegas Golden Knights
Winnipeg Jets
Pittsburgh Penguins
Toronto Maple Leafs
Washington Capitals
Anaheim Ducks
Los Angeles Kings
San Jose Sharks
Philadelphia Flyers
Columbus Blue Jackets
Minnesota Wild
Colorado Avalanche
New Jersey Devils
The first round of the Playoffs begins Wednesday, April 11, and features:
Minnesota Wild v. Winnipeg Jets
Los Angeles Kings v. Las Vegas Golden Knights
New Jersey Devils v. Tampa Bay Lightning
Toronto Maple Leafs v. Boston Bruins
Columbus Blue Jackets v. Washington Capitals
Colorado Avalanche v. Nashville Predators
San Jose Sharks v. Anaheim Ducks
Philadelphia Flyers v. Pittsburgh Penguins
When it comes to the Western Conference, the Predators are expected to clean house. The Preds received the President's Trophy after finishing the regular season with the best record. This grants them home-ice advantage in each round of the Playoffs. The Predators almost won the title last year but lost to the Penguins. It is interesting that the Golden Knights are doing so well given this is their first year, but they clinched the Pacific Division and a playoff berth. They could end up being the biggest threat to the Preds. It is highly unlikely either the Predators or Golden Knights will lose in the first round, so expect these 2 to be still be in the running. They may even sweep their opponents.
In the Eastern Conference, the Lightning have looked solid for most of the season. They won the Atlantic Division over the Bruins and will have Steven Stamkos returning in the first round. The fact that some sportsbooks are touting the Bruins as the best in the east is interesting given that Lightning had a better record. Perhaps it is their history in the postseason. To be fair, the Bruins did finish second and were close to the Lightning in all metrics.
Yes, there are many other teams in the running. The Penguins could pull of an upset. So could the Capitals. In the west, the Jets or Ducks could be an x-factor. However, as things stand now, the Predators and Lightning look to be best wagering options for teams to make it to the Stanley Cup Final. Betting between these 2 teams will be difficult, but thankfully we have the postseason to base our wagers off of.
Stanley Cup Official Site: http://www.nhl.com/ice/stanleycup.htm