If you gamble with an online casino, you probably already know how safe and convenient the experience is.
However, many players on the fence are still slow to embrace legitimate offshore betting sites.
The trepidation is twofold.
For one, most US residents still believe that online gambling at non-domestic sites is against the law.
Of course, that's only true in the state of Washington.
If you live anywhere else in the country, you can safely and legally sign up at these sites if you're at least 18 years of age.
Additionally, there are no federal laws that criminalize using reputable online casinos that operate from other countries.
Laws like the Wire Act and UIGEA only apply to domestic gambling operators and payment processors. Players themselves are not targeted.
The second issue most prospective players have is that they simply don't trust the online space to be fair and upstanding.
But online play at the sites we cover here at LegalBettingOnline are established, offer games made by the same brands that manufacture the electronic casino games in retail US venues, and have millions of satisfied customers.
They're not scams by any means.
That said, we recognize that most players won't take our word for it and jump in blind.
The only way to truly gauge a casino's legitimacy is to sign up, make a deposit, play, and claim your winnings.
(We recommend first-timers to make small deposits of $25-100 the first time around, but we know they'll be treated right.)
And then there's this and this.
Clearly when you gamble online, you're taking yourself out of potential bad situations.
In most areas, casinos are located in big cities with high crime rates, and not a week goes by where someone isn't accosted in a parking garage or some petty street squabble spills over and puts casino patrons at risk.
But when you're playing from your own home, you're literally physically safer – unless you play mobile casino games while driving, which we don't recommend.
There are also white collar crimes to consider.
In 2020, a Michigan man (no relation to Florida Man or Ohio Man) was arrested for using stolen IDs to defraud players of their gambling account balances.
Per court records, 56-year-old John Christopher Colletti targeted the Michigan MGM Grand and other venues:
"[Colletti] wore full prosthetic face masks to disguise himself at the kiosks, along with hats, glasses, surgical masks and even a walker. Colletti stole peoples' names, driver's license numbers and the last four digits of their Social Security numbers in order to gain access to their bank accounts.

By the time he was busted…he was found in possession of personal information belonging to 300 victims, as well as several face masks – including one of a woman."
Have a look at this guy: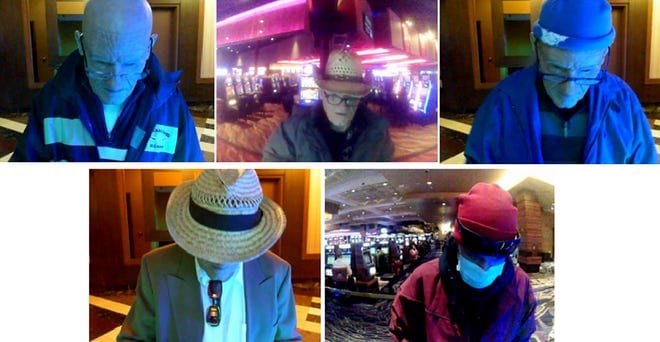 While hilarious, Colletti made off with $125,740 before he was caught.
And even though Global Payments Gaming Services – the operator of the kiosks in question – made their customers whole, headaches like this can be avoided by playing online.
Colletti was able to defraud these players because payment terminals at brick-and-mortar casinos require driver's licenses, SSID numbers, and phone numbers for verification.
Online, even though the top sites all use KYC best practices, you don't have to provide this kind of information.
In theory, a bad actor could steal your login credentials and attempt to initiate a withdrawal in your name, but we've never heard of that happening. Meanwhile, heists like the above are somewhat common.
You can also handle all your online bet funding with Bitcoin and other cryptocurrencies, which are practically impossible to hack. This adds another layer of security to your transactions.
Basically, the point is simply this:
If you want to gamble for real money with real peace of mind, online is a much safer option.
Welcome to the club.