Legal Copa America 2016 Soccer Betting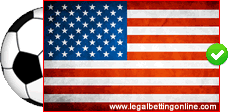 There has been a whole lot of sporting stuff happening this year, and we have tried to cover it all here at Legal Betting Online. Unfortunately, sometimes we get backed up and cannot jump on a tournament right away. This was the case with the Copa America 2016 soccer tournament. Right now, the middle of June, the tournament is in full swing, entering into the quarter-finals, but we still want to cover it here and help you figure out how to navigate the field in terms of placing bets, finding out which teams are favored, and understanding exactly how the Copa America tournament works. The tournament started this year on June 3, and it is an international men's football tournament that is held in the United States. The Copa America Centenario is the tournament's full name, and it's basically the answer to the Euro 2016 tournament which only invites European teams to play.
Soccer is undoubtedly a global sport, but it's still a huge deal in the USA. For instance, you can find the Copa America tournament being played on famous American fields like CenturyLink in Seattle, Soldier Field in Chicago, Gillette Stadium in Massachusetts, MetLife in NYC, the Rose Bowl in Pasadena, California, and other big-name popular stadiums. Featuring 16 teams and 26 matches, this tournament doesn't last quite as long as other big tournaments and thus the action is over with a lot quicker. This means if you want to bet on the Copa America, you better get busy! So, we'll try to help walk you through the info you need to make solid, legal bets.
Is Betting On Copa America Soccer Tournament Legal In The U.S.?
Many other resources you may check for legal betting info give you hundreds of words of filler and still the end result is too confusing to understand. So let's get right into the gist here by telling you that betting online via a trusted sportsbook is 100% legal for you in the USA. But how can that be if online gambling is actually illegal in most states? It's the way the "gambling" market is separated into two pieces: The business side (the casinos/sites) and the gamblers. As a gambler, you're not shut out of the excitement; only the businesses are illegal. This means that you are 100% free and clear to place as many bets on Copa America as you want. The only issue, of course, is with finding a sportsbook that will accept your action. But this is no problem if you're on Legal Betting Online. We offer you a pretty wide range of sites from which you can choose, and all of them are offshore sites and have been rated, reviewed and tested by us personally.
An offshore site simply means it's a website that operates outside of the jurisdiction of the United States. As such, this site can allow whomever it chooses into its doors, so to speak, and the American government cannot do anything about it. Although this site is technically the "business" side of the equation about which we spoke previously, the US government cannot touch them if they're offshore and thus you can bet there as often as you wish. We cover all this in much more detail on our legal US soccer betting page.