Legal Copa America 2019 Soccer Betting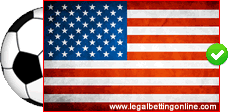 Copa America is one of the oldest tournaments and is held in high regard by teams outside of European contention. The next tournament is scheduled for 2019 in Brazil, but you can still get a heads start by watching international teams in other competitions to get an understanding of the game and see how these teams play. This page was developed specifically for Copa America betting and has information on the legalities of offshore betting, which offshore sportsbooks are best, the history of the tournament and more. The Copa America Centenario is the tournament's full name, and it's basically the answer to the Euro tournament which only invites European teams to play.
Soccer is undoubtedly a global sport, but it's still a huge deal in the USA. For instance, you can find the Copa America tournament being played on famous American fields like CenturyLink in Seattle, Soldier Field in Chicago, Gillette Stadium in Massachusetts, MetLife in NYC, the Rose Bowl in Pasadena, California, and other big-name popular stadiums. Featuring 16 teams and 26 matches, this tournament doesn't last quite as long as other big tournaments and thus the action is over with a lot quicker. This means if you want to bet on the Copa America, you better get busy! So, we'll try to help walk you through the info you need to make solid, legal bets.
Is Betting On Copa America Soccer Tournament Legal In The U.S.?
Yes. It is legal to bet on Copa America as long as you do so through licensed offshore sportsbooks. There are several gambling laws applicable to sports gambling in the US, but none of these laws mention offshore gambling as being illegal. As long as the sportsbook you are using holds proper licensing and is regulated, you are within your legal rights to use it. These websites operate outside of US jurisdiction and have expanded their network to accept American bettors. For those citizens that live outside of Nevada, the only state with brick-and-mortar sportsbooks, licensed offshore versions present the only viable option for legal US soccer betting.