Legal FIFA World Cup Betting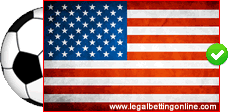 The FIFA World Cup is an international football association competition which is held every four years. Contenders come from the Federation Internationale de Football Association (FIFA) senior men's national teams, and there can be more than 200 qualifiers for any given World Cup. The championship is awarded every four years during the World Cup Finals, with a qualification phase running the previous three years. The World Cup Finals last about a month, played at several venues in the host country. The World Cup is a widely popular event around the world and is quite likely the most anticipated opportunity for legally betting on soccer.
In 2014, the 20th World Cup tournament, 8 different national teams claimed the first 19 World Cup titles. Brazil has been the most successful with 5 titles, and that country is also the only team to have played in each and every tournament so far. Italy owns 4 World Cup titles, West Germany 3, and Argentina and Uruguay have won the soccer championship 2 times each. Spain, France and England all hold one title apiece. As an international competition, the World Cup final is always one of the most viewed sporting events in the world. More than 715 million people watched the 2006 FIFA World Cup held in Germany, with Italy defeating France 5 to 3 in a penalty shoot out.
The FIFA World Cup qualification stages are global events, required to trim the huge international field to 32 finalists. The 6 identified FIFA continental zones of Africa, Asia, North and Central America and Caribbean, South America, Oceania and Europe are run by respective confederations. For each World Cup tournament, FIFA ranks the relative strength and numbers of every confederation's teams, and then decides how many spots will be awarded to each continental zone. This is a long and thorough process. For instance, the qualification stage began in 2007 and finished in late 2009 for the 2010 FIFA World Cup.
Legality Of Betting On Fifa World Cup Matches In The United States
Easily a multibillion-dollar enterprise, betting on the World Cup online is popular in many countries where soccer is the premier sport of the day. All over the United Kingdom and South America, there are outlets for residents to legally place World Cup bets online on their favorite teams. In the United States online sports betting is illegal, if delivered by a company which is owned and operated in the US. However, legally licensed offshore websites which have been offering online World Cup betting and wagering on other sports for years continue to do so. This provides United States citizens with legally accessible and reliable internet options for betting on the World Cup qualifying stages, as well as the finals. Access for US players to legally gamble on the exciting World Cup is offered through the top rated sportsbooks we recommend here on our site.