UEFA Euro 2017 Legal Soccer Betting Guide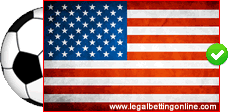 American sporting fans don't typically know a whole lot about soccer. Not an insult of any type, of course; just a mere observation based on the viewing numbers and popularity of the USA's own soccer league, Major League Soccer. However, America becomes just like most other nations when those big-time tournaments roll around, like the World Cup. But did you know that there's another quadrennial tournament that's just behind the World Cup in terms of popularity? The Euro tournament, technically known as the UEFA European Championship, is right behind the World Cup in terms of popularity and for weeks every four years millions of viewers and billions of dollars are wrapped up in this tournament.
This year's Euro 2016 is only the 15th edition of this tournament, so there isn't a ton of history behind it. Even still, there are a lot of different bets you can make and some money to be won. If you're thinking about betting on this tournament, we want to offer you a guide here at Legal Betting Online to help get you started.
Is It Legal For USA Players To Bet On The Euro 2016 Soccer Tournament?
p>The act of placing bets on things like soccer tournaments is actually perfectly legal in the United States. Yes, since the USA has banned online gambling in most states, and most state laws prohibit gambling, it can get confusing. To put this as succinctly as possible: It's only the act of offering gambling that's considered illegal, not the act of placing a bet. Just as you're free to go purchase a lotto ticket, but couldn't yourself host a lotto out of your living room. It's a major difference that needs to be highlighted. As long as you're finding a legal location with which to gamble, it is perfectly legal to place a real money wager on Euro 2016 soccer tournament.
Most people don't understand these laws because most resource sites either beat around the bush or make their rhetoric far too complex to be understood. We just want you to know that, yes, you can place money down on Euro 2016 by going with an offshore site that accepts US-based players. It really is that simple. You can learn more about the legalities by visiting our legal US online sports betting section.