Legal Australian Online Casinos For 2018
Ranking the worlds leading online casinos that are legally licensed for players living in Australia.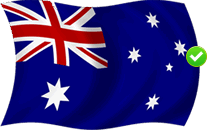 Casino gambling is very popular in Australia. There are several brick-and-mortar casinos scattered throughout the country. Pub pokies are another licensed gambling alternative for Aussies. Australians can enjoy a variety of slots, table games and more in land-based casinos. When it comes to online gambling, the lay of the land is a little different. Online casinos are legal in Australia, but there are certain rules in place that need to be followed. This page was created specifically for Australian residents to inform you on the laws surrounding online gambling in the country, which online casinos are best and how these online casinos operate. There is also an FAQ section with supplementary information aimed at helping you understand the Australian online casino market.
Are Online Casinos Legal In Australia?
Yes and no. This question is a little complex because there are two types of casinos to discuss—Australian-based online casinos and licensed offshore gambling sites. There is a law in Australia known as the Interactive Gambling Act of 2001 (IGA) that regulates online gambling in Australia. While there are several online casinos based in Australia, the IGA prevents them from marketing to or accepting Australian bettors. Gambling is one of the most popular industries in Land Down Under, and Australian's Parliament decided to stifle the amount of gambling via the IGA. However, there are no Australian laws that ban punters from using licensed offshore gambling sites. There are multiple offshore gambling sites that accept Australian bettors, but they need to be legally sanctioned and regulated by a respected government for Aussies to remain within their legal bounds. These offshore casinos have all the same action you would expect to find in a land-based casino and come with a few added benefits.
---