Online Poker In Australia
Ranking the best online poker rooms that are legally licensed and regulated to accept Australian players.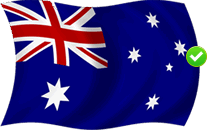 Poker has gained momentum over the last few decades, and has been legitimized as a game of skill in most regions. From high stakes poker tournaments to amateur games with friends, poker is one of the most popular forms of gambling out there. Australians are quite fond of it themselves, as evidenced by the many poker rooms located within brick-and-mortar casinos. Online poker has established a strong presence in the online gambling industry as technology has developed over the years and Aussies have the means to participate through offshore poker room sites. This page was developed to inform Australian residents on the governing laws relevant to poker, which poker rooms are available to Aussie players and how these poker rooms work. Being an informed player promotes safe and responsible gambling and this guide will leave you with a solid understanding of the Australian online poker industry.
Is Online Poker Legal In Australia?
Yes and no. Australia has domestically based online poker rooms, but the Interactive Gambling Act of 2001 (IGA) bars these sites from accepting Australian players. Australians can play online poker legally through licensed offshore gambling sites. Domestic gambling regulation is left up to individual territories in Australia, but the ban on online poker is nationwide thanks to the IGA. There are a number of popular offshore poker sites that are legally sanctioned and regulated. These sites cater to Aussie punters and there are no laws against betting with licensed offshore gambling sites.
---