Drivers Favored to Win the 2017 NASCAR Points Championship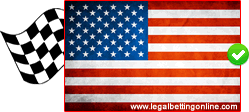 There is so much different material to bet on with NASCAR. Even after all the different lines we've touched on via this site, you still have a veritable cornucopia of betting goodies via things like fantasy NASCAR leagues and even sites that are dedicated to betting the order of finishers, point disparities, and other propositional aspects of the race. But when it all boils down to it, NASCAR is driven by its drivers – pun intended. So, no matter how favorable the odds may seem, it all comes down to who's driving the race car. For this section, we're going to briefly touch on a few drivers who are favored to win the NASCAR points championship in the 2015 season. So if you are considering betting on Nascar, these drivers are your best bet.
Jimmie Johnson
An average guy in height, looks and build, Jimmie Johnson is one of the most extraordinary racecar drivers to ever live. He has won the Sprint Cup Championship an astonishing six different times, including a record-setting span of five years straight, which caused NASCAR to change their rules and actually implement the newer chase format. This worked for two years, knocking Johnson off, but he would again win in '13. Racing for the famous Hendrick Motorsports, Johnson is a heavy favorite to win again this year. At only a few weeks in, it's far too early for anyone to place such a bet. But be sure to keep your eye on this skilled driver. It would shock no one if Jimmie ran away with the points.
Kevin Harvick
The 39-year-old Kevin Harvick is another very unassuming, average guy just walking about. But put him in a race car, he becomes a beast. He's the most recent Championship winner, taking the prize in '14, but he is no stranger to winning. He won the Busch Series in '01 and '06, and was 2001's NASCAR Rookie of the Year. Before Johnson came along and started repeating, it was thought very improbably to do. But Harvick has been driving like a man possessed in recent years, and along with the Stewart-Haas Racing team, Harvick is in great company, has great equipment, a great pit crew, and a great chance to repeat this year as champion.
Jeff Gordon
About twenty years ago, Jeff Gordon was the laughing stock of stock car racing, the cowardly, shriveled juxtaposition against The Intimidator Dale Earnhardt. However, it wouldn't take long before Gordon started commanding respect the old-fashioned way – by earning it. Gordon is a four-time Winston Cup Series Champion, in '95, '97, '98 and 2001, and he's won dozens of individual races and awards over a twenty-plus year career. Also on Hendrick Motorsports, Jeff is part of a powerhouse team of drivers that literally strike fear into the hearts of everyone else on the track. And since this is officially his last year behind the wheel, Gordon has proclaimed that he will leave it all on the track, driving to win every race with a chip on his shoulder. This makes him a pretty good favorite to win.
Dale Earnhardt, Jr.
Often considered a better celebrity than he is a driver, Dale Earnhardt, Jr. has never won a NASCAR championship. What makes this year any different? After joining Hendrick Motorsports, all eyes are on Little E to finally start winning races, leading laps, and scoring more top-five finishes than ever before. He's also hungrier than ever before. According to Dale Jr, he already has everything he could need. The money, the fame, the family – now all he needs is a championship. He's won twice in the Busch Series, and he has been named the most popular driver for the Sprint Cup Series 12 times, and he's even won Daytona twice, but never a championship. Many suspect this might be Jr's year to take the title.
Should You Bet on These Drivers?
The drivers listed above were drivers we selected based on exhaustive research of this year's odds and the oddsmakers' opinions as to the state of NASCAR in '15. We're not predicting any one driver here, and in reality neither should you. At least not yet. The truth is that it is far too early in the season to put your eggs in one basket. You never know when a wreck and a broken bone, or even a few DNFs are going to hurt your bet. It's always best to wait until the season is at least midway through, and even better still to wait until the chase starts. Then use your research and find favorable odds to make a low-risk, high-reward bet.
More information about each driver can be viewed on the official Nascar site driver bios section.