Drivers Favored to Win the 2018 NASCAR Points Championship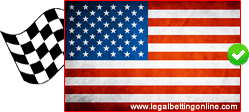 There is so much different material to bet on with NASCAR. Even after all the different lines we've touched on via this site, you still have a veritable cornucopia of betting goodies via things like fantasy NASCAR leagues and even sites that are dedicated to betting the order of finishers, point disparities, and other propositional aspects of the race. But when it all boils down to it, NASCAR is driven by its drivers – pun intended. So, no matter how favorable the odds may seem, it all comes down to who's driving the race car. For this section, we're going to briefly touch on a few drivers who are favored to win the NASCAR points championship in the 2015 season. So if you are considering betting on Nascar, these drivers are your best bet.
Kevin Harvick
Harvick has been successful in the past, but oddsmakers have him as the favorite to win it all this year and his performances thus far have justified their expectation. His most recent victories came at the Las Vegas Motor Speedway and the Atlanta Motor Speedway, both of which won by wide margins. The 42-year-old driver won the Cup back in 2014 and is considered a NASCAR veteran. He's credited his racing crew for the solid performances and expects them to help him on his quest to winning his second title. However, it is still very early in the season.
Kyle Busch
Busch is no stranger to winning. He won the Sprint Cup back in 2015 and is only 32 years old. He is currently second place in the NASCAR ranks and doesn't see Harvick as a major threat this early in the season. Busch is the all-time leading race winner in the Xfinity Series with a total of 91 wins. Back at the start of his career, Busch won several Rookie of the Year awards, a preview of what was to come from the talented driver.
Martin Truex, Jr.
Truex is the current reigning 2017 Monster Energy NASCAR Cup Series Champion. Last season was the best of his career and he hopes to carry that momentum into the new season. 3 races in, Truex sits in 4th place behind Harvick, Busch and Kyle Larson. He expects to have a successful year, but is wary that his crew needs to make some changes in order to keep up with Harvick and other drivers. He says he has had some handling problems in several races, meaning his crew has something to work on. The 37-year-old showed the NASCAR world what he is made of last season and has the potential to break out again by the end of this year.
Kyle Larson
Larson rounds out our top 4, but is currently sitting at third place. The 25-year-old is one of the younger drivers in contention and has some serious talent. He just recently won a NASCAR Xfinity Series race in Las Vegas, showing fans, analysts and bettors alike that he should be taken seriously. He finished 8th in last year's NASCAR Cup Series. However, the young driver is already on track to top that finish.
Should You Bet on These Drivers?
It is still early in the 2018 NASCAR season, but these 4 drivers have already shown promising signs that they will make a strong impact. Oddsmakers have picked these drivers out because of their strong starts, but also because they have positive histories of winning. There could be wrecks, crew mishandling, car malfunctions and other problems throughout the season. We recommend bettors stay up to date with drivers and races to see how things go throughout the season. You'll notice odds change as the season progresses and this is because of what happens on and off the track with drivers. We fully expect Harvick, Busch, Truex Jr. and Larson to have strong seasons, but that doesn't mean other drivers won't also.
More information about each driver can be viewed on the official Nascar site driver bios section.