Legal Sprint Cup Betting Guide For USA Players In 2018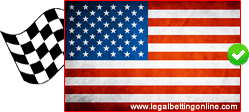 NASCAR fans anxiously anticipate the annual Sprint Cup Series, and these races have become an integral part of NASCAR betting action both here in the US and around the world. This guide will focus on legal Sprint Cup Series betting for US residents, and will discuss the legalities of betting on the Sprint Cup, what legal options are available to us here in the US, and how to legally participate in this type of wagering action.
As industry professionals, we monitor the legal changes and developments taking place throughout the US concerning race car betting and gambling in general so that we can always provide the most up to date and accurate information that is genuinely beneficial to those gamblers seeking legal and safe opportunities for online Sprint Cup betting. Our hope is to offer you all the resources you need for making informed decisions that best suit your personal circumstances, hence we have made this page very comprehensive in nature, including information about the relevant legalities for betting on these races and information about the Sprint Cup Series and how its set up so that the betting lines make more sense to you.
Is it legal to bet on the Sprint Cup Series in the US?

US federal laws do not make it illegal for US residents who are interested in betting on the Sprint Cup to visit and participate in online sportsbooks based outside of the US. The key element here is that your chosen destinations must be operating legitimately within the industry and be licensed, regulated and certified to provide their betting services to players around the world, including those in the US. All of the sportsbooks listed on this page fall into this category.
Our comprehensive legal US online sports betting section goes into much greater detail about the current legal gambling climate in America.
Best USA Sportsbook Offering Sprint Cup Odds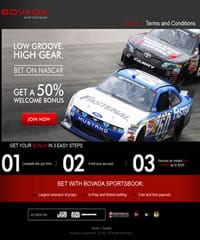 Bovada is a leading US friendly sportsbook that caters exclusively to U.S. players. The big draw for players is simply the trust factor. Players know they will get paid when they request a payout and they know Bovada will come correct in all phases of the betting process. Here are a few benefits to signing up an account at the worlds largest USA online sportsbook.
 Pros
Most USA Players Accepted
Part Of The Bodog Group Of Sites - Very Reputable
Legally Licensed And Regulated In Canada
Easy Credit Card Or Bitcoin Deposits
Generous 50% Welcome Bonus Up To $250
Casino, Sports and Mobile Betting Available
Cons
Only accepts U.S. Mexico And Brazil Players
Excluded States: NY, NV, NJ, DE, MD
Top Rated Sportsbooks For US Players
A Closer Look Into The Legalities Of Betting On Sports In The US
The answer to this question will likely vary depending on who you ask and how they interpret the question. Because of this, combined with the complexity of the gambling landscape in the United States, we thought it would be prudent to include an easy to understand break down of the information that is highly relevant to understanding the legalities of betting on the Sprint Cup Series as it relates to American gamblers. There are a few US federal betting laws to discuss here. The laws that govern US based sportsbook wagering include the Federal Wire Act and PASPA, which stands for the Professional and Amateur Sports Protection Act.
The Federal Wire Act makes it illegal to own or operate an online sports betting business in the United States. Should you come across an online sportsbook that is based here in the US, then you should go in the opposite direction as it is an illegal gambling operation, and placing bets there would be a violate of US federal law and it would be very risky for you on several levels. However, if you choose to visit one of the legally licensed and regulated offshore sportsbooks listed on this page that offer Sprint Cup betting lines, then you would not be violating any type of state of federal laws. The Federal Wire Act does not apply to sportsbooks not present in the US, and does not prohibit US players from participating at these websites as long as they are indeed legitimately licensed, compliance certified and regulated by a respected governing body.
The Professional and Amateur Sports Protection Act has made US based sports betting illegal in all but four regions within the US. Those regions are Nevada, Delaware, Oregon and Montana. It is legal for these states to offer brick and mortar sports betting should they so choose. At this time, Nevada and Delaware are the only two that have established any type of sports betting opportunities. Oregon repealed their sports betting lottery program in order to become eligible to host NCAA tournament events in their state. Though New Jersey is not exempt, they have passed legislation regulating brick and mortar sports betting for their residents, though everyone is unsure how the feds will be responding to this. The PASPA law does not prohibit American residents from engaging in legal online sports betting, including betting on the Sprint Cup Series, at online sportsbooks that are licensed and regulated outside of the US.
About The Sprint Cup Series
asts a few months, the NBA goes for about half the year, and even baseball, with 160 games plus the playoffs, still only lasts around 7 months. The NASCAR season, however, lasts 9 months out of the year, and just when you think you've seen the last race, Daytona is right around the corner. Of course, many people have different reasons for watching, like the gamblers out there. They may also enjoy the everyday minutia of racing, but they definitely have rooting interests.Known as just the "Cup Series" by many, the NASCAR Sprint Cup Series is the current incarnation of what used to be the Winston Cup Series. It has been part of America's makeup since 1949, and the Daytona 500 has been the series' inaugural race since 1982. So, the history of NASCAR isn't as storied as other sporting leagues out there, but there is still some rich history. Car racing in general got its start during prohibition, when bootleggers used to have to make modifications to their cars to outrun agents when delivering moonshine. This quickly evolved into a sport, and legends like Richard Petty catapulted NASCAR to great heights. Today's Sprint Cup takes place over 36 races, wherein drivers work to accumulate points by winning races and leading laps. Toward the end of the year, those within shouting distance of the points lead take place in The Chase – which is essentially a NASCAR playoff that still features the entire field, but only Chase participants are eligible for championship points.
Each race starts out with a model of 43 cars, which means 43 individual pit crews on pit road and 43 different spotters around the stadium. Most races run a minimum of 200 laps; some courses are incredibly long and rugged, like road courses, so they're usually shorter. NASCAR attracts a lot of fans for a lot of reasons, and also a lot of gamblers for some very obvious reasons.
Reading And Understanding The Betting Odds For Who Will Win the 2018 Sprint Cup Title
NASCAR betting odds are pretty straightforward. You are simply betting on a specific driver to win a particular race. There could be other types of wagers like props that change pending the race, but prop offerings depend on the site you are using. In most cases, bettors can make a money line style wager on one driver to win.
When trying to determine the best options for wagering on the Sprint Cup, you simply have to look at what the sportsbooks are putting out. Specifically, keep an eye on the (+) and (-) minus signs attached to drivers as well as the dollar amount. Below is a list of the top 10 drivers expected to win the Sprint Cup Series:
Kevin Harvick +300
Kyle Busch +475
Martin Truex Jr. +475
Kyle Larson +625
Chase Elliot +800
Brad Keselowski +900
Joey Logano +1000
Jimmie Johnson +1200
Denny Hamlin +1800
Ryan Blaney +2000
As you can see, the dollar valuations attached to each driver increases as you move down the oddsmakers' list. Harvick's +300 line makes him the favorite, and bettors must wager $100 to win $300 (if Harvick ends up winning). If you decide to take a chance on a driver like Denny Hamlin, who is much lower down on the list, a winning bet will return a much nicer profit—$100 will win you $1800. Understanding the odds can drastically affect how you lay out your betting plan for NASCAR races. It is also important to follow along with drivers as the NASCAR season progresses so you can see how drivers are performing week after week. Keep in mind you can also bet on props in races once you get a feel for how the odds work. Remember that the lowest odds means the favorite driver. Oddsmakers have been wrong plenty of times, but their projections are based on research. This is why we stress to keep up with research of your own to pick up on trends or signs of which driver will break through.
Helpful Links For Sprint Cup Enthusiasts
Sprint Cup Schedule For 2018 At Nascar.com