Legal Sprint Cup Betting Guide For USA Players In 2018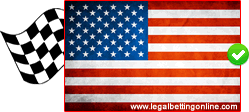 NASCAR fans anxiously anticipate the annual Sprint Cup Series, and these races have become an integral part of NASCAR betting action both here in the US and around the world. This guide will focus on legal Sprint Cup Series betting for US residents, and will discuss the legalities of betting on the Sprint Cup, what legal options are available to us here in the US, and how to legally participate in this type of wagering action.
As industry professionals, we monitor the legal changes and developments taking place throughout the US concerning race car betting and gambling in general so that we can always provide the most up to date and accurate information that is genuinely beneficial to those gamblers seeking legal and safe opportunities for online Sprint Cup betting. Our hope is to offer you all the resources you need for making informed decisions that best suit your personal circumstances, hence we have made this page very comprehensive in nature, including information about the relevant legalities for betting on these races and information about the Sprint Cup Series and how its set up so that the betting lines make more sense to you.
Is it legal to bet on the Sprint Cup Series in the US?
US federal laws do not make it illegal for US residents who are interested in betting on the Sprint Cup to visit and participate in online sportsbooks based outside of the US. The key element here is that your chosen destinations must be operating legitimately within the industry and be
licensed, regulated and certified
to provide their betting services to players around the world, including those in the US. All of the sportsbooks listed on this page fall into this category.
Our comprehensive legal US online sports betting section goes into much greater detail about the current legal gambling climate in America.