The NBA bubble has yet to burst as the final sixteen teams battle each other for a chance to compete for a championship. That's great news for fans of pro basketball and for gamblers that enjoy betting on the NBA Playoffs.
Keeping all participating NBA team's players, personnel, and staff in quarantine throughout the duration of the playoff seeding and playoffs has worked nearly to perfection so far as the league has returned to action in an effort to complete their season.
All games are being played in the Walt Disney Wide World of Sports Complex in Orlando, Florida, with all involved staying in nearby hotels within walking distance of the facility. Everyone is staying in isolated environments with routine medical checkups and exams being performed.
Contact with the outside world is also limited, as all exterior activities are off-limits until the team's elimination has occurred, or a championship has been won. It is a harsh price to pay, but the players, coaches, owners, and fans feel that it is worth it to finish what everyone has worked so hard to achieve this season.
The current 2020 NBA Playoff bracket is as follows: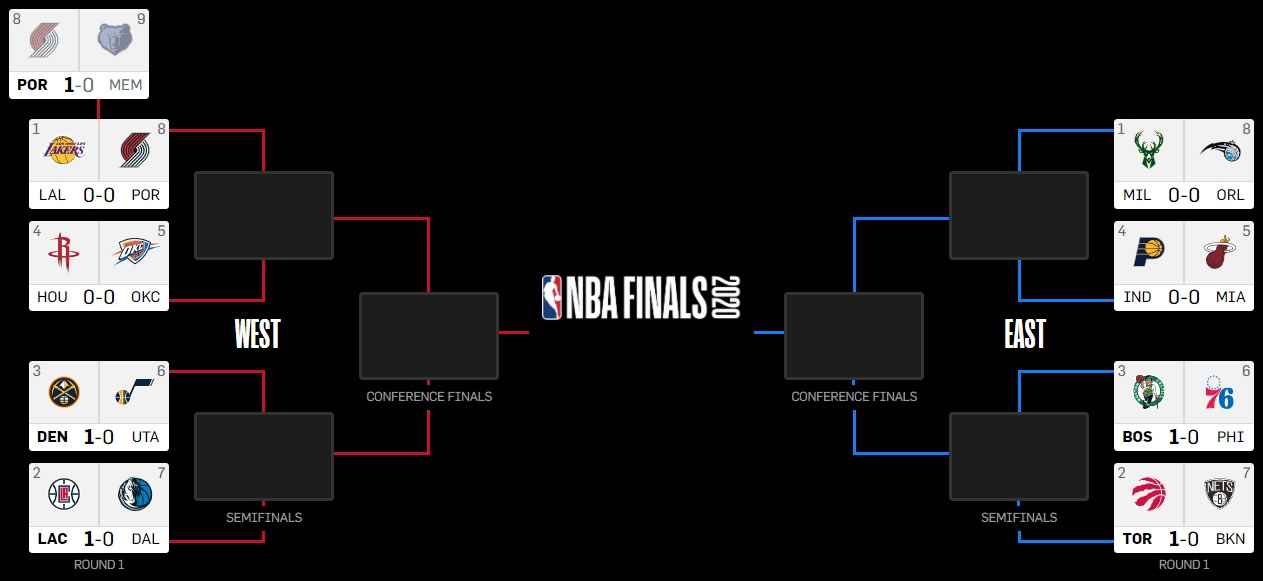 One of the most intriguing matchups in the opening round of the NBA Playoffs is the LA Clippers vs. the Dallas Mavericks. The Clippers were able to narrowly defeat the Mavericks in game one despite a heroic effort by Luka Doncic and his 42 points.
However, it was Doncic's 11 turnovers that had a lot to do with the loss. The Clippers were carried by Kwahi Leonard and Paul Goerge who combined for 56 points.
NBA betting experts have been hot on the LA Clippers for some time now, and have them placed alongside the Los Angeles Lakers as the two teams that are most likely to win the Western Conference Championship and advance to the NBA Finals.
Popular online sportsbook, Bovada, has offered the following odds on game two of the series between the Clippers and the Mavericks which will tipoff tomorrow night at 9 PM EST.
Dallas Mavericks vs. Los Angeles Clippers (-6.0)
Straight: Mavericks +220 , Clippers -270
Total: 231.0
If the oddsmakers are correct, then the Clippers are positioned to move on to a commanding two-game lead in this pivotal round one series. If you are of the opinion that the Mavericks will rebound and capture a victory in game two, then a wager of $100 has the potential to earn $220 if they are victorious.
The winner will advance to face the remaining team between the Denver Nuggets and the Utah Jazz. The Nuggets have jumped out to a one-game lead after defeating the Jazz in a high-scoring shootout to the tune of 135-125.
For those that are interested in what the remainder of the basketball betting odds are for the NBA postseason, below is a betting line for the teams that are most likely to win the NBA Championship in 2020.
2020 NBA Championship Winner
Los Angeles Clippers +245
Los Angeles Lakers +250
Milwaukee Bucks +280
Toronto Raptors +750
Boston Celtics +1200
Houston Rockets +1400
Portland Trail Blazers +2500
Denver Nuggets +2800
Miami Heat +3300
Dallas Mavericks +6600
Oklahoma City Thunder +7500
Philadelphia 76ers +9000
Utah Jazz +12500
Indiana Pacers +25000
Brooklyn Nets +75000
Orlando Magic +75000