2019 COLLEGE FOOTBALL SEASON PREVIEW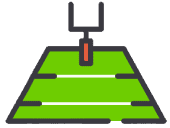 Another season of college football betting is nearly upon us, and it's time to get the answers to the most important questions heading into the 2019 NCAA Division I FBS season. This is so readers can see how right (or laugh at how wrong) I was at the end of the season.
Here are the top 10 biggest questions heading into the 2019 season.
1) Will Alabama Or Clemson win the National Championship... again?
Yes! Next question.
On a serious note, both Clemson and Alabama are heavy favorites going into this season, but what makes college football so exciting is the unknown. I would say Alabama or Clemson would be a safe bet, but you never know what may transpire. These two programs are still the cream of the crop in college football, and I don't see that not being the case in 2019.
2) Which four teams will make the College Football Playoff?
Based on preseason odds the following teams would make the college football playoffs but don't expect this list to remain true by the end of the season.
Alabama Crimson Tide (+225)
Clemson Tigers (+225)
Georgia Bulldogs (+650)
Ohio State Buckeyes (+950)
Predicting the College Football Playoffs & Bowl games is not an easy task, and while the four programs mentioned above are top-notch teams, the odds will shift week-to-week. Just remember: A two-loss team has never made the playoffs and if your name isn't Alabama, then you better win your conference championship too (excluding Notre Dame, of course)!
3) Which teams will win their conference?
Anything could happen over the course of a season, but based on recent history, we believe these teams are the safest bets to win their respective Power 5 conference for the 2019 season.
ACC: Clemson Tigers
Big Ten: Ohio State Buckeyes
Big 12: Texas Longhorns
Pac-12: Oregon Ducks
SEC: Alabama Crimson Tide
4) Which conference will be the strongest?
And speaking of safe bets, the answer to this question is the SEC. They constantly have two, three or even four teams ranked in the top 25 and have had five teams play in the CFP national championship (winning twice).
5) Who will win the Heisman Trophy?
While this is a tough one: I'm going to go with either Clemson QB Trevor Lawrence or Alabama QB Tua Tagovailoa. I predict these two teams will be the ones playing in the national championship again, and these two QBs will be a big reason why. A longshot, but another possible candidate would be Oklahoma's new transfer QB Jalen Hurts, who would give the Sooners back-to-back-to-back Heisman QBs.
6) Who will win Coach of the Year?
Brian Kelly won last year, but repeat winners in this category are super rare. Typically, what you want to look for is a team who was mediocre or worse last season, but look as if they'll make at least a New Year's Six Bowl this time around. Since I think the Oregon Ducks win the Pac-12 and make it to the playoffs, my pick is Mario Cristobal. The Ducks weren't really mediocre last season at 9-4, but I think they'll be 12-1 this season and heading to the CFP. Coach Jimbo Fisher at Texas A&M is another possibility.
7) Which big-time coach will get fired?
For my money, I think you have to look at FSU coach Willie Taggart as a likely candidate. After taking over for Jimbo Fisher, Taggart managed to kill the school's historic 36-year streak of making it to a bowl game in his first year with the team and the fanbase is livid. Don't think he's on the hot seat? Think again because FSU fans wanted him fired during the first game and if he doesn't make a bowl this season, then the school's boosters will likely be more than happy to buy out the remaining $21.25 million on his contract.
8) Which team will improve the most in 2019?
It may sound like I'm playing Duck-Duck-Goose at this point, but I promise I'm not pulling at your tailfeathers. With Heisman Trophy contender QB Justin Herbert coming back this season after passing on a chance to make millions in the NFL, this team needs to be on everyone's radar and will be a contender throughout the season.
9) Which team will disappoint the most in 2019?
Considering the fact that Notre Dame made it to the CFP Playoff last season with an undefeated 12-0 record, I think the Fighting Irish take a significant step back this season, but the young team is still talented enough only to lose 3-4 games. It'll just take Brian Kelly a couple more season to get this team back into the playoff hunt.
10) Which team will pull off the biggest upset in 2019?
Purdue pulled off one of the most shocking upsets in recent memory last season when they throttled Ohio State 49-20 and killed any hope the Buckeyes had of making the playoff. This season I'm going with Auburn to beat what will be an undefeated Alabama when they meet in the Iron Bowl. Coach Gus Malzahn will be clinging to his job for dear life and manage to pull off the miracle at home to remain head coach for another couple seasons until we rinse and repeat this all over again.
---
College Football News