2018 NCAAF FOOTBALL PLAYOFFS PREVIEW
The 2018 college football season is upon us, which means its time to grab some Chick-fil-a, an ice-cold Dr. Pepper, and jump right into who is most likely to come out on top in each conference along with who will win the 2019 CFP National Championship.
Is Online Sports Betting Legal In The United States?
At this time, only Nevada and New Jersey have domestic sportsbooks operating online within the United States. Due to the Federal Wire Act, these states are not allowed to offer sports betting across state lines. However, US bettors can indulge in legitimate legal college football betting options by visiting legally licensed and certified sportsbooks which are regulated and located outside of the United States. These sports betting sites are completely legal and compliance certified and regulated by respected licensing jurisdictions which have legalized online gambling within their territories. You can learn more about these sites in our online sports betting site reviews.
While legal online poker play and casino gambling are making some headway here in the USA in a few states, nobody has yet to successfully achieve legal sports betting status. New Jersey was the first to try, however unsuccessfully thus far with organizations such as the NFL, NBA, MLB and NCAAF standing up in opposition to the possibility.
Best USA Sportsbook For Betting On The
2018 College Football Playoffs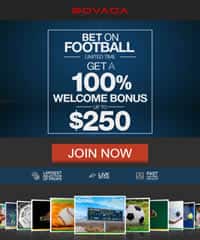 Bovada is one of the leading US friendly sportsbooks and offers betting odds for the College Football Championship.  If you are a United States resident and are looking for a legally licensed sportsbook to place your bets with, then Bovada is an excellent choice.
 Pros
Accepts US Players From Most States
Most Reputable Site In The Industry
Easy Deposits Via Credit Cards And Bitcoin
Fast And Reliable Payouts Guaranteed
Generous 50% Welcome Bonus Up To $250
Enjoy Sports Betting, Casino, And Horses  All Under 1 Wagering Account
Cons
Only US, Mexico And Brazil Players Accepted
Excluded US States: NY, NV, NJ, DE, MD
Legal USA College Football (NCAAF) Betting Sites
Below you'll find the legal online sports betting options that provide a variety of NCAAF betting lines and also welcome US players. They have each been vetted by our team of professionals, and offer players a safe and reliable gaming environment.
WHO WILL WIN THE ACC?
The Clemson Tigers have been the dominate team in the conference for the past couple of seasons, and this is unlikely to change any time soon.
Miami, N.C. State, FSU, and Virginia Tech could potentially challenge Clemson, but don't bet on this happening. Most, if not all, of these teams will likely take a step back or disappoint many expecting big things from them this season.
Clemson is far too talented and boasts not only one of the best defensive line's in the country, with multiple players likely to be drafted into the NFL next season, but also had one of the best recruiting classes in the country, led by No.1 QB Recruit, Trevor Lawrence, who will likely see a lot of playing time in 2018.
Expect the Tigers to go undefeated this season, win the ACC and get another invite to the CFP.
ACC Winner: Clemson Tigers
WHO WILL WIN THE BIG 12?
Oklahoma won the Big 12 last season, but lost Heisman Trophy winning QB Baker Mayfield to the 2018 NFL Draft. QB Kyler Murray will try to fill his shoes and is one of the best athletes in all of college sports.
The Big 12 is one of the conferences having a lot of uncertainty surrounding it, since Texas appears to have gotten better, but it seems like that is said every season about the Longhornns.
West Virginia could challenge for the top spot as well, but their defense may be their undoing even though QB Will Grier will likely be invited to the Heisman ceremony.
The safest bet would be to bet on Oklahoma, but Texas seems like they could be ready to take that next step and take over the conference after their rival has dominated it for nearly a decade now.
Big 12 Winner: Texas Longhorns
WHO WILL WIN THE BIG TEN?
It may seem like the Big Ten will have a lot of teams in contention when looking at the rankings, but don't be fooled: Only two teams, Ohio State and Michigan, will be serious contenders.
The Buckeyes have essentially become the Alabama of the north and reload with impressive recruiting classes each year. Replacing QB J.T. Barrett will be interesting to watch, but Coach Urban Meyer is one of the best offensive minds in the business.
Michigan on the other hand has somewhat tempered expectations going into this season, but they should not be overlooked. The team brought in former No.1 QB Shea Patterson after he transferred from Ole Miss and return a talented defense as well.
Michigan State, Wisconsin, and Penn State are fools' gold this season, since all three lost major contributors from last season – especially Penn State who lost perhaps the best player in college football to the draft in RB Saquon Barkley.
This conference winner will likely be decided on the last game of the season when Michigan travels to play Ohio State in a tough road environment. For this reason alone, it makes the Buckeyes the safer bet to take the conference.
Big Ten Winner: Ohio State Buckeyes
WHO WILL WIN THE PAC 12?
Commonly referred to as "Pac-12 After Dark" since games are routinely played on the west coast after most of the country has gone to bed, the Pac-12 typically finds some wild or even nefarious things happening in it over the course of a season.
Predicting this conference is near impossible, and this season is perhaps the toughest one to decide on yet.
Literally Arizona, Oregon, Stanford, UCLA, USC, Utah, Washington, and Washington State all have a reasonable chance of taking the conference.
And who knows? Maybe a team will come out "after dark" and take the conference from the favorites. Anything is possible in the Pac-12 this season.
However, the most obvious team to pick would have to be Washington even though they disappointed last year. Even though they are the most likely team to win, don't bet on them or any Pac-12 team making the CFP, since they will likely drop 2-3 games along the way.
Pac-12 Winner: Washington Huskies
WHO WILL WIN THE SEC?
The defending national champions have a target on their back this season, but at this point, for Nick Saban and the Crimson Tide, it's just another day at the office as they have once again reloaded and could have one of the most talented teams ever assemble under Saban.
Georgia will likely come out of the East somewhat unscathed, giving Alabama a rematch in the SEC Championship game.
If QB Tua Tagovailoa can replicate what he did in the national championship against Georgia and translate that over the course of a full season, the Crimson Tide could very well roll over every team they face – including Georgia once again.
Bet on the Tide taking the SEC by either going undefeated or losing no more than one game a long the way.
Either way, Alabama hasn't been denied entry into the CFP yet, and the rest of the SEC might have to wait for Saban to retire before anyone else gets a reasonable shot at it.
SEC Winner: Alabama Crimson Tide
WHICH TEAMS MOST LIKELY TO MAKE THE COLLEGE FOOTBALL PLAYOFF?
Based on our predictions, here are the four teams we believe will make the College Football Playoffs for this season:
Alabama Crimson Tide
Clemson Tigers
Notre Dame Fighting Irish
Ohio State Buckeyes
It's important to note that Notre Dame was not mentioned anywhere above because they don't play in any conference. However, the Irish are stacked this season and even though they have a tough schedule, should they end the season with no more than one loss, then it's very likely Notre Dame will be selected to the CFP.
WILL ALABAMA WIN THE NATIONAL CHAMPIONSHIP AGAIN?
If our predictions hold true, then Alabama will face Ohio State and Clemson will face Notre Dame in the two playoff games.
Alabama would be considered a heavy favorite and give the new Ohio State QB, likely Dwayne Haskins, some trouble, so picking the Crimson Tide here is easy.
If QB Trevor Lawrence is as good as scouts say, then he'll likely become the starter at some point this season and lead an aerial assault over every team, including Notre Dame, so bet on the Tigers taking this one.
That means we'll get Clemson vs. Alabama Part 4 – in as many years – to decide this year's national champion.
Alabama handedly beat Clemson in the CFP semifinal last season, but Lawrence was in high school last year, which is a good and bad thing for Clemson, since he has a better arm than Kelly Bryant but lacks the experience of playing with this much pressure on his shoulders.
However, even though the game has some of the best defensive players in the country, expect it to be a shootout led by two of the most talented QBs in the country: Trevor Lawrence and Tua Tagovailoa.
Tagovailoa gets the edge, since he has the experience from playing on the big stage after leading the Tide in their comeback win over the Bulldogs in the national championship last season.
Bet on the Crimson Tide winning the shootout against the Tigers and claiming back-to-back national championships.
2019 CFP National Champion: Alabama Crimson Tide