Bet On The 2018 College Football Championship Game Legally
The 2018 College Football Playoff looks set to be the most exciting semifinal matchup since the CFP system was introduced 4 years ago. Clemson, the defending champions, will play Alabama in the Sugar Bowl—a rematch of the last 2 CFP Championship games—and Oklahoma will play Georgia in the Rose Bowl. Fans are excited for several reasons, including a different championship matchup than the last 2 years, having the Heisman-winner in the mix and the potential of a Big 12 champion (which has yet to happen in the CFP-era) and the possibility of a team other than Bama or Clemson taking the ship. Below are our predictions for the semifinal games:
About The College Football Playoffs
The College Football Playoff (CFP) has more than 120 teams eligible for the championship trophy, and six popular bowl games will rotate to host the two semifinal games. The College Football Championship Game is played on the first Monday six or more days after the semifinal playoff games, at a site which is determined by a bidding process. College football betting is one of the most popular series of betting lines wagered on in legal online sports betting activity, and the figures rivals betting on NFL football events.
Is Online Sports Betting Legal In The United States?
At this time, there are no legal online sports betting sites operating within the United States. However, US bettors do still have some legitimate legal football betting options by visiting legally licensed and certified sportsbooks which are regulated and located outside of the United States. These sports betting sites are completely legal and compliance certified, and regulated by respected licensing jurisdictions which have legalized online gambling within their territories. You can learn more about these sites in our online sports betting site reviews.
While legal online poker play and casino gambling are making some headway here in the USA in a few states, nobody has yet to successfully achieve legal sports betting status. New Jersey was the first to try, however unsuccessfully thus far with organizations such as the NFL, NBA, MLB and NCAAF standing up in opposition to the possibility.
Best USA Sportsbook For Betting On
College Football Playoffs Championship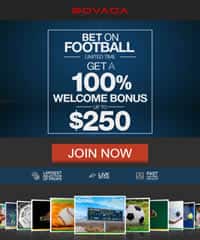 Bovada is one of the leading US friendly sportsbooks and offers betting odds for the College Football Championship.  If you are a United States resident and are looking for a legally licensed sportsbook to place your bets with, then Bovada is an excellent choice.
 Pros
Accepts US Players From Most States
Most Reputable Site In The Industry
Easy Deposits Via Credit Cards And Bitcoin
Fast And Reliable Payouts Guaranteed
Generous 50% Welcome Bonus Up To $250
Enjoy Sports Betting, Casino, And Horses  All Under 1 Wagering Account
Cons
Only US, Mexico And Brazil Players Accepted
Excluded US States: NY, NV, NJ, DE, MD
Legal USA College Football (NCAAF) Betting Sites
Below you'll find the legal online sports betting options that provide a variety of NCAAF betting lines and also welcome US players. They have each been vetted by our team of professionals, and offer players a safe and reliable gaming environment.
College Football Championship Game Betting Odds
Betting Odds
VS
Spread
Alabama

-5

Georgia

+5

Money Line Odds
Tide

-180

Georgia

+160

Totals
Over 45
Under 45
Prop Bets
Odds Not Posted Yet
Recapping The College Football Playoff Games
The College Football Playoff semifinals concluded over the weekend and fans were left with 2 different versions of NCAA football—an exciting back-and-forth shootout and true show of dominance. The former game was the Rose Bowl, featuring Georgia and Oklahoma in a double overtime thriller. The latter game was the Sugar Bowl with Alabama routing the defending champions Clemson. Check out our recap of each game below:
The Rose Bowl - Georgia (54) – Oklahoma (48)
Pasadena played host to the most exciting Rose Bowl game in history. The red-hot Oklahoma Sooners took on the gritty Georgia Bulldogs. Oklahoma set the offensive tone early with QB Baker Mayfield conducting business as usual. The Sooners were up 31-17 at the half and looked to be rolling, but something was brewing with Georgia. The Bulldogs came out and scored 14 unanswered points in the third quarter to tie the game. In true storybook fashion, the Sooners and Bulldogs traded touchdowns all the way until the end of the game, with Georgia tying thins up in the closing minute. The first overtime period featured a pair of field goals and then the Bulldogs took control when they blocked the Sooners' winning field goal attempt in 2OT. Georgia rolled down the field and then RB Sony Michel finished on an electric run.
This game was an emotional roller coaster. Oklahoma QB Baker Mayfield finished with 287 yards on 23 successful attempts. He scored 2 passing touchdowns and even a receiving touchdown in a trick play. Mayfield may not have capped off his senior year Heisman-winning season with a national championship, but he has a bright future in the NFL. RB Rodney Anderson scored 2 touchdowns on 26 carries for 201 yards. Oklahoma's defense, which has been their biggest liability, revealed its limitations again in the Rose Bowl by giving up 54 points.
Georgia showed why they deserve to be in after this game. Freshman QB Jake Fromm played phenomenally and was able to bring his team back time after time with completions in crunch time. He finished 20/29 with 210 yards and 2 touchdowns. The Bulldogs' biggest offensive threat is in their running game with arguably the best run combo in the league. RBs Sony Michel and Nick Chubb combined for 326 yards and 5 TDs on 25 carries. They were practically unstoppable. Michel even had a receiving touchdown. On the receiving end, Javon Wims had a touchdown. Wims and WR Terry Godwin combined for 124 yards on 11 catches. On the defensive end, which is also part of Georgia's identity, Tyrique McGhee had 5 tackles. Leading linebacker Roquan Smith had 4 tackles and 7 assists.
The Sugar Bowl- Alabama (24) – Clemson (6)
The Sugar Bowl was a rematch of the past 2 national championship games. Clemson, the defending champions, looked solid throughout the season but were unable to get anything going against the Crimson Tide all game long. Alabama was at one point not even in Playoff contention, but became eligible once Ohio State beat Wisconsin. With something to prove to those who believe they shouldn't be in the CFP, Bama showed why they should be playing in their third straight national championship game. Alabama scored 10 unanswered points in the first quarter—a sign of things to come. Clemson's defense steadied the ship and shut out Bama in the second quarter, but their offense could only muster a field goal to leave it at 10-3 going into halftime. The third quarter was more of the same with Bama putting up 14 and Clemson again only mustering 3 points. The fourth quarter was more of a defensive showcase, with both teams unable to put up anything.
Bama's QB Jalen Hurts finished 16/24 for 120 yards and 2 touchdowns. He also had 40 rushing yards on 11 carries. RBs Damien Harris and Bo Scarbrough showcased their value with 101 rushing yards on a combined 31 carries. Although they were unable to score, they were the driving force behind the offense. Receiver Calvin Ridley had the lone touchdown from the receiving corps and the defensive unit scored 2 touchdowns via Mack Wilson and Da'Ron Wallace, showcasing Alabama's defensive threat on turnovers.
Clemson's QB Kelly Bryant was practically a non-factor. He had 2 interceptions and threw for 126 yards on 18/36. Their run game with RBs Travis Etienne, Adam Choice and Tavien Feaster was stuffed throughout the game. Deon Cain was the leading receiver with 75 yards on 6 catches, but even he couldn't save the team's offensive woes that night. Clemson's defense was strong, but unable to force any interceptions or defensive touchdowns. All in all, Clemson looked flat and were consistently misfiring. K Alex Spence was the leading scorer with 2 successful field goals.
Additional Football Betting Guides Included In Our Series:
Player Resources:
This site will provide you with valuable updates and information as the season progresses: NCAAF official website
Additional Sports Related Online Gambling Options:
USA MLB Betting Sites: Useful information for learning more about participating in legal online baseball betting.
US NBA Betting Sites: This guide provides valuable information concerning the NBA and legal options for betting on basketball.
USA Horse Betting Sites: Our horse race betting guide will ensure you have access to the latest odds, race schedules, and betting lines for all the important races.
Additional Non Sports Related Online Gambling Options:
For players who are interested in trying out a variety of online gambling platforms in a legal and safe environment, these guides will prove helpful to you: legal USA poker sites and USA legal casinos.