Legal Breeders Cup Horse Betting Guide For 2018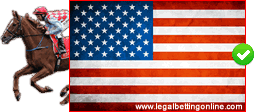 Known as the Breeders' Cup World Championships, this is a horse race that's actually ran more or less like a concert event with different bands performing. Rather than being one race, like a Kentucky Derby, the Breeders' Cup is actually a series of races. This event-style race lures in millions of gamblers from around the globe, all of whom want to bet on the ponies and hopefully win some serious money. Though what if you're located in the USA where gambling is supposedly illegal? Do you have any legitimate options here?
Legal Betting Online wants to make a few points clear about the legality of betting on an event like the Breeders' Cup. Though we also want you to win money when you're gambling. After all, if you win after taking our advice, that bodes very well for us. So we hope you win tons! To give you the tools necessary to increase your odds of winning, here is some information on the Breeders' Cup that may come in handy.
Is It Legal To Bet On The Breeders Cup Horse Race In The United States?

One thing you should realize about horse racing in the United States is that it's technically legal. It is legal per the federal government. They carved out an exemption in the Unlawful Internet Gambling Enforcement Act of 2006 (UIGEA) just for legal horse betting, so there are no worries on that front. They then turned the legality issue over to the states, who individually got to decide whether horse racing was legal or illegal. While the majority of states have kept the sport legal, some have opted out, like Virginia and Utah among others.
What does this mean for you don't if you live in those legal gambling states? Nothing, basically. It just means 1) you will not be able to attend a live race in your state because your state isn't offering any, and 2) it means you won't find a state-based racebook. But in terms of your ability to bet on horse racing via the Internet, you can still find sites to accept you, either licensed by an American state or based outside of US jurisdiction (offshore). So the act of you placing a wager on the Breeders' Cup via the Internet is something that is legal for you, if you live in the USA. This topic isn't as complex or gray as casino gambling or poker.