Preakness Stakes Horse Betting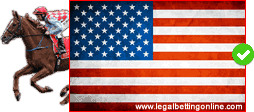 As the second leg of the US Triple Crown of thoroughbred racing, the Preakness Stakes is run each year exactly 2 weeks to the day after the Kentucky Derby. Three weeks after the Preakness, the Belmont Stakes culminates the Triple Crown as the final leg.
That is what makes the Preakness so important each and every year. No matter which horse wins the Kentucky Derby, the possibility of a Triple Crown is still alive up until, and sometimes even after, the Preakness is run.
With legitimate offshore racebooks licensed to provide legal online betting on the Preakness and other horse races, you can get in on the action without traveling to Baltimore, Maryland. That means that each and every year, you can legally place online bets on the Preakness Stakes, as well as a potential Triple Crown winner.
Is It Legal To Bet On The Preakness Stakes Horse Race In The United States?

Yes. Betting is allowed at the racetrack, and from a few state-regulated sportsbooks and betting terminals. You can also legally place bets on the Preakness Stakes through offshore racebooks and sportsbooks as long as they are licensed and regulated by a respected government located outside of the USA.
United States gambling law prohibitions do not include licensed offshore sportsbooks. Legitimate offshore gambling sites are also outside of US jurisdiction. As long as the online racebook or sportsbook you are using is licensed and regulated, US citizens are not in violation of any federal gambling laws. To learn more about gambling regulations in the United States and how they impact sports betting and horse race betting, visit our guide to understanding USA gambling laws.
Best US Online Horse Betting Website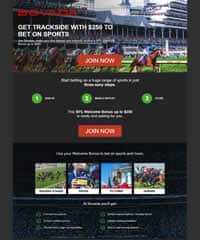 If trust and reputation is paramount to you, then you will appreciate why we recommend Bovada racebook as our #1 choice to bet on the Preakness horse race. Below are a few reasons why Bovada is the #1 choice for USA players.
 Pros
All US players accepted, (few states precluded)
Most reputable USA online sportsbook and casino
Easy credit card funding for deposits
Claim a 50% welcome bonus up to $250
Daily cashback and promotions for horse betting
Now Bitcoin friendly
Cons
They only accept U.S. players - no other countries
Excluded States: NY, NV, NJ, DE, MD
Legal USA Friendly Horse Betting Sites
To Bet On The Preakness Stakes Race
Details Of The 144th Preakness Stakes - Dates, Channel And More
Date Of The Preakness: May 18th, 2018
Time: 6:20 pm
TV Channel: NBC
Coverage Start Time: 5:00 PM
Location: Pimlico Race Course, Baltimore, Maryland
Betting On The Preakness Stakes
There are several things bettors must take into account regarding the Preakness Stakes. For starters, which horses are competing. Oftentimes there are different horses than in the Kentucky Derby. Trainers will run different horses for a variety of reasons including rest periods, stress from the first race, training incidents (positive and negative), etc. It is important to know the horses running in the race as well as their trainers and history. For example, if a horse had a solid time and won the Kentucky Derby, it is possible fatigue will set in or they picked up a slight injury. There are 2 weeks in between races, giving ample recovery time, but that does not mean the physical stress won't affect the horse. This is why we encourage bettors to look into the horses competing before placing any final wagers.
As far as betting from a legal standpoint, the only thing to ensure is that you are betting with a site that is legally licensed and regulated. All of the sites listed on this page are considered legal in the eyes of the US government and have been vetted for licensing credentials and stringent regulatory protocols. Betting through a sportsbook that is not legally licensed and regulated can get you into legal trouble.
2018 Preakness Results
Justify
Jockey: Mike E. Smith
Trainer: Bob Baffert
Winnings: $900,000
Bravazo
Jockey: Luis Saez
Trainer: D. Wayne Lukas
Winnings: $300,000
Tenfold
Jockey: Ricardo Santana Jr.
Trainer: Steve Asmussen
Winnings: $165,000
Good Magic
Jockey: Jose Ortiz
Trainer: Chad Brown
Winnings: $90,000
Lone Sailor
Jockey: Irad Ortiz Jr.
Trainer: Tom Amoss
Winnings: $45,000
Sporting Chance
Jockey: Luis Contreras
Trainer: D. Wayne Lukas
Winnings: $0
Diamond King
Jockey: Javier Castellano
Trainer: John Servis
Winnings: $0
Quip
Jockey: Florent Geroux
Trainer: Rodolphe Brisset
Winnings: $0
Justify completed another victorious effort with a win in the 2018 Preakness Stakes. The horse was amongst the favorites to win by most oddsmakers. Fans were also looking for Justify in the field as everyone loves to see a possible Triple Crown winner. There was a total purse of $1.5 million up for grabs for the 9.5-furlong race.
At the start of the race, conditions were not exactly the best. A dense fog had set in and visibility was scarce. Also, the tracks were quite muddy, which can create problems for certain horses. Justify broke out to an early lead right out of the gate. Good Magic came up close on the inside to give Justify a run for his money. At one point, both horses were matched stride for stride, though Good Magic eventually began to tire and fell back. Bravazo gave a late burst of energy up the center and tried to catch Justify. Tenfold made a run on the outside of the track and tried to round Justify. Both horses were unable to get up ahead of the thoroughbred and Justify went on to win the second jewel of the Triple Crown.
Justify was the heavy favorite in the matchup. Good Magic was expected to have the best odds of beating him. Good Magic was the runner up in the Derby behind Justify, and the fact that Justify bruised his heel during the Kentucky Derby gave bettors a hint that Good Magic may be able to capitalize. Quip, another horse in the race, opted out of the Kentucky Derby to conserve energy for the Preakness. Bravazo finished 6th in the Derby. Lone Sailer was 8th. Diamond King, Sporting Chance and Tenfold had all raced in previous competitions this year, but not the Derby.
More Legal Sportsbook Betting Options:
Legal Football Betting Sites: Use this guide to discover where you can access legal, reputable and high quality options for betting on football, including both NFL and NCAAF events.
Legal Basketball Betting Sites: Both NBA and college basketball fans will find helpful information in this guide that is designed to assist bettors in reaching the most favorable and legitimate legal sportsbooks that offer basketball betting lines among their options.
Legal Baseball Betting Sites: This guide will provide you with valuable information concerning your legal options for betting on baseball, and where to find legally licensed and certified online sportsbooks that cover MLB and college baseball in their betting lines.
Other Legal Online Gambling Platforms To Consider:
Legal Online Casinos: This guide focuses on legal online casinos that provide a secure and high quality virtual casino gambling experience to players, as well as the authentic bonuses and promotions on offer to sweeten the pot.
Legal Online Poker Sites: Allow our comprehensive poker betting guide to assist you in reaching top rated, legally licensed online poker destinations that accept players from the USA and that offer an excellent, high quality online poker gambling experience.
Legal Online Bingo Sites: For those gamblers with an itch for something different, we're pretty sure you'll be surprised by the robust, innovative and enjoyable gaming session that legal online bingo has to offer. Our guide can make sure you have access to the best legal online bingo sites to try this gaming venue out.