Legal Preakness Stakes Betting Guide For 2018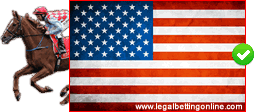 As the second leg of the US Triple Crown of thoroughbred racing, the Preakness Stakes is run each year exactly 2 weeks to the day after the Kentucky Derby. Three weeks after the Preakness, the Belmont Stakes culminates the Triple Crown as the final leg. That is what makes the Preakness so important each and every year. No matter which horse wins the Kentucky Derby, the possibility of a Triple Crown is still alive up until, and sometimes even after, the Preakness is run. And with legitimate offshore racebooks licensed to provide legal online betting on the Preakness and other horse races, you can get in on the action without traveling to Baltimore, Maryland. That means that each and every year, you can legally place online bets on the Preakness Stakes, as well as a potential Triple Crown winner. This page is dedicated to the Preakness Stakes and provides important information on the race details, horses, odds and where to place your bets.
Is It Legal To Bet On The Preakness Stakes Horse Race In The United States?

Yes. You can place bets on the Preakness Stakes through offshore racebooks and sportsbooks as long as they are licensed and regulated by a respected government located outside of the USA. United States gambling laws omit licensed offshore sportsbooks from their enforcement. Licensed offshore gambling sites are also outside of US jurisdiction. As long as the online racebook or sportsbook you are using is licensed and regulated, US citizens are not in violation of any federal gambling laws. To learn more about gambling regulations in the United States and how they impact sports betting and horse race betting, visit our
guide to understanding USA gambling laws
.