Legal Online Betting - A Detailed Look Into USA Betting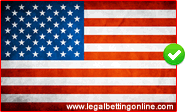 Legal online betting began in 1994 when the twin-island Caribbean nation of Antigua and Barbuda passed the Free Trade & Processing act. This allowed licenses to be given to companies for opening online casinos. Legal casino betting continued to evolve in 1996, when the Kahnawake Gaming Commission was formed. As a regulatory branch of the Mohawk Territory of Kahnawake in Quebec, Canada, they began policing and issuing licenses to worldwide legal online casinos and poker rooms. This marked the first attempt to regulate legal U.S. online betting by providing fair and transparent operations.
By 1997, online gambling had exploded in popularity, with more than 200 websites offering online casinos, up significantly from 15 websites in 1996. A report by respected Market Research firm Frost and Sullivan showed that way back in 1998, legal online betting revenues had reached an impressive $830 million globally. That was also the first year that legal poker betting appeared on the World Wide Web in the form of the currently popular Internet poker room. And interactive multiplayer gambling online began a year later, allowing a community type of experience, with the ability to chat with other players.
All in all an industry which is less than 20 years old, legal online betting is still in the early and informative stages of growth, with more and more players asking the question: is gambling on websites legal? H2 Gambling Capital, a leading gambling industry marketing, data and consulting firm, has estimated that online gambling as recently as 2008 generated more than $21 billion in global revenue. And there are currently many forms in which players from the US and around the world can enjoy some responsible and legal online betting. Legal Online Sports betting and casinos are popular worldwide, while the popularity of legal online poker on the Internet increased exponentially after the World Series of Poker win by amateur Chris Moneymaker in 2003. The accountant earned a seat in the $10,000 buy-in event by winning a $40 satellite and went on to win the $2.5 million first place prize.
Legal bingo betting online has just recently become extremely popular, mirroring the land-based growth bingo saw in the 1970's. And legal horse betting is also offered, either at specific horse betting websites, or more commonly as one feature of an online sportsbook. Many casino websites offer a collection of online slots, video poker, progressive and table games electronically, while also delivering legal online casinos to American players as well as the rest of the world.
Most Recommended Gambling Site For United States Players
Read Review
Bovada Up To $4250 Free
Bovada Sportsbook & Casino has years of experience offering legal online betting in a "one-stop shopping" environment. They are by far the most trusted name in online gambling and cater exclusively to USA players.
Casino players can claim up to $3000 in free bonus money. Poker players enjoy a 100% up to $1000 bonus and sportsbook players can claim 50% up to $250 free. Below are some reasons why United States players love playing at Bovada.
All USA players accepted
Sportsbook, Casino, Poker & Horse Betting Available
Robust mobile platform for both sports betting and casino games
Live betting options available
Easy deposit options available via credit cards
Visit Site
Legal USA Betting Sites (Casinos)
Legal USA Online Sportsbooks
In the United States, the Unlawful Internet Gambling Enforcement Act of 2006 (UIGEA) was passed to regulate online gambling in America. The law placed strict regulation on how online gambling transactions could be processed. However, the common misconception regarding this law is online gambling became illegal which would be incorrect. The UIGEA only made it illegal for banks to process any transactions related to online gambling, but did not specifically go after players. In addition, the American US Department of Justice in 2011 allowed for wagering on horse races and lotteries online, as well as deciding that each state in the US should decide its own online gambling destiny. Since then, New Jersey, Delaware and Nevada have legalized some form of online wagering, with multiple states pushing forward with Internet gambling legislation as well, such as California. Legal online betting has many faces, and in the current atmosphere of increased popularity across social and economic borders which are easily transcended by the World Wide Web, will continue to change and grow in its many forms. While the legal and political landscape surrounding online gambling remains active and lawful, there are already some fantastic legal betting sites listed above to enjoy!
This question actually sounds simple, but has a complex answer. In most of the United States, US based online gambling is not legal if the site is located within the US borders. The few destinations that do offer state regulated gambling require that you be present within their state borders in order to participate. Most US players who are interested in participating in playing for real money will need to consider participating at legally licensed and regulated gambling sites that are located outside of the United States. There are no federal laws that prohibit US players from participating in offshore gambling that is legally licensed and regulated through a legitimate and respected governing jurisdiction. You can learn more about this by visiting our pages covering the individual US federal gambling laws for a comprehensive explanation of how each law governs gambling in the United States.
The best way to ensure you only land at reputable, legitimately licensed and high quality gambling sites is to rely on the input of industry professionals. While we can't speak to other guides found on the web, legalbettingonline.com was created by a team of online gambling professionals who carefully analyze the online gambling sites operating within the industry, and vet them for legal licensing and regulation, the quality of their security profile, their overall performance and quality level, and the value they bring or don't bring to the community. The review process is intense and complex, and effectively reveals the industry's leading options and eliminates the questionable, dangerous, low quality and undesirable destinations. Industry analysts have vetted all the brands listed in this guide.