Legal Final Four Betting For 2019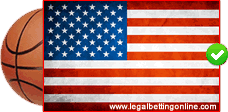 When it comes to college basketball betting, there's one annual event that puts the rest to shame: The NCAAB Men's Final Four. This is where the last four teams of 68, in four individual brackets, meet to decide who will play in the Final and ultimately win the NCAA Basketball Championship. This not only earns a lot of viewers every year, but it also attracts billions of dollars in betting on a year-to-year basis. Everyone and their brother loves filling out brackets, and many also head over to their favorite sportsbook in order to place their wagers on who they think will win.
By and large, the Final Four is an unpredictable spectacle. Even the President of the United States of America fills out his Final Four bracket every year, and even with the brain power of all his political stooges to assist, he has yet to get it right in seven tries. This is the case for most Americans – they love filling them out, but rarely do they get it right. The fact of the matter is that the NCAA tournament is a minefield that's sure to produce at least ten upsets every year. Predicting the Final Four is very tricky business, but that doesn't stop oddsmakers from picking their prohibitive favorites.
Top Legal Sportsbooks To Bet On Final Four Basketball Games
As mentioned several places on this page, it is imperative that you restrict your betting activities to only legitimate and legal online sportsbooks that are verified to be operating legitimately within the industry, such as the sportsbook brands you see recommended in this guide. Our team has carefully reviewed and evaluated every element of these sportsbooks and their operation. We not only verify their credentials, but we take a close and thorough look at their security profile, the quality of their betting lines, payout structure, banking suite, customer support, user interface, and many more components to their business.
How To Pick Your Winner When Betting On The Final Four
There is probably no way to suggest picking an accurate Final Four. To do so, you have to pick all teams on the bracket and get all the games right. This is an incredible long shot. However, once the Final Four is set, you can certainly attempt to pick a winner. But how would you go about it? There are two main things to look at here: Momentum and team statistics.
For the momentum side, you want to look at a team's road to the Final Four. How did they get there? Let's say one team in there is Kentucky, and they just coasted to the Final Four by beating the teams handily. Is this really momentum, or does this make them prime for an upset due to a letting down of the guard? It all depends on their opponent. Let's say they're playing Duke, who has just won back-to-back overtime games, true nail-biters, against teams better than they were on paper. This is what would be considered the most momentum between the two – the team that actually scratched and clawed and that seems like it's on a mission. But don't use this factor alone. You also have to dig into the team stats to better understand what's what. For instance, Kentucky may be holding their opponents to 32% shooting from the field. If this is the case, then all the momentum in the world might not help Duke. However, check out Duke's shooting stats. Say they're shooting 50% from beyond the arch. Even if Kentucky knocked 10 points off this, that would still equate to around 40 points for Duke coming from 3, which is nearly impossible to defend. This might tilt the odds back in Duke's favor.
The idea here is to look strongly at both factors and make your determination based on the most logical combination you can reach. The team that has momentum, and the stats to back them up. If you can find this combination, you can find your Final Four winner. Most everyone else just sticks with picking the highest remaining seeds. Not bad on its face, but just ask Mr. Obama whether front-running pays off.
Who is Favored to Make it to the 2018 Final Four?
The 2018 March Madness Sweet 16 is as follows:
#11 Loyola v.  #7 Nevada
#7 Texas A&M v. #3 Michigan
#9 Kansas State v. #5 Kentucky
#9 Florida State v. #4 Gonzaga
#5 Clemson v. #1 Kansas
#5 West Virginia v. #1 Villanova
#11 Syracuse v. #2 Duke
#3 Texas Tech v. #2 Purdue
As you may notice, there are a lot of teams that no one expected to be here. Only a few top seeded teams are left, while other top-seeds were knocked out by some of these teams here. Based on these matchups, there is some potential for an underdog to make the Final Four, but most oddsmakers are leaning on the usual suspects to pull through this crazy wave of underdog achievement.
In the South Division, the winner of Kansas State-Kentucky plays the winner of Loyola-Nevada. Kansas State may be playing well, but Kentucky has been one of the strongest teams this season. Nevada set a record for second-largest comeback in their second round victory against Cincinnati. Loyola knocked out Miami and Tennessee on their way to the Sweet 16 win. We predict Kentucky and Loyola make it through. In that scenario, Kentucky advances to the Final Four.
In the East Division, the winner of Villanova-West Virginia plays the winner of Texas Tech-Purdue. Villanova's offense is scary, especially when they are hitting from the 3. The Mountaineers are the strongest team they've faced so far, but we think Villanova will continue their dominant run. The Texas Tech-Purdue game is more of a toss-up, but it is Tech's game to win. Purdue must hit from beyond the arc and limit turnovers if they have a chance. In either case, Villanova will advance to the Final Four.
The West Division has the winner of Florida State-Gonzaga playing the winner of Michigan-Texas A&M. This division is the trickiest and seems to be the most wide open. Gonzaga has been somewhat lackluster, but they have a more balanced roster. Meanwhile, FSU just knocked out #1 Xavier. We predict the Seminoles to have another upset and move to the Elite 8. Michigan advanced via a three-point buzzer beater. Texas provides their biggest opponent, and not just in a literal sense (the Aggies have one of the largest lineups in the country). We predict the Aggies will bounce Michigan. Between Florida State and Texas A&M, we see FSU continuing on into the Final Four.
The Midwest Division has the winner of Kansas-Clemson playing the winner of Syracuse-Duke. This one seems like a no-brainer—Duke and Kansas in the Elite 8 with Duke advancing. Clemson has had a good run, but the Jayhawks are in familiar territory and are a stronger team. Syracuse surprised most analysts by making it this far, though their luck will likely run out against the Blue Devils. Duke looks too good right now and has everything in place to go for another title.
So, to summarize, we predict the Final Four will be:
Kentucky
Villanova
Florida State
Duke
And Then There Were 4 – A Look at the Final Four Leg of the NCAAB Playoffs
Our predictions for the Final Four were slightly off, but we didn't account for the surge of underdogs in this year's tournament. The 2018 Final Four teams are #11 Loyola, #3 Michigan, #1 Kansas and #1 Villanova. Villanova were expected to be in the semifinals, but not any of these other teams.
Loyola has caused upset after upset disrupting millions of brackets throughout the process. They defeated Miami, Tennessee, Nevada and Kansas State to get to this point. If they win against Michigan, they'll be the first double-digit seeded team to play in a national championship. Their chemistry is remarkable, especially given the type of players they have. Loyola showed in the last round that they can win without a dramatic buzzer-beater. The last time they made it to the Final Four was in 1963, the same year they won the title.
Michigan almost lost against Florida State in the Elite Eight. The Noles had a late push for a comeback but Michigan's defense snuffed 2 last-minute opportunities to bring things within 1 point. The Wolverines have been dominant in the tournament except for that game and a buzzer-beater win over Houston in the second round. The Wolverines have a deep shooting arsenal that can create a strong lead. If they get going early, they can put Loyola in a hole they might not be able to climb out of.
Villanova is conducting business as usual. They have been strong throughout each phase of the tournament. Their last game was an exhibition against Texas Tech and showed how threatening Nova can be. They had multiple players in double digit scoring and multiple players with over 5 rebounds. Numbers like that win championships. Nova has been expected to win it all this year and are the only team justifying where oddsmakers put them.
The Kansas Jayhawks, albeit a #1 seed, were not expected to make it this far. The Jayhawks always control the Big 12 but seem to flounder in the tournament. This year, they have something special in Malik Newman. The guard had 32 points in their overtime-win against Duke. Their defense also kept Duke's star players in check throughout the game. Kansas has a powerful combination of Udoka Azubuike and Silvio De Sousa in the paint, which could create some problems for Villanova. However, Nova likes to shoot from the outside, so we'll see how it affects things. Both teams are shooting above 40% from the 3-point line and both have top 5 offenses. This matchup will come down to who plays better defense.
Oddsmakers have Villanova and Michigan making it to the championship game on a 5 point spread. Loyola has been the underdog team in each game and come out victorious. Kansas will be up against a formidable opponent in Villanova, but they showed what it takes to win in their strong performance against Duke. These games could go either way.
When betting on the Final Four, or anything within the realm of the NCAA tournament, remember to study the teams specifically, their statistics, their opponents, and even to focus on their momentum. You want to acquire and use as much knowledge as possible when betting on March Madness. Blind betting is like flipping a coin and expecting it to land on its side. The more you study the subject here, the more likely you are to win your bets.