Legal Final Four Betting For 2018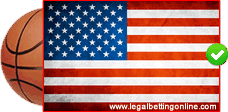 When it comes to college basketball betting, there's one annual event that puts the rest to shame: The NCAAB Men's Final Four. This is where the last four teams of 68, in four individual brackets, meet to decide who will play in the Final and ultimately win the NCAA Basketball Championship. This not only earns a lot of viewers every year, but it also attracts billions of dollars in betting on a year-to-year basis. Everyone and their brother loves filling out brackets, and many also head over to their favorite sportsbook in order to place their wagers on who they think will win.
By and large, the Final Four is an unpredictable spectacle. Even the President of the United States of America fills out his Final Four bracket every year, and even with the brain power of all his political stooges to assist, he has yet to get it right in seven tries. This is the case for most Americans – they love filling them out, but rarely do they get it right. The fact of the matter is that the NCAA tournament is a minefield that's sure to produce at least ten upsets every year. Predicting the Final Four is very tricky business, but that doesn't stop oddsmakers from picking their prohibitive favorites.
Top Legal Sportsbooks To Bet On Final Four Basketball Games
As mentioned several places on this page, it is imperative that you restrict your betting activities to only legitimate and legal online sportsbooks that are verified to be operating legitimately within the industry, such as the sportsbook brands you see recommended in this guide. Our team has carefully reviewed and evaluated every element of these sportsbooks and their operation. We not only verify their credentials, but we take a close and thorough look at their security profile, the quality of their betting lines, payout structure, banking suite, customer support, user interface, and many more components to their business.